The awesomeness of the JB Staycation: Forget staying in Singapore hotels, JB is the new thing and here's why you should be doing it (if you aren't already).
You've done it, and so have I: we've all gone on a staycation at one point or another in our lives. Famed as the to-do thing to get away from a stressful work-week, Singaporeans have kindly and most willingly adopted the 'staycation' concept as a part of their lives, and today this concept is increasingly stretching to include hotels across the border (despite the massive jams that we've been experiencing).
I go on at least 2 staycations a year across the border to JB. Besides the value for money, the experience to be gained in malaysia is unique – different from the daily humdrum of life in Singapore. So that's really what I did in 2015, and what I hope to do again in 2016. Here are 5 of the hotels that you must experience the next time you plan a staycation at JB. Apart from places to stay, here (link 1) is also a list on what you can do during a 2D1N staycation in JB.
Double Tree By Hilton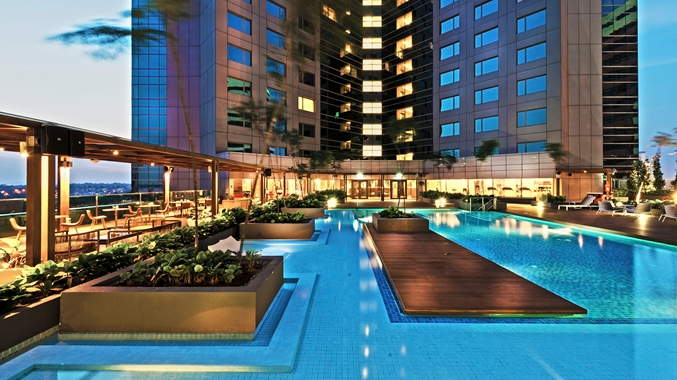 Located smack centre in the Buzz  of it all, Double Tree by Hilton has been providing a doubly pleasing  experience. This hotel has a myriad of facilities, including a Jacuzzi, fitness centre, sauna and outdoor pool. This hotel also has facilities in place for guests with disabilities. Starting at $103 a night. Shutterwhale.com (link 4) has done an awesome blow-by-blow review of this hotel, including a food review of 'Makan Kitchen'.
Thistle
Thistle is one that looks and feels and is in fact , a five-star hotel but doesn't quite pinch your wallet the same way. A great option to consider if you're planning to vegetate in the room for the entire weekend. They have a really large pool which can be viewed from the hotel's restaurant. I strongly suggest you head out for dinner, as the food isn't quite up to par compared to the rest of the hotel. The rooms have great views (link 5) of the Straits of Johor (ask for high floors), though, and they surpass the food standards anyday.  If you're planning to access nearby shopping centres from here, it's all a cab ride away, so you might want to factor that into your plans.
Grand Bluewave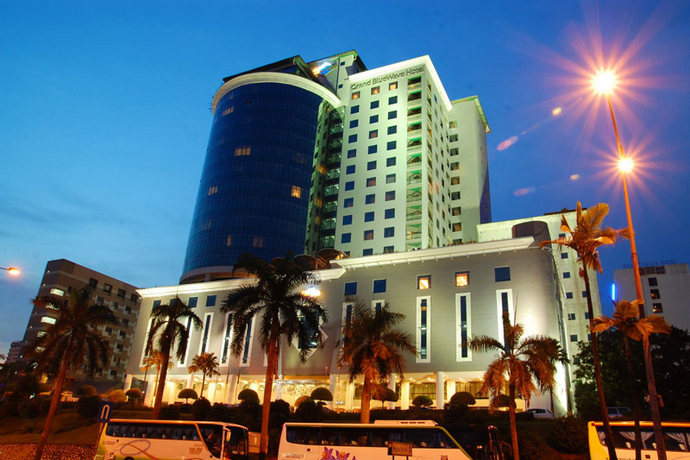 I couldn't resist this hotel because of its rate – $108 per night for a spatial suite overlooking the causeway. This is a fabulous hotel to stay in during New Year's; you'll get undisturbed views of the fireworks. However, I must say that the rooms aren't always kept in the best of conditions. I got a great room, but a friend's room had to be changed (way too dusty). The breakfast spread is also not so great and   we did not get the opportunity to try the North Indian restaurant within the hotel (link 6). Also, it's conveniently located close to City Square Mall (link 3), which is just great!
KSL Apartments
Here's the great thing about KSL: there's a mall (a major one) directly beneath the hotel. And when you're at the reception of the hotel, there is simply no turning back – opulence is the word to use here! The plush and royal looking cushions are a precursor to what the room actually is – an extension of this luxury. The KSL hotel rooms are carpeted and fitted with necessary amenities such as coffee machines and bathtubs (link 7). The KSL Apartments is a private residence that is owned by the KSL hotel group and can be rented for your stay. While it doesn't include breakfast, this is a cheaper and more spacious option for 3 or 4 of your friends. Plus, the mall is perfect for all the things you need to get done – such as replacing the screen protectors of your smart phone.
Trader's Hotel, Puteri Harbour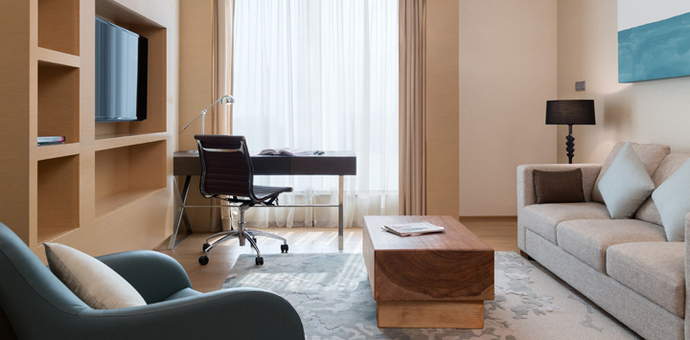 This one is a little away from Johor City Centre, and is more easily accessible from Tuas second link by car. You can still get here by taking the bus into JB and then hopping into a taxi to get there. If you're going from JB Town (which is where you will end up if you go to JB through the woodlands checkpoint), then the cab fair is going to cost you about RM50 to RM60. When you go via Tuas, you can take bus CW6 from Boon Lay MRT Station to get into JB, then take a taxi from Gelang Patah or Bukit Indah. Either way, this hotel (link 8) is an experience not to be missed. A 2D1N stay here is all you need to get away from the buzz – did I mention it's right next to a tempting body of water? If you're doing this as a family or with a large group of friends, then Legoland is very close by – just a taxi ride away. Head out for a day of crazy fun at the theme park and then head back to unwind in your room – which comes complete with an 'evil' bed that you cannot get out of and a bathtub to soak your cares away!
So there you have it, 5 pretty decent hotels for your next staycation in JB. Have an alternative suggestion to the hotels? Let me know, comment below!