It is quite the cliché, but the kitchen really is the heart of the home. This is where everyone in the house would at least spend 5mins a day, mostly lurking around for something to eat. Hence, this buy default becomes one of the more important rooms in the house. We've put together 5 tips to make your kitchen more inviting, and certainly, help make it look bigger.
Replace Solid Cabinet Doors with Glass Paneled Ones
You know how in most kitchens, there are 2 or 4 doors that are glass paneled and the rest are completely opaque? To create the illusion that your kitchen is bigger, try replacing all cabinet doors with glass paneled ones. Not only will light be reflected more easily in this kitchen, making it warm and inviting, but it will also force you to be more organized with storing your kitchen items. Ultimately when you have guests over, they will be very curious to see how well you've stacked everything (everyone loves to look into others' windows, its just that no one will openly admit it). Plus, this could serve as design inspiration for your friends looking to give their kitchens a makeover.
Get Open Shelving
Reserve one wall in your house to create open shelving (they have a few great ones at IKEA). This is another place where you can show your organizing skills. Besides, if you spent a lot of your savings on that precious Kitchen Aid, this is the place to show it off! The shelves can also carry your dinnerware and fancy cutlery – this way, you will use it more often! The only drawback is that this method will require more dusting, but hey, cleaning more often than not is not a bad thing.
Get Organized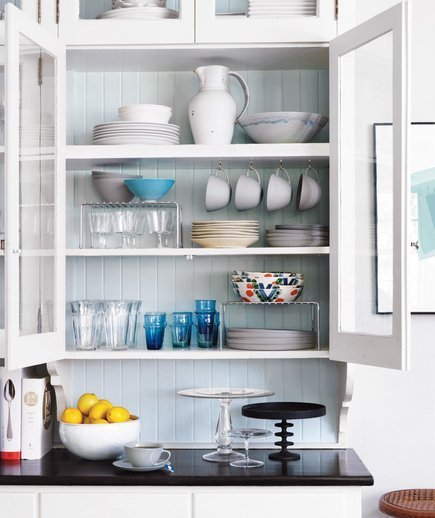 The best way to make your kitchen feel like a true extension of you and your family is to organize it. Do an inventory in your kitchen once every few months and weed out things that you don't use, or have gone rusty. This will help you save some space. Also, try to use a central color theme when putting things together in the kitchen (all red bowls together, or all blue items on one shelf and white items on another. This will make your kitchen immediately impressive and by association, inviting.
Create A Recipe Wall
A wall of recipes will do you more good than you can imagine. Select a wall in your kitchen (it can be a small portion of a large wall), hang a cork board and stick on the recipes, tips and tricks you collect from magazines, or scribble down while you're watching cooking shows. This is the best way to ensure that you use every tip that comes your way. It's also a wonderful way to add a homely appeal to your kitchen.
Contain The Odours
All kitchens (especially around the area where your trash chute sits) collect funky odours. While it smells most inviting and delicious when you're in there cooking, it needs to also be aptly scented for when you're not, simply to keep you wanting to cook and keep unwanted bugs at bay. Employ a few scented candles around your kitchen, and use food-like flavors to complement the room, such as cinnamon or orange (or cinnamon and orange). If you have leftover coffee beans that have expired, pour them out into candleholders and leave them around the kitchen. Not only do they make your kitchen smell very good (and particularly inviting in the mornings) but they also keep off ants and lizards.