Laksa is a highly contested dish across Singapore, Malaysia and Indonesia. Simply because everyone claims to the origin of this dish, and that their version is the best. Like Chicken Rice, Laksa is a dish born out of the melting pot of cultures in the Asian region. Most of us would have had the local, Singaporean version. Spicy, sweet and sour all in one steaming hot bowl of noodles and broth. But how does laksa differ from one region of Asia to another?
WATCH NOW: Chicken Noodle Soup Recipe!
Laksa is a commercial and controversial dish. Some say it was brought to Malaysia via the Chinese, others say the Malays and the purists say it's from the Peranakans. Regardless of all the fuss surrounding this coconut-cream-spicy-delicacy, one thing remains uncontested; the taste of the amazing broth. Every region puts its own classic spin on laksa, from Indonesia, Sarawak, Penang, Johor and Singapore. Even Southern Thailand has its own version, known as Laso. So acclaimed is this dish that the Singaporean version of Laksa won 44th place in CNN Travel's poll of best foods around the region. Regardless of the various versions of this dish's origins, laksa still remains uniquely Asian. I stewed on the various stories and ingredients behind the Asian laksa, and here's the scoop on the noodles:
There are two primary types of Laksa; the Assam (tamarind) and Lemak (coconut milk) versions. Both have different origins and their own combination of ingredients that make them unique to the region they are from. Assam laksa is a refreshing take on this dish made with tamarind juice. Laksa Lemak is the coconut milk version which also happens to be spicy (hello, sambal belachan!). Traditional laksa is also made with vermicelli noodles, rather than the thicker, rice noodle option we have in Singapore.
Penang Laksa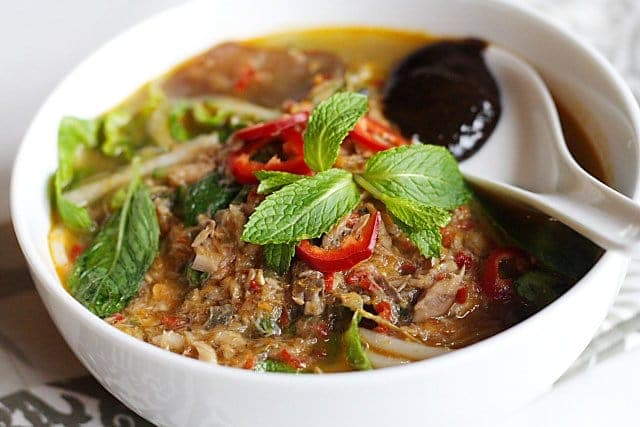 While all versions of Laksa have a seafood inclination, each region has adopted this aspect of the dish differently. In Penang, Laksa is considered a steaming broth of turmeric, tamarind juice and bits of mackerel floating as a residue from the fish stock they'd used as a base. The fish is first poached, then flaked and added to the soup. It's served with black prawn paste, also known as Hei Ko locally.
Traditional Penang laksa contains mint leaves, pineapples, thick red onion slices, along with lemongrass and galangal as major flavour agents. More sour than spicy, chilli and spice are not the central features of laksa from this region. In this dish, the fishy sourish broth with thin, vermicelli noodles takes centre stage.
Sarawak Laksa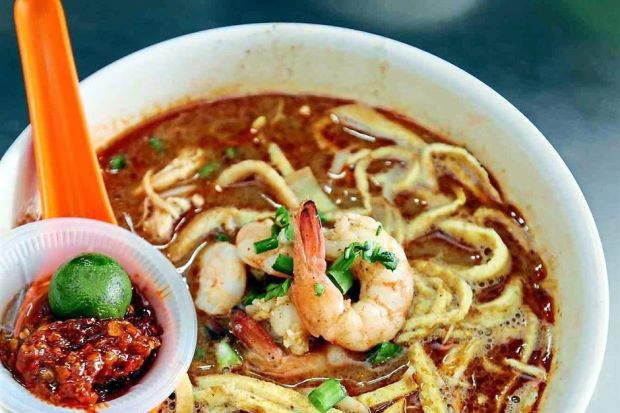 Sarawak Laksa straddles the line between Assam and Lemak by combining both those ingredients in a tasty broth. The locals also use both prawn and chicken stock as the base for this dish, adding a particular zing to the final dish. Highly laborious but intensely flavoured, this soupy vermicelli noodle broth includes prawn meat, mint leaves and sometimes, pineapple chunks too.
Singapore 'Katong' Laksa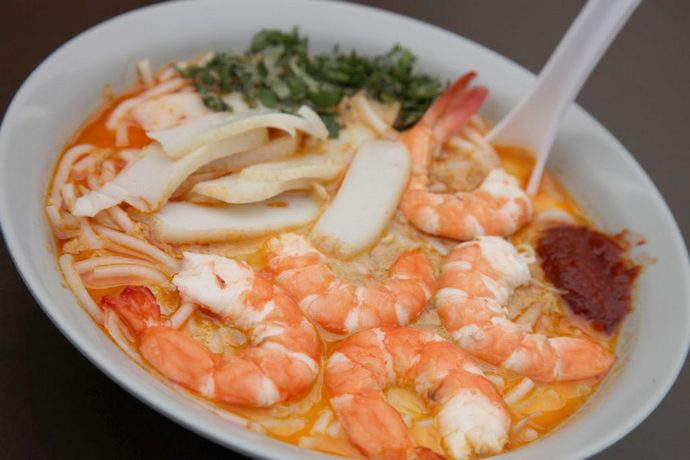 This popular local version of laksa that Singaporeans know and love is not as healthy as the other options, but sinfully delicious. The coconut milk, sambal belachan and rempah used in the broth are ingredients borrowed from Malaysia, hence this particular version has a strong Nyonya cooking heritage. The sambal belachan, or spicy shrimp paste, gives this dish its fiery red colour. Katong laksa doesn't use vermicelli noodles either; but rice noodles that have been cut into bite-sized pieces, so that you can devour the entire bowl full of noodle soup (complete with prawns and slices of fish cakes), with a spoon.
Bottled Wonder
Traditionally, laksa (while mouth-watering) can also be a bit of a hassle to prepare. The rempah, or spice paste, has to be prepared first by grinding a large number of ingredients together in a pestle and mortar. Some of these ingredients might be hard to find, too! Then, you've got to prepare the other part of the dish, which is the broth, noodles and fresh seafood. Luckily, there are many store-bought laksa pastes available for us to tinker with in the kitchen, saving the pestle and mortar trouble. Here are 3 of the many available that we find does the job best.
Prima Laksa Box
This is best when you're trying to feed a group of 6 to 8, though if the group is so large we'd strongly advise getting 2 boxes – laksa made with Prima Taste sauce tends to finish fast. Prima is famous for their authentic tasting laksa, simply follow the package instructions and you'll have your perfect pot of laksa ready in no time.
Woh Hup Laksa Paste
We love many bottled sauces from Woh Hup – the chicken rice paste, Ikan bilis sambal paste, and sambal olek, for example. The Laksa paste is just as perfect as the others; all you need to add are coconut milk and the fresh seafood (prawns are preferred) and of course, the noodles of your choice. Think vermicelli or spaghetti, if you're bold enough to go there.
Ayam Brand Laksa Paste
Ayam Brand's laksa paste is also just as easy to use as its Woh Hup cousin. You need to set aside the coconut milk first, then saute the paste in a little oil. We find it best to use garlic infused oil, or chilli oil, as it helps to give this paste an extra kick. Add the paste with fresh prawns and cockles, then saute for 2 mins before pouring in the coconut milk. Remember to add the noodles last, otherwise, they'll soak up all the delicious gravy!