A Thai red prawn curry that comes out of a pack? Yes, please!
Here's the thing about Thai food. It is incredibly delicious and easier to make than it is to eat (actually, it's easier to eat lah. But I really want you to try this recipe because it can be made in a jiffy and tastes like heaven).
Video:
If you're a regular reader of this blog, then you will know full well that I am a firm believer in using bottled pastes and sauces. Thai red curry paste is sincerely a novelty to recreate at home. To gather the ingredients, the pestle and mortar and to start pounding is simply time I cannot afford on a weeknight. So I generally resort to ready-made pastes and sauces.
This particular Red Curry Paste I used is from the Dancing Chef which I bought from NTUC. It has all the essential ingredients that give red curry its signature red colour and punchy flavour.
Although this is a prawn and pumpkin curry, please feel free to use this recipe as a base and substitute the meat and vegetable to something that you prefer. Chicken, or gai in Thai, works great with red curry. If you're a fan of broccoli, add some instead of the pumpkin. Also, peas are great here.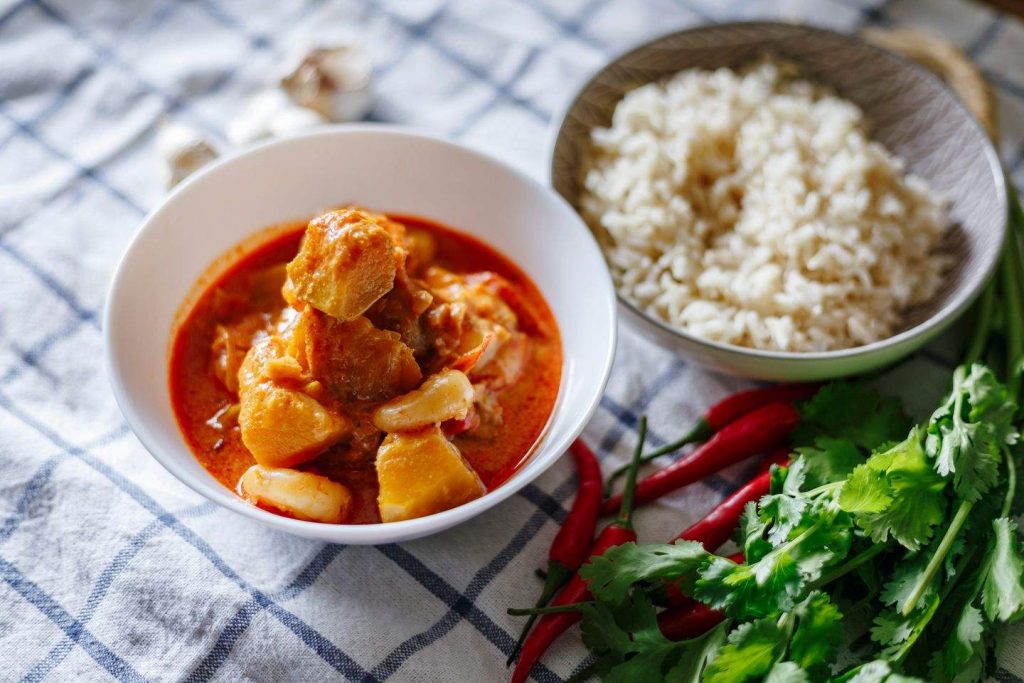 Here's where I rock the boat a little in the world of cooking: I use frozen prawns quite liberally. This is not because I am somewhat of a snob, but merely out of convenience. I simply cannot imagine going through the hassle of dragging myself to the market in the morning, purchasing a kilo of prawns and then spending an hour or so de-shelling them. I'll end up with half the value of prawns on de-shelled, and an aggravated hip to boot!
If you prefer fresh prawns, go right ahead and use them! If you're like me and a tad bit, shall we say, reluctant to use fresh prawns, use frozen! I generally 'revive' frozen prawns in a pot of hot water before using them. This helps drain excess water from the prawns, although it doesn't cook them. To do this, simply put your desired amount of frozen prawns (straight from the freezer) into a pot, and pour boiling water over just enough to cover the udang. Leave it for about 10 minutes, drain and set aside till you need to use it again.
Regardless of fresh or frozen, I daresay prawns were made for this curry!
Easy Thai Red Prawn Curry
Ingredients
3 Tbsp Vegetable Oil
1 Large Onion, peeled and thinly sliced
3 Pieces Garlic, peeled and chopped finely
1-inch Piece Ginger, peeled and chopped finely
150g Pumpkin, peeled, cored and cubed
200g Prawns, peeled with tails on
100g Thai Red Curry Paste (I used Dancing Chef brand)
100ml Water
120ml Coconut Milk
Method
If you're using frozen prawns, you'll need to submerge them in boiling water first. For the full description of what I mean, refer to the recipe introduction.
In a medium-sized saucepan, heat the oil (over medium heat) and add the onions. Saute till soft, about 2 mins. Then, add the garlic and ginger, and continue to fry until fragrant, about 1 minute. Be careful at this stage as burnt garlic doesn't taste pleasant.
Add the pumpkin and stir through. Add 2 tablespoons of water, and cover with a lid. Let the steam cook the pumpkin halfway through, about 5 minutes. You can remove the lid and stir through if you like during these 5 mins.
Then, add the prawns, followed by the red curry paste. Stir through to mix, then add the 100ml water. Cover and let the pumpkin and prawns cook through. As you have cooked the pumpkin chunks a bit, they will take the same time as the prawns to cook.
In around 3 to 5 minutes, remove the cover and check to see if the udang is cooked. You can check for doneness in the pumpkin by skewering it with a fork. When cooked, turn the heat down to the lowest setting and pour in the coconut milk. Stir through till the harsh red becomes a rich copperish-pink.
Wait for the first bubble to appear (watch it like a hawk). It shouldn't take long, maybe a minute or two. Once you see it bubble, take off the heat. Your Thai Red Prawn Curry is ready to be poured handsomely over some rice and enjoyed happily.
http://thecraversguide.com/easy-thai-red-prawn-curry/
Copyright belongs to thecraversguide.com.