This Ginger Chilli Chicken recipe is simple, tasty and a perfect weeknight meal.
There is literally no challenge in putting this dish together! I have used chicken breast in this dish because of my obsession with it. Also, the flavours in this dish are a tad gutsy. The chicken breast is placed in good stead to absorb these flavours and still remain moist and juicy.
Another thing to note about chicken breasts is that they give out a lot of water as they cook – this then becomes a part of your sauce or gravy for this chicken. I have cubed then coated the chicken breast cubes with cornstarch. You can use rice flour too – it just has to be a starchy flour. This helps to remove excess moisture from the chicken. It also helps to thicken the sauce, which can be a tad runny.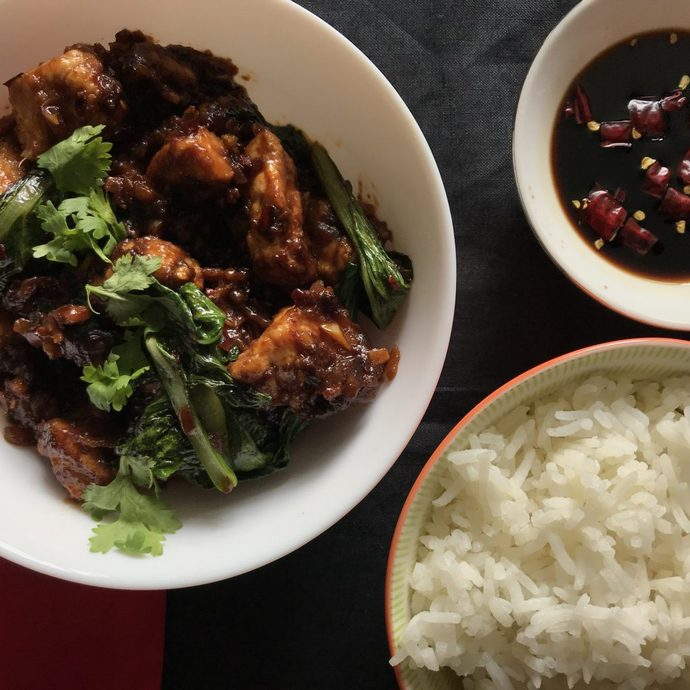 You can further this recipe by adding a touch of five spice powder to it if you like. The five spice powder brings the headiness of cinnamon and cloves to the dish. Although not Chinese in origin, this dish is very much Chinese in inspiration.
The chilli in this Ginger Chilli Chicken comes from the fermented soybean crispy chilli paste. You can buy this from NTUC or Cold Storage, from the Chinese Spices section. I found this incredibly versatile paste one day when I was trying to make dan dan noodles at home. Mixed with peanut butter, this chilli paste is simply great! Here, it adds so much flavour to the chicken without having to chop up a bunch of ingredients.
Ingredients
2 Tbsp Oil
1 Onion, finely chopped
20g Ginger, cut into this strips
3 Cloves Garlic, chopped finely
2 1/2 Tbsp Soybean Chilli Paste
2 Tbsp Light Soy Sauce
2 Tbsp Dark Sweet Sauce (Dark Soy Sauce)
2 Tsp Chinese Black Vinegar
300g Chicken Breast, cubed
3 Tbsp Corn Starch
1 Small Bunch Greens of your choice
Method
In a ziplock bag, place chicken cubes and corn starch. Zip the bag and shake until all the cubes are evenly coated. Transfer to a colander and toss the cubes of chicken to remove excess flour. Set this aside.
In a non-stick skillet, heat the oil. Add the onions and cook till tender and translucent. Then, add the ginger and garlic. Saute for 1 minute before adding the chilli paste, soy sauce, sweet sauce and vinegar.
Stir to mix and let the mixture bubble. Then, add the chicken and mix till the cubes are well coated with the sauce. Cover and let cook for about 5 to 7 minutes, until the chicken is well cooked. The sauce should have thickened by this time, too.
Add the greens and let it wilt down in the heat. You can help it out by stirring it into the chicken sauce. After 1 minute, remove from heat.
Serve warm with rice.
http://thecraversguide.com/ginger-chilli-chicken/
Copyright belongs to thecraversguide.com.