Lemon Pasta: Lemons are extremely versatile in both savoury and sweet dishes. I've made waaaaay too many lemon cakes than I care to admit, and I probably am not going to stop anytime soon. We are blessed to be in Singapore where lemons are available throughout the whole year!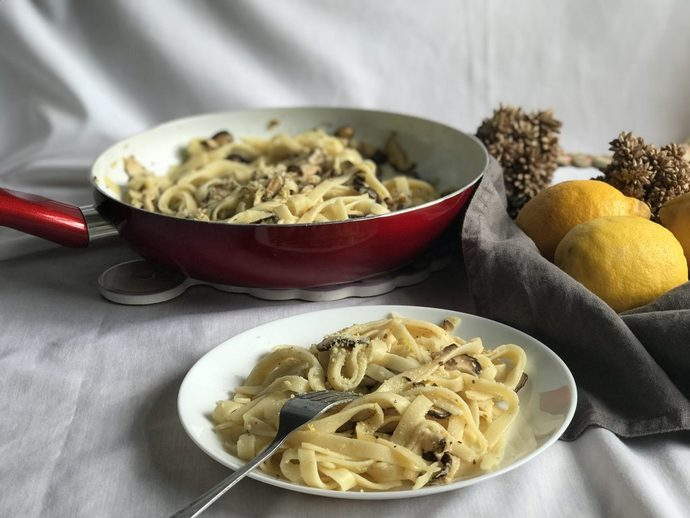 This lemon pasta is a simple and easy-to-create recipe that I threw together one day when these few ingredients were pretty much all I had at home. I always add onions to my saute mix, whether I am making a curry or an aglio. This lemon pasta recipe excludes onions simply because when I created this dish I did not have onions at home (blasphemous, but true). Also, while I love onions I'm not always in the mood to chop them up.
Any kind of lemons will do for this, and I haven't tried it with other citruses yet. You should though if you're into a lime pasta. This lemon pasta is refreshing to the palate and can be intensely sour. If you're hoping to dial down the sour tang, then reduce the amount of lemon juice by half.
Thinking of lemon-infused water? Here are 8 reasons why you should be drinking it. 
Lemon Zest
Throwing lemon zest into hot oil is pretty much the best thing to light up your entire kitchen. In fact, when making the carbonara that I normally make (thanks to this recipe from Domestic Goddess Nigella Lawson), I throw in the cream with lemon zest right over the hot pasta. As soon as the zest hits the pasta, the kitchen lights up in aromatic lemon perfume.
The lemon zest must go in before the mushrooms, as this is what will help season the mushrooms. Mushrooms are like sponges – they drink up the flavour. The pasta cooking water is key in this recipe – it turns everything into a luscious sauce.
I have used mushrooms here as it makes this a good vegetarian pasta, for those who wish to have it so. But I have also made this very same pasta with chorizo sausages. These Spanish sausages (now available in NTUC) are marinated with several spices, including paprika and cumin. I slice one or 2 sausages really thinly and throw them into the pan after the lemon zest – a meat alternative if you will. You can also use pulled chicken or pork in this recipe, it works just as well.
Ingredients
200g Linguine
2 Tbsp Oil
3 Cloves Garlic, minced
200g Sliced Shiitake Mushrooms, sliced thinly
1/2 Tbsp Herbs of your choice
Zest of 1 lemon
Juice of 1 lemon
1/4 cup Parmesan cheese
Pasta water
Method
Cook pasta according to package instructions, and remove 1/4 cup of the pasta cooking water. Set aside and drain the pasta.
Heat oil in a medium sized saucepan, and add the garlic, then followed by the lemon zest. Once these two elements are heated through (about 1 min, as you don't want either to burn), add the sliced mushrooms. Once the mushrooms are cooked, remove pan from heat (this will take about 3 to 5 mins).
Pour in lemon juice, cheese, half of the reserved pasta water and the cooked pasta. Toss to combine evenly. Serve warm.
Notes
If you find the pasta to be too dry, add the remaining half of the pasta cooking water, a little at a time. The starchy nature of the pasta water will help the dish to be velvety, almost sauce like.
http://thecraversguide.com/lemon-pasta-mushrooms-herbs/
Copyright belongs to thecraversguide.com.