And these are friends you'll want in your life, including a very scrumptious Char Kway Teow and Chilli Pan Mee!
Lou Yau means 'old friend' in English – this is the kind of nostalgia this brand hopes to invoke in diners who come searching for food that reminds them of simpler times. Lou Yau serves these dishes up with love, creating a special place for comfort food in our hearts. 
Chilli Pan Mee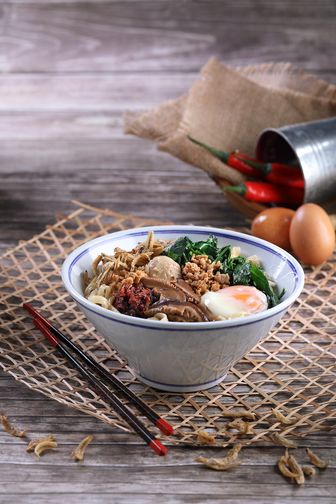 I am a huge fan of this classic KL street food dish. Just like Chicken Rice, different people are drawn to different things in a Chilli Pan Mee – some like the noodles, some like the meat, some like the broth-soaked mushrooms. I happen to love the chilli (unsurprisingly). I am most happy to report that the chilli, and the rest of this dish, is so truly sedap at Lou Yau. The noodles were on point and the perfectly runny yolk just brought everything together. 
The people behind Lou Yau have gone to great lengths to ensure the authenticity of the food here. The Ipoh Hor Fun noodles are made fresh by staff in house, with natural spring water from Ipoh. This, it seems, keeps the dish as close to Ipoh as possible. Although I have no idea what Ipoh Spring water tastes like, I could tell the difference between regular 'coffee shop' hor fun noodles and Lou Yau noodles. 
Do you like Laksa? Check out this article!
Char Kway Teow with Prawn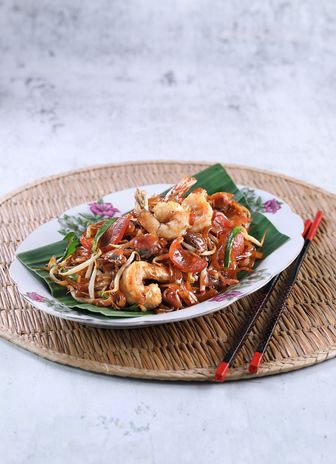 Whenever in Penang, this is the first dish I go for. Well, this and Nasi Kandar. Anyway, the Char Kway Teow here is inspired by the one from Penang. The difference between our hawker centre CKT and the one we get from Penang is the black sauce. In Penang, a very small amount of black sauce is used and the noodles are charred quite a bit with ingredients such as prawns, beansprouts and sometimes, fried tofu. Locally made CKT tends to be a deep blackish-brown, drenched in black sauce and peppered with chinese sausage slices (not that this is a bad thing!).
The CKT available here was very close to the one sold on the street corners or Penang, so if you're ever feeling like you miss the spicy yet silky CKT you can get your fix from Lou Yau. Filled with crunchy, fresh beans sprouts and plump prawns, I could taste the char in the kway teow noodles.
Penang Lor Bak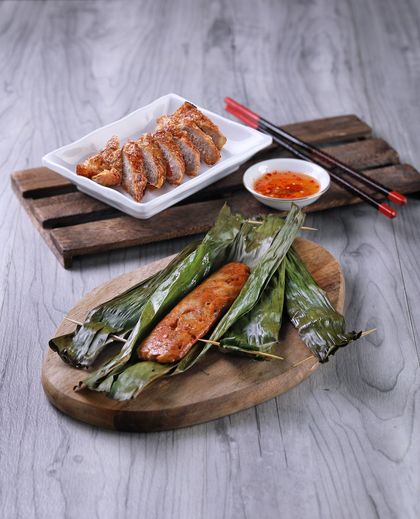 The Penang Lor Bak is another popular street food item from the Malaysian port-city. This is similar to the Nyonya Ngoh Hiang, with a few exceptions. Ngoh Hiang is usually made with a combination of shrimp and pork meat, while the Lor Bak here is made with minced pork and a medley of harmonious spices. The crispy fried beancurd skin adds texture to this snack.
The key behind this Lor Bak's enticing, bold flavours is the spices used in seasoning the minced meat. The meat was also minced finely to make a homogenous sausage, without bits of cartilage here and there (which has happened before, trust me). While this will be a good starter, I'd totally have this for tea with some coffee. Call me Asian.
One Person Set
This handsome meal is designed for, well, one person. A combination of classic Kampung Chicken cooked in light soy sauce is served with Lou Yau's homemade Ipoh Hor Fun. A hearty helping of crunchy, juicy bean sprouts round up the meal, with the signature Lou Yau Chilli Dip. The chicken is succulent and tender, making it taste comforting. I would akin the experience of eating this One Person Set to dining in Kopi shops in Malaysia, where you get the freshest food at heartwarming prices. 
Big Bowl Curry Mee
This bowl is bursting with inviting noodles, meat and tofu all swimming delightfully in a sea of fiery red curry. This classic noodle dish is from Kuala Lumpur and is traditionally served overflowing from the sides of the bowl. Bee hoon and yellow noodles, kampung chicken, brinjal, long beans, roast pork, cockles, fried bean curd skin, tau pok, bean sprouts and a meatball are pooled in a ceramic bowl. Then, they place a saucer under the bowl to catch the dripping gravy. It already looks sinfully delightful; it tastes even better. 
Very few places in this modern age can offer a transformative dining experience. Most restaurants try to achieve this by simulating a lavish setting, to wow customers into forgetting where they are. Few others transport diners to a different place with the quality of food; Lou Yau is one of them. When I dug into the Penang Char Kway Teow, memories of my trip to Penang came to the forefront. The flavours, the wok hei, the walk I took to the CKT store on a street corner, the laughs I shared with an old friend… all these recollections just prove that Lou Yau has indeed provided a nostalgic experience.