Is a One Bowl Chocolate Cake possible, you ask? Why, of course, it is! Here's how you can put it together!
I've always wanted to create a simple chocolate cake recipe. I remember being a teenager and creating a recipe for a Cinnamon Chocolate Cake. While I love cinnamon, I have been blessed to be surrounded by people who don't. Plus, the cake came out so dense and heavy.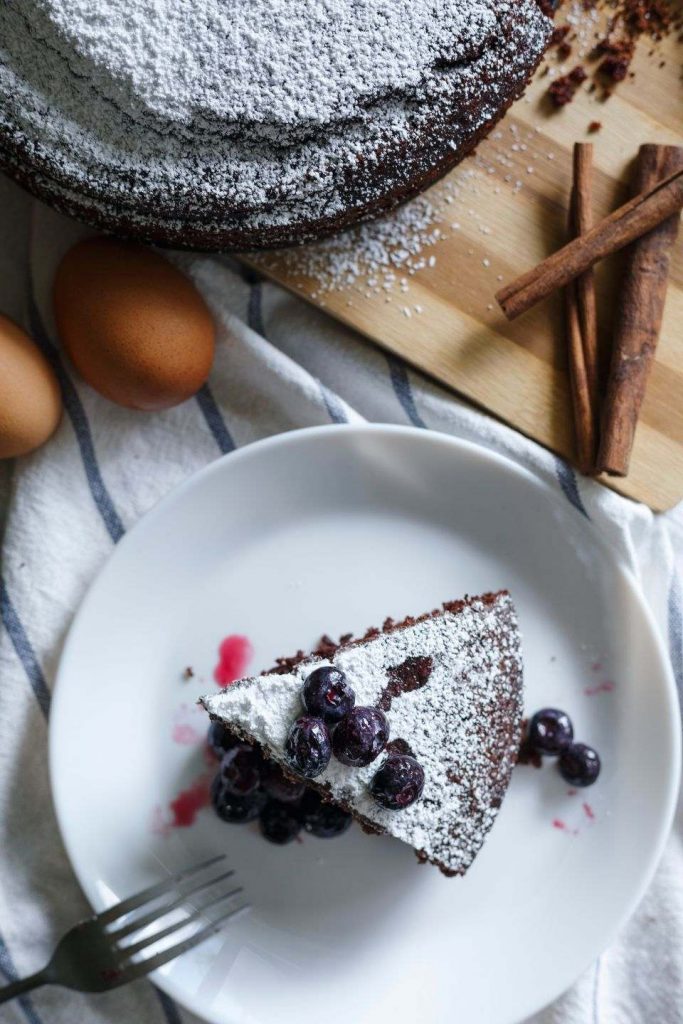 But that's in the past. I wanted to create a one bowl chocolate cake recipe because now as a fully grown adult (I say only hor), this is the kind of recipe I want to see and that makes my life easier. Like many of you, I work a full-time job, too! But I have a very real thing for cakes and chocolate. So this cake was created out of a need to fuse a lack of time with greed.
Check out this Chocolate Cake I made with Bananas!
I have used oil in this cake because oil is easier to reach out to in the cooking shelf than butter. Butter needs to come to room temperature and is most ideal when creamed with sugar for cakes. I wanted to make sure things are easy to manage, so oil is good here for a stir-in recipe like this one.
Oil and butter in cakes produce different textures and have different benefits. For example, using oil in cakes produces a much lighter cake that can go in and out of the fridge quite easily. Cakes made with butter tend to harden in the refrigerator and can get dry and stale quite quickly when left out. For this cake, you can use melted butter in place of oil if you're looking for the taste that only butter can give in cakes.
Bear in mind that this is a very quick and easy recipe, but also very basic. All this will give you is a basic one bowl chocolate cake. If you'd like to pimp it a little, you can always add a generous studding of fresh blueberries to the cake before putting it into the oven. This will help justify any cracks that appear on the top of the cake.
Ingredients
1 Cup Plain Flour
? Cup Fine White Sugar
¼ Cup Cocoa Powder
1 Tsp Baking Soda
½ Tsp Baking Powder
½ Tsp Ground Cinnamon
¼ Tsp Salt
1 Large Egg
½ Cup Vegetable Oil
½ Full-fat Milk
½ Cup Hot Water
Method
Preheat the oven to 170 Degrees Celsius. Grease and line an 8-inch springform cake tin. If you're using a tin with a loose bottom, you'll have to line the inside of the tin with aluminium foil. This cake has a very, very thin batter, which can seep out through the hinges of the tin if not secured properly.
In a large bowl, combine the flour, sugar, cocoa, raising agents and salt. To do this, sieve in the flour and cocoa with the cinnamon, baking powder, soda and salt, so that the dry ingredients are well combined. To ensure even mixing, use a whisk to integrate the ingredients.
In a large measuring jug (at least 2 cups), combine the egg, vegetable oil and milk. Whisk to combine, then pour this into the waiting dry ingredients. Whisk for 10 seconds, then add the hot water to the clumpy mixture. Whisk till a smooth batter is formed, free of lumps.
Pour out this batter into the greased and lined tin, and bake for 40 minutes. Once you've passed the 25-minute mark, start checking to see if the cake is done. Different ovens work differently. However, do not open the oven door before the 25-minute mark.
Once cooked, remove the cake from the oven and leave in its tin for 10 minutes. This cake needs to cool completely before being eaten.
When ready to eat, serve alongside fresh blueberries, or a scoop of vanilla ice cream.
http://thecraversguide.com/one-bowl-chocolate-cake/
Copyright belongs to thecraversguide.com.