Fan of ramen? Seizan Uni Ramen at Wisma Atria is here to set tongues wagging. A delicious, decadent broth swimming with so much umami I cannot even.
Seizan Uni Ramen: There are three main types of ramen available here, all helming from two-michelin star Seizan Uni Ramen from Japan. Seizan is a popular fine-dining establishment in Tokyo, known for its signature style of simple food featuring quality ingredients. The tasting at Seizan Uni Ramen was built around this philosophy – we got to try the very savoury Japanese Dashi before the Ramen was brought to the table. The dashi base is key to the fantastic ramen – you can smell umami the minute it's served. 
Japanese Broth
Dashi, or Jaspanese broth, is extremely significant to the perfect bowl of ramen. In fact, I learnt more about the hardness of water and how much it contributes to a good bowl of soup at the tasting than I did in Chemistry. The water used at Seizan Uni Ramen is flown in from Japan, Mount Fuji to be precise. The water used has a hardness of 25. For perspective, our regular drinking water has a hardness level of 450 (I'm told). So you can imagine how delicate the water in this dashi actually is. In addition, the water is flavoured using Japanese Kombu (kelp), before adding fish flakes for just the right time to give the broth enough umami. Also, nothing is written down – the preparation of the broth is done purely by eye and hand-feel.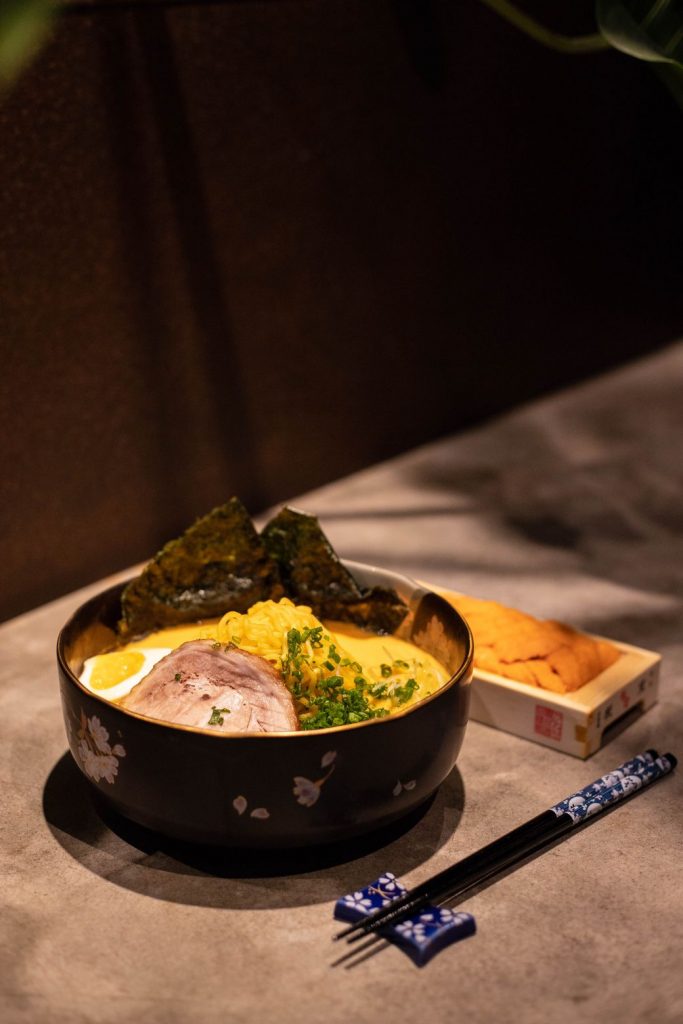 Uni Ramen
The star of the menu is the Seizan Uni Ramen, a golden broth brimming with the rich flavours of uni (Japanese eel) and cream. The noodles in this dish are made in Japan and expressly flown in for Seizan Uni Ramen. The strands have a particular egg-to-flour ratio, to make them more absorbent. They are also extra curly, so that the creamy uni broth clings onto the noodles better. 
The uni used here is the prized bafun uni, revered for its refreshingly rich and compelling taste. This dish is made and served fresh with a generous topping of leeks, spinach, spring onions, three very crispy nori sheets, slices of pork and an onsen egg. I could not get enough of this, but my advice is to share a bowl before attacking one all on your own. It's very rich and concomitantly, very filling. Each bowl will set you back $21. Not the typical ramen price I know, but have faith. This bowl is worth it. 
Dashi Somen
If you're hoping to measure Seizan Uni Ramen's signature dashi, then this is the bowl you need to have. Thin and light somen noodles are used here, so that the bold yet delicate flavours of the dashi come to the forefront of the palate when savouring this. 
The noodles themselves are delicate; thin and white, undeniably hand made for this particular dish. The dashi is flavoured with popular Japanese ingredients such as mirin, soy sauce and sake. This is a much lighter bowl of noodles compared to the Uni Ramen, should you prefer something not as rich.
There is also a Kumamoto Wagyu Ramen on the menu, which is a beef dish. While I did not try this, I hear that it was quite the bowl of ramen. 
I am not much of a ramen fan, but the Seizan Uni Ramen surely changed my mind. Not to say that I will be rushing out for a bowl of random ramen later, but I will surely be back to savour the Uni Ramen again. It's just worth the trip to orchard on a weekend! Check out more details below.
Seizan Uni Ramen at Picnic
435 Orchard Road
Wisma Atria, #03-15-49,
Singapore 238877
Opening Hours
Daily: 11am to 10pm