Stranger's Reunion at Kampung Bahru (Outram Park MRT) is out to prove that it's got a lot more up its sleeve than fantastic coffee and orgasmic waffles.
The new menu is both delicious and is crafted with a 'Reduce Food Waste' policy
They are now open from 9am to 6pm daily, with a delectable all-day brunch menu
When I was here for a tasting, of course I started Instagramming everything. And my insta-friends flooded my inbox with questions – I thought they were closed? Is the new menu nice? I've only had the waffles, what else do they have? And of course the ubiquitous 'Nice anot?'. I love my followers. Aside from love for my readers, these questions helped to solidify my impression of Stranger's Reunion – it's a brand that has stood the test of time and has remained in the conscience of people who love good food and coffee (i.e, my readers/followers).
Although open since 2012, Stranger's Reunion has introduced a brand new all-day brunch menu to offer more than coffee and waffles to it's ever-growing patronage. The industrial vibe of the venue makes you miss hipster cafe settings, which are hard to come by these days. The food on the menu is not just about great flavour, it has an environmental angle, too.
Upcycled meals
Stranger's Reunion welcomes the challenge to upcycle ingredients that would normally be trashed when preparing food and drinks. For example, the creative minds at the cafe have thought of unique ways to use spent coffee grounds and broccoli stems, incorporating them into their brunch menu.
Giving new life and flavour to ingredients that will otherwise be discarded allows Stranger's Reunion to reduce wastage and therefore the resulting carbon footprints. Also, there are truly talented chefs in the kitchen here because the food from this kitchen is quite good – you can hardly tell that some of the ingredients had been upcycled.
Crispy Salmon Skin
Salmon skin is normally wasted, as not everyone takes to this part of the salmon well (me included). Here, salmon skin is turned into a delightfully crispy starter to warm your belly for the upcoming courses. Paper thin salmon skin is fried to crunchy perfection, then piled precariously on a plate. This is then dotted with sesame aioli, avocado coulis and coffee-smoked salmon purée. This was surprisingly good, and not fishy at all.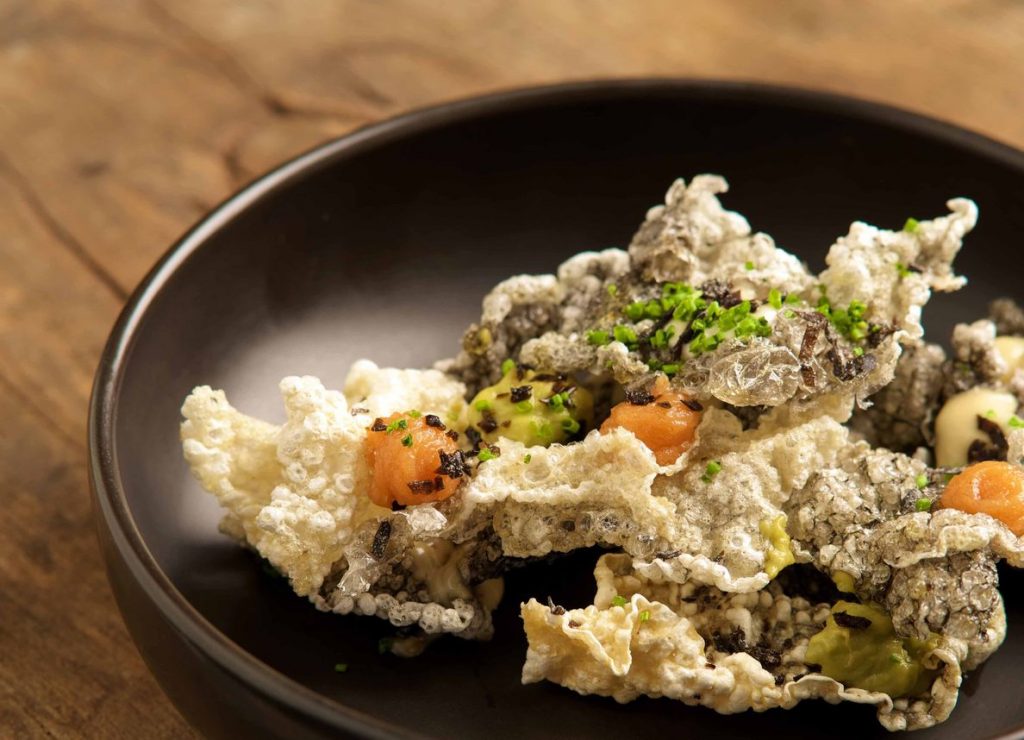 Snapper Ceviche
Ceviche can go horribly wrong when the lime juice is overdone. Thankfully, this Snapper ceviche was swimming (see what I did there?) with just the right amount of refreshing punch from the lime juice. I was able to enjoy the subtle sweetness of the tiny chunks of fish, paired with fresh avocado! The red onions gave this a subtle punch (because onions and lime are a heavenly match) while the cilantro brought everything together nicely.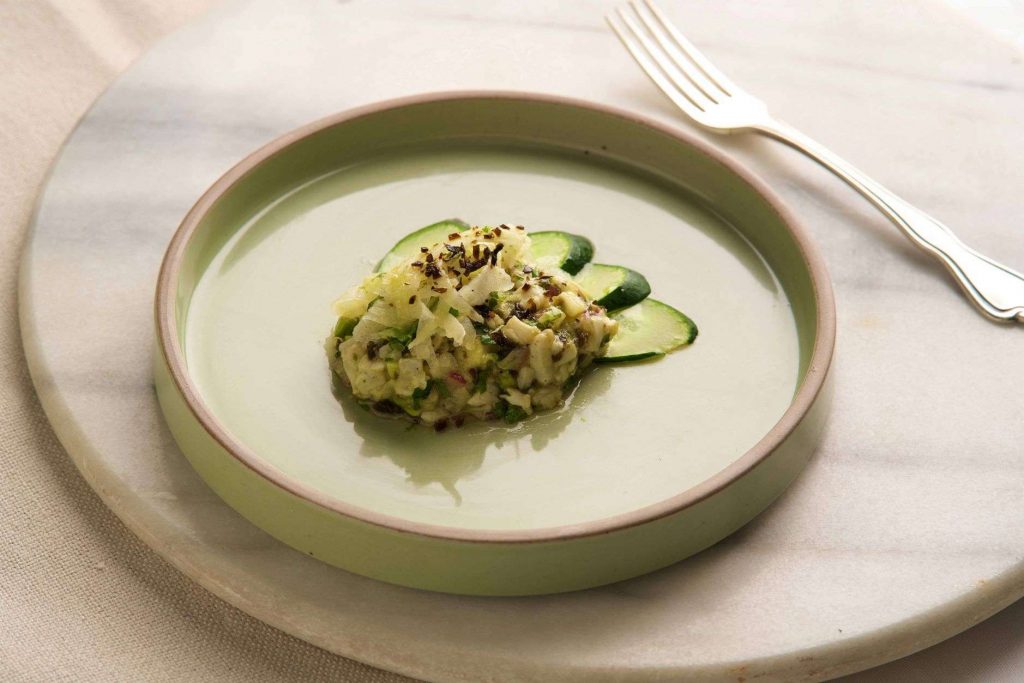 Pan Roasted Chicken Breast
Now, you know what a big fan I am of chicken breast. And I'm very particular about how it's done. Chicken breast has bad press for being dry and paper-like. Thankfully, the chefs at Stranger's Union sous-vide the chicken breast to tender perfection. The chicken is then slathered generously in a home-made jerk sauce and pan-roasted. Served with mix of sweet corn, diced red peppers and roasted sweet potatoes. A dish that looks as good as it tastes – don't knock it till you've tried it, thigh meat fans!
Strangers Coffee Smoked Salmon on Toast
This signature dish is one that I enjoyed thoroughly at Stranger's Reunion. The salmon is smoked in-house with hickory wood and spent coffee grounds. Yes, this is a coffee smoked salmon. If you have your doubts, I can appreciate them. But you've GOT to try this – the salmon and coffee go like two best friends who never knew how much they needed each other. The salmon even has a robust, reddish-pink hue with subtle tinges of brown – a promise of the flavour shower that's about to happen in your mouth.
I salivate as I write this, but don't judge me till you've sank your teeth into this salmon. It's served (arranged like a very inviting rose) on sourdough bread (which is slathered with a coffee-infused creme fraiche made in-house. There's also a poached egg, because you can make this dish even more delectable, apparently.
Buttermilk Waffles with Hazelnut Praline & Almond Crumble
The waffles at Stranger's Reunion put them on the map of the cafe scene and this very heartwarming dessert shows why these guys know what they're doing. They add the hazelnut praline INTO the batter before making waffles, which is the magic here (IMO). Most waffles can be too hard on the outside – not this one. The exterior is firm and golden, but doesn't crumble under the pressure of the knife. It's really just a very structured pancake, which is rare and also very appealing. Plus, it's topped with a scoop of cold, cold ice-cream. I can eat one whole waffle all on my own.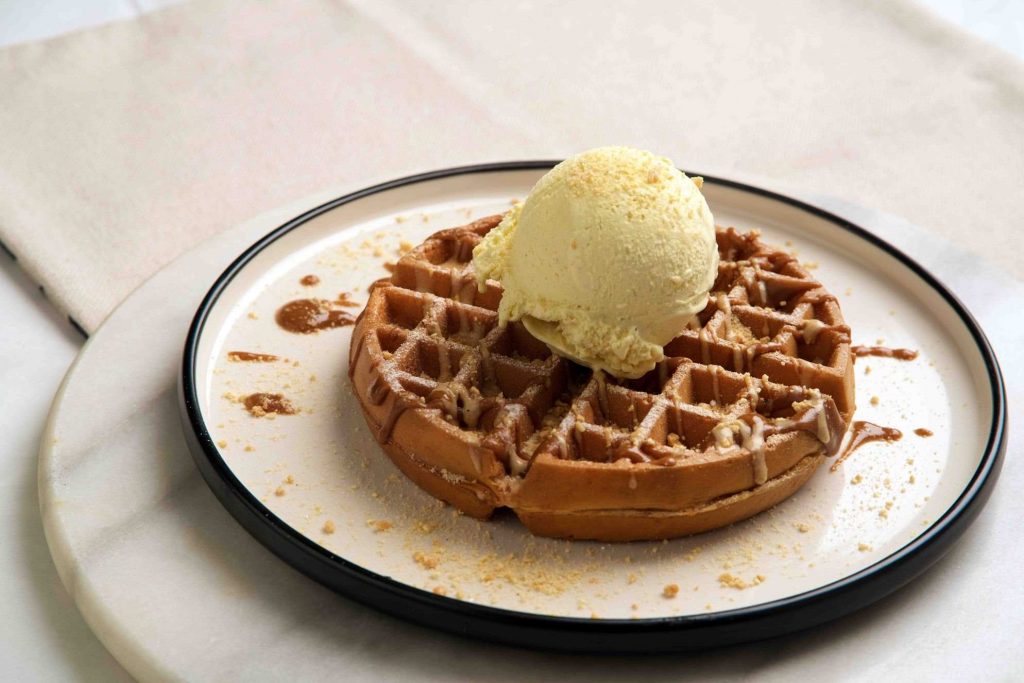 I have been to many cafes since 2012; and several of those have closed since then. I now think about all those years I wasted while not having tasted the waffles here, and I plan to make up for it the next few months. My dear readers – don't hesitate another minute.