Kuala Lumpur is the city away from the city for Singaporeans. While many here frown upon the prices (which for some reason they keep comparing to Singapore or JB), KL is still a popular destination amongst many Singaporeans.
Kuala Lumpur is the perfect weekend getaway, if you're looking to stay within a city. Within the span of one weekend (I mean from a Friday to a Sunday), you can see most of what this city has to offer. Plus, the food here is really amazing, regardless of the price point you're after. Before I start my love letter to and about this beautiful, glitzy, Malaysian city, I must first talk about the price comparison that most people make (and the safety concerns).
Price Comparison
Dear people who keep comparing the prices for food, drinks and general livelihood in KL to Singapore, or to other less expensive parts in Malaysia (like Ipoh, Perak or JB), please stop it. To start, Kuala Lumpur is a city very much like Singapore. They have trains that have made the city tighter in terms of connectivity, they have really amazing restaurants, fast foods, cafes, top-notch malls with luxury brands and malls like Sungei Wang where you can buy more affordable products. It's about knowing where to go and not labelling KL to be an expensive city. That's an oxymoron, as 'Cities' aren't cheap. I'd like you to point me to a 'Cheap' city – it probably doesn't exist, or is not quite a city yet. There really is no comparison between KL and other states such as Johor, as the prices are bound to be different.
Safety
'KL is not safe' is another line I've heard from many Singaporeans. Nope, there aren't burglars and car hijackers hiding behind bushes to jump out at you and run away with your money after stabbing you. I stress that while these things happen in different parts of Malaysia at different occasions, it's not necessarily the case in the city centre (and certainly not 24/7). As a blanket rule, just be extra cautious when you travel (not just to Malaysia but to anywhere in the world) because safety is not guaranteed even in Singapore. Always place your bags to your front, don't walk around alone at night at deserted places and stay vigilant (and not on your phone) at all times – you'll be fine.
Looking for a 3-day Kuala Lumpur Itinerary? Check out this link!
Food Recommendations
Congkak KL, Bukit Bintang
Traditional Malay fare awaits at Congkak, a quaint restaurant with excellent service located in Bukit Bintang. I walked past this place not quite noticing it. There's a bar on one side of Congkak, also by the same owner. If you're staying in KL Journal, then this restaurant is right next to you.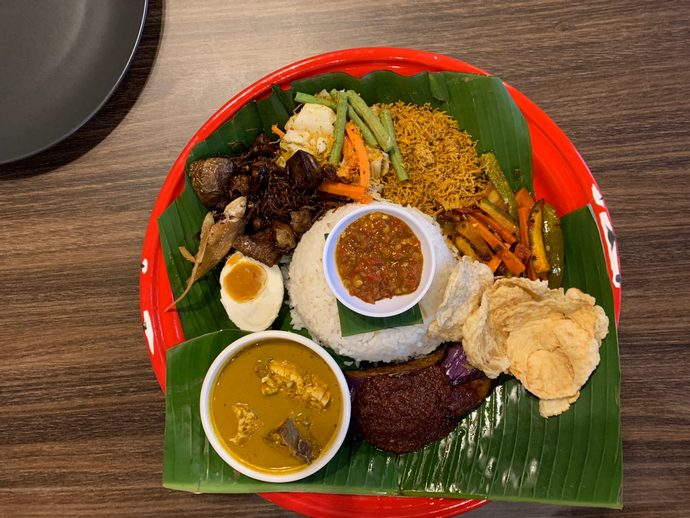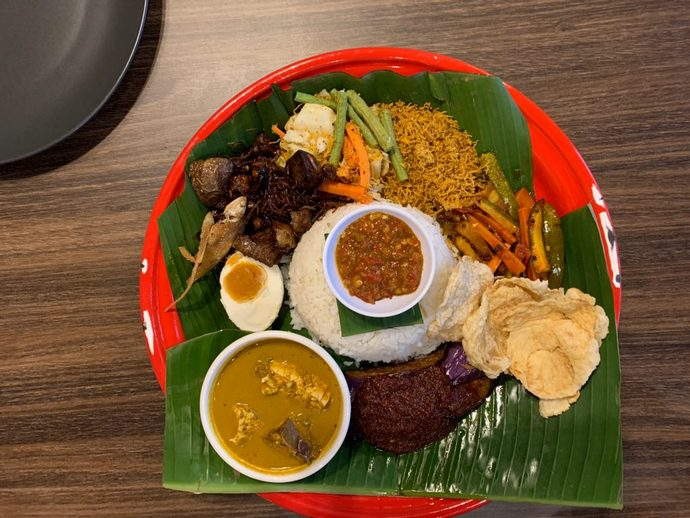 The star of their menu is Nasi Ambeng, an Indonesian 'mixed rice' dish. They have different versions of this, suited for different crowd sizes. I had the individual portion for RM20, though it felt like I could have shared the meal with another person; the portion was so generous!
My Nasi Ambeng order came with serunding, brinjal sambal, turmeric chicken curry, keropok, nyonya sambal on side, rice of course, deep fried anchovies, kacang, and this interesting black soy tahu kering. My meal also had a beef and potato begedil, which they had swapped out for more raw veggies. It was a very good, very fulfilling meal. I have never had a Nasi Ambeng before and I had kept thinking about how good this was on the ride home!
Feeka Coffee, Bukit Bintang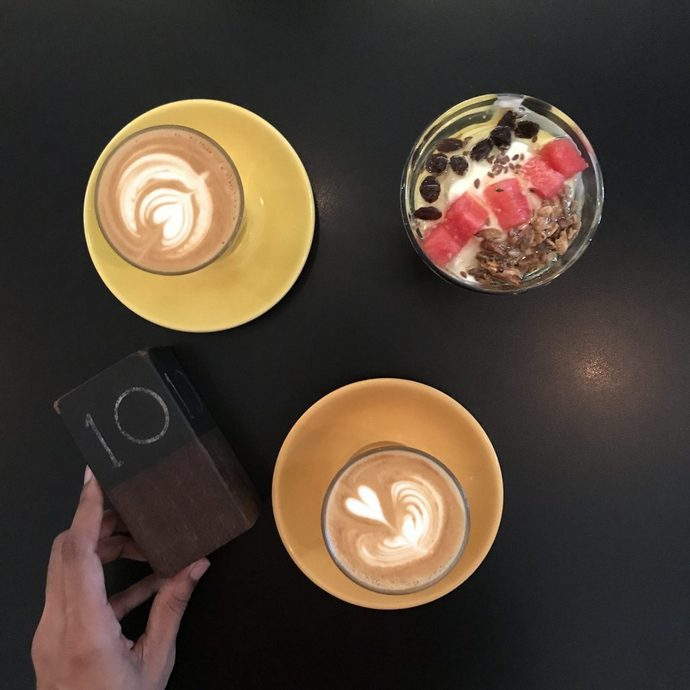 This place is quite ulu, as you've got to walk in from the main Bukit Bintang area. You'll also get to walk through the Bangladeshi neighbourhood, which is quite interesting a sight. Using your google maps app should help you to find the place pretty quick and easy. Order the coffee, as this is a must. They have a roast specific to this cafe, with beans that are imported from India. And if you ask really nice, they sell you the ground beans!
VCR Coffee, Bukit Bintang
This serves as an alternative to Feeka and is a little more of a walk than the latter. VCR's ambience is great! When I visited, they had a coffee tasting session which I found to be very convenient. I placed myself at a good vantage point to catch what they were doing – a wonderful place to chill and unwind after lunch.
3 Little Birds Cafe, Sentul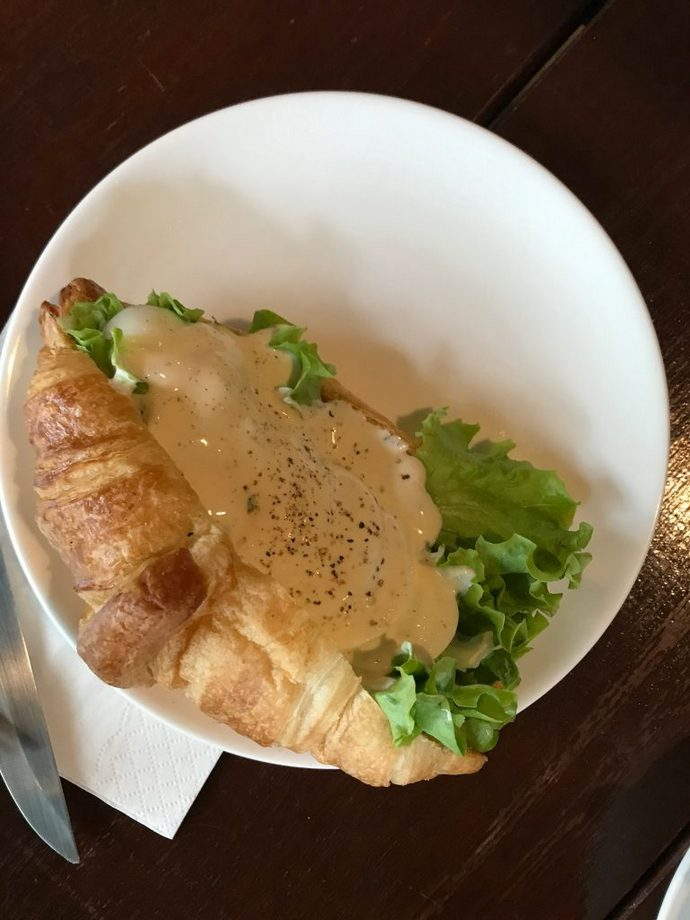 This cafe is located at Sentul KL, inside the co-working space called 'The Hub KL'. Another quiet cafe with a great breakfast platter, you can DIY your granola to the way you like it here. Plus, they roast their own coffee beans behind the cafe, you can walk past it to catch the action. This cafe is close to Sentul MRT station, and the google maps will guide you from there. Alternatively, you can take an Uber over. If you see a few condominium buildings in a strange, zig-zagged pattern, you're in the right place.
Antipodean, Mid Valley
Antipodean is a popular cafe brand in Kuala Lumpur, with branches in Bangsar and KLCC. This particular branch is in Mid Valley Mega Mall. And they mean mega mall – this place is enormous!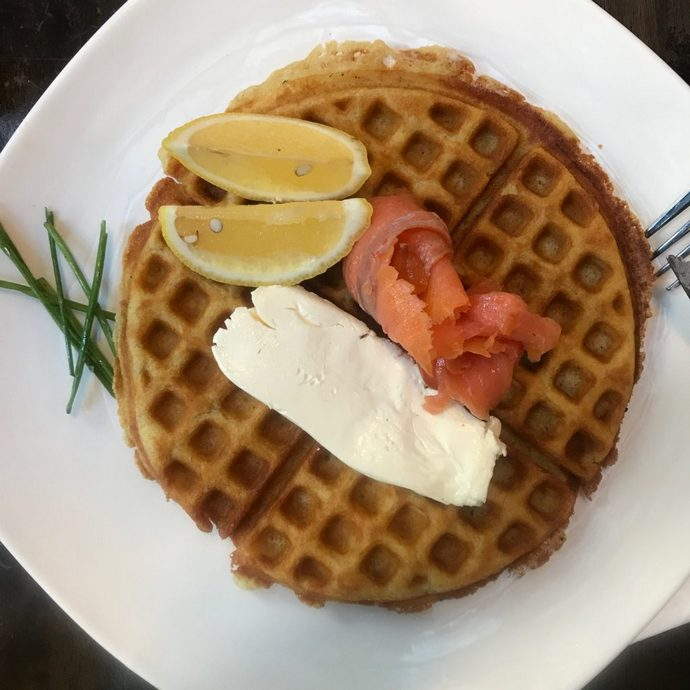 For a brand that is everywhere, Antipodean has very good quality control. I had a fluffy waffle with smoked salmon and a slab of cream cheese for breakfast, that came with a side of fresh lemons for added zing. I initially thought the salmon rosette was too small for the rather large waffle – but it turned out to be just right. The cream cheese was ridiculously indulgent.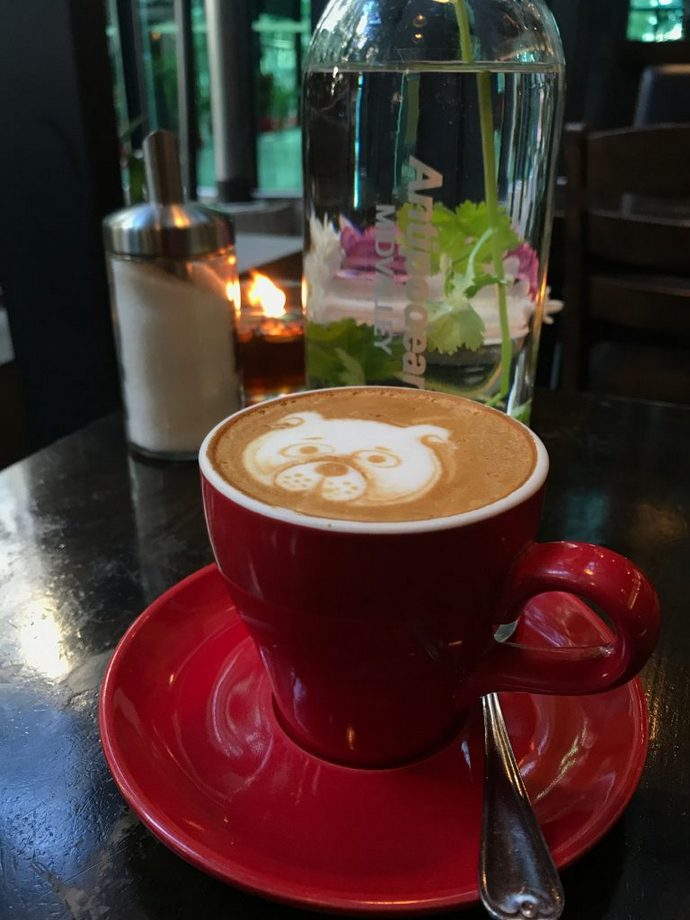 Anitpodean also have very good coffee, and even better latte art! My sad little foam-pit bull kept me from drinking the coffee for so long! Finally, the need and greed for coffee found a way to rupture the beautifully sad puppy.
Huckleberry, Damansara
I had never been to Huckleberry before, and I quickly noticed why; Huckleberry is located in Damansara and that is no where near where I normally stay in Kuala Lumpur. However, Grab came to my rescue. It cost me about RM27 to get from hotel in Bukit Bintang to Huckleberry. The ride is quite nice, too! Damansara is similar to Serangoon Gardens in Singapore, if you need a location identifier.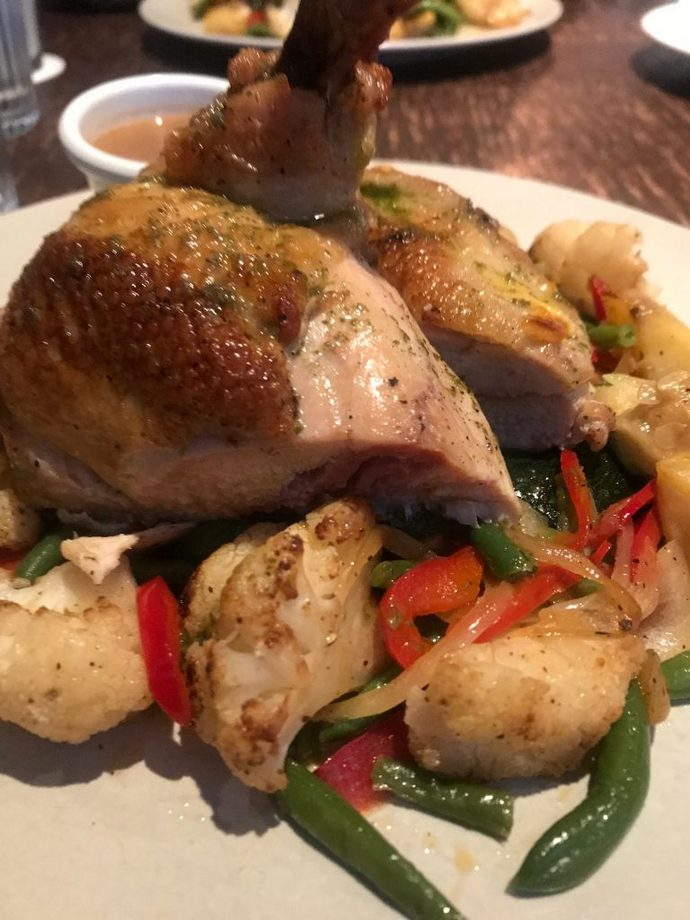 The food is generously served in large portions, as is the coffee delicious. I had the chicken breast roasted with vegetables. I honestly could not work my way through the food; there was just so much! Altogether a quaint setting away from the city centre, if you're looking for that.
LOKL Coffee
The cafe culture in Kuala Lumpur is serious business, as you will witness in LOKL Coffee. Located near Mollagaa, the Indian restaurant, LOKL Coffee present a twist on classic, well, local dishes.
I went there for breakfast, which was a stack of fluffy pancakes. They mean the fluffy when they say it; each pancake (there were three) was as light as air. This was laced handsomely with Gula Melaka Syrup, peppered with honey pecans and of course, puffed with whipped coconut cream. A heavenly presentation and a dish on their brunch menu
Maggi Goreng, KL
Maggi Goreng is very popular in Malaysia, particularly… well everywhere. In Kuala Lumpur, I have tried my fair share of Maggi Goreng places and the one that has made an impression is this one. I cannot remember the exact location, but I can tell you how to find it: its attached to Hotel Capitol in the heart of Bukit Bintang. Capitol is a pretty decent hotel I've stayed in on many occasions. From the lobby, you'll find a mamak shop when you walk around the property (either direction is fine). Not only do they have Maggi Goreng, they have pretty decent prata and briyani, too! This is closest to Imbi Skytrain Station (across Times Square). You want to walk away from Times Square (opposite direction) to get to the Maggi Goreng Stall.
Breakfast, Imbi Market
Asian breakfast is the best – you can have anything from wanton mee to kaya toast and it'll be just as good. At the Old Imbi Market, breakfast is a bustling affair. This is a market, so do not go expecting comfortable seating and air-con. Think more along the lines of Tekka Market, and you're there. What can be assured is really good food, if you can find a seat in the crowd.
Indian Food 1: Vishal's Catering
The first time I went here was for an afternoon cup of coffee before heading out for dinner. If I could have wiggled my way out of my dinner plans that night though, I would have. The aromas from the briyani, chicken curry, fried masala potatoes, bitter gourd, pretty much everything that was on display here were making me faint. I have vowed to eat here again for sure, and have it in good word that the food is out of the world. Also, very popular with foreigners.
Indian Food 2: Talapakatti Briyani
This Briyani place is unique from others because of the short grain rice they use, native to Southern India (particularly Tamil Nadu). The meat is cooked and packed into the rice and comes to the table piping hot. Also try their mutton varuval, prawns and paneer. You can walk to this restaurant in Brickfields from KL Sentral train terminal.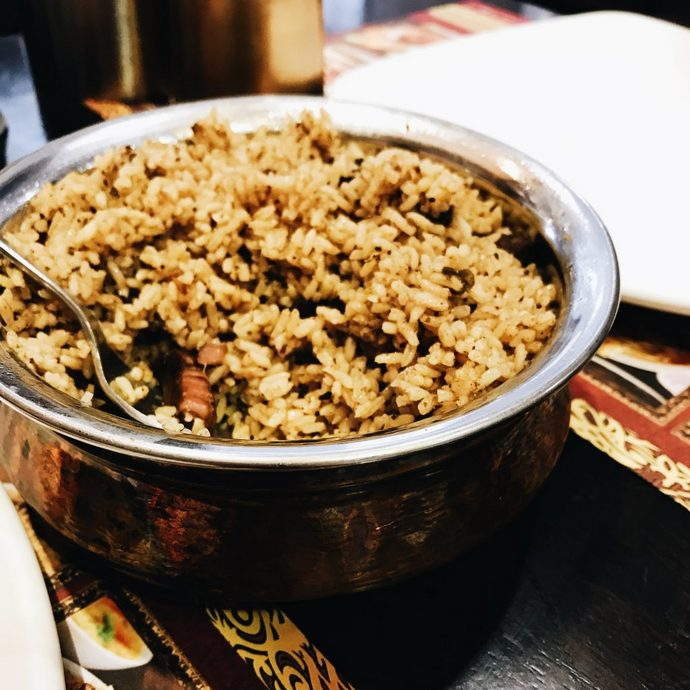 Indian Food 3: Mollagaa
Mollagaa is a restaurant that I've heard about for so long! I am glad I finally got an opportunity to try it and boy was I impressed. Firstly, the service was quite excellent, if I say so myself. The wait staff were very attentive, as were the staff at the till.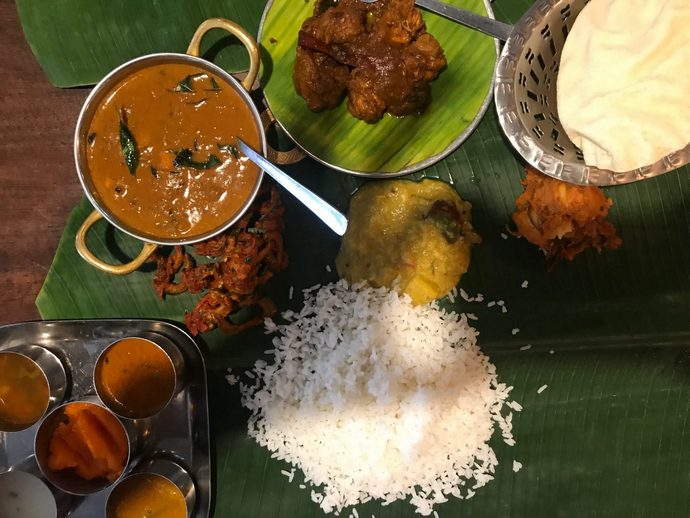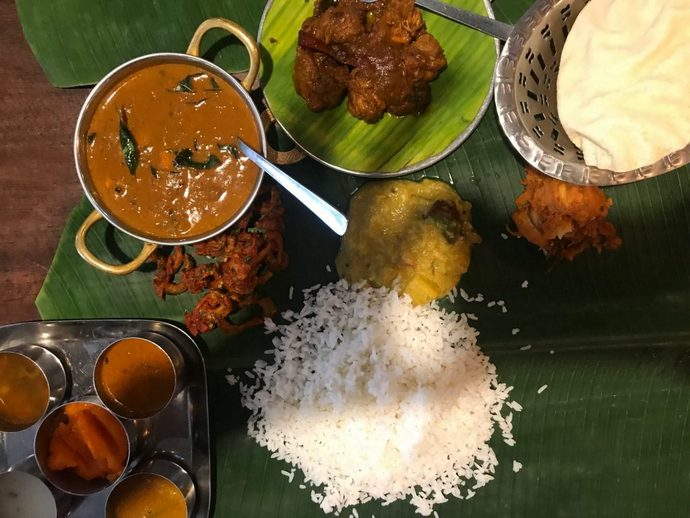 The food here is traditional Indian, served on a banana leaf and with a side of many, many gravies to try. I had a selection of vegetable sides, with a mean chicken varuval and Keralan Fish Curry. They also serve dessert with the set meal, which comes with a free-flow of rice.
Grandmama's @ Pavilion
Grandma's is on this list because I realised how much I missed eating here when I had a mouthful of rich and creamy chicken curry. Grandma's is called Grandmama's here, though it has the exact same branding as the resturant we are used to in Singapore.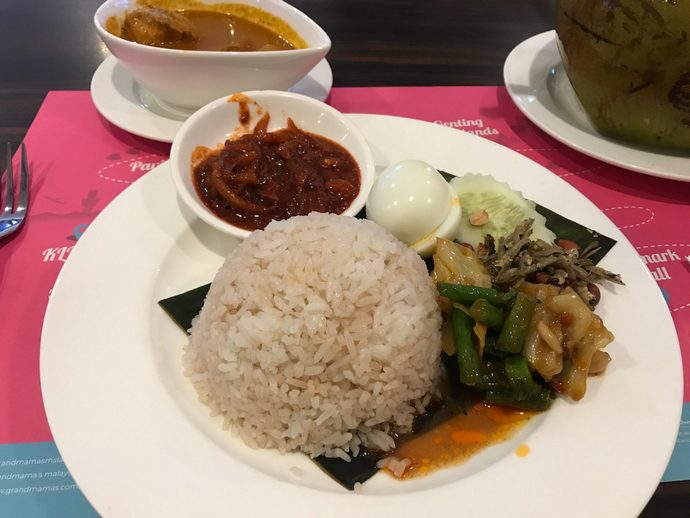 They serve the most delectable Peranakan fare and reasonable prices. I had the Chicken Curry Nasi Lemak Set, and upgraded my drink to a fresh coconut because, why not? Finished off my meal with a very large bowl of Chendol. They had added plenty of creamed corn in my Chendol which I didn't quite fancy, though the gula melaka and coconut milk were quite excellent.
Seafood at Jalan Alor
Jalan Alor is a very popular seafood heaven in the evenings. Join throngs of people heading out to look for delicious seafood here. While most of them are Thai-inspired, you can find unique restaurants here too. There are a couple of Lebanese restaurants here as well, thanks to the middle-eastern migrants in the area. The stall vendors are very kind towards Ang Mohs, and Asians can be ignored even though you loiter around the front of the store looking for a seat. Not all stall vendors have this prejudice though, its best to be discerning.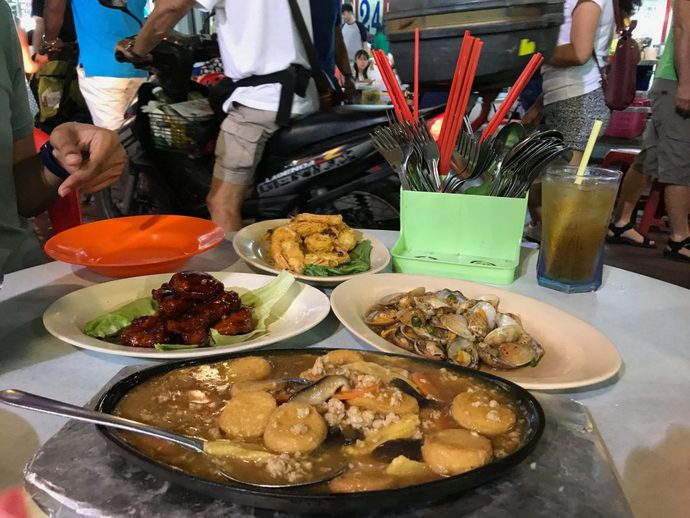 Porki, Petaling Jaya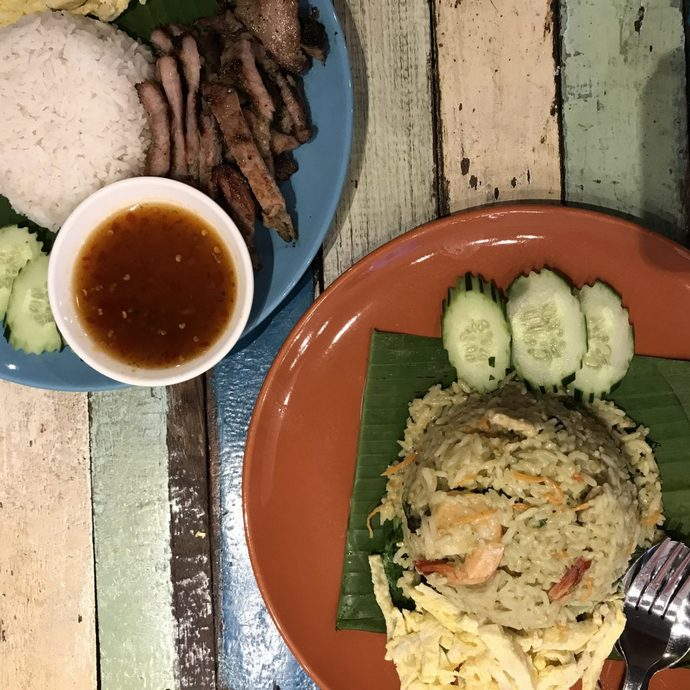 Porki is a Thai-inspired, pork-loving restaurant that can get packed during lunch hour. I tried the deep fried mushrooms that come with a light wasabi mushrooms and the minced pork basil fried rice. Both dishes were spectacular – I love it when deep fried food is crispy and not greasy. Make sure to get here just before lunch if you'd like to avoid the crowds.
Indian Chendol, Petaling Jaya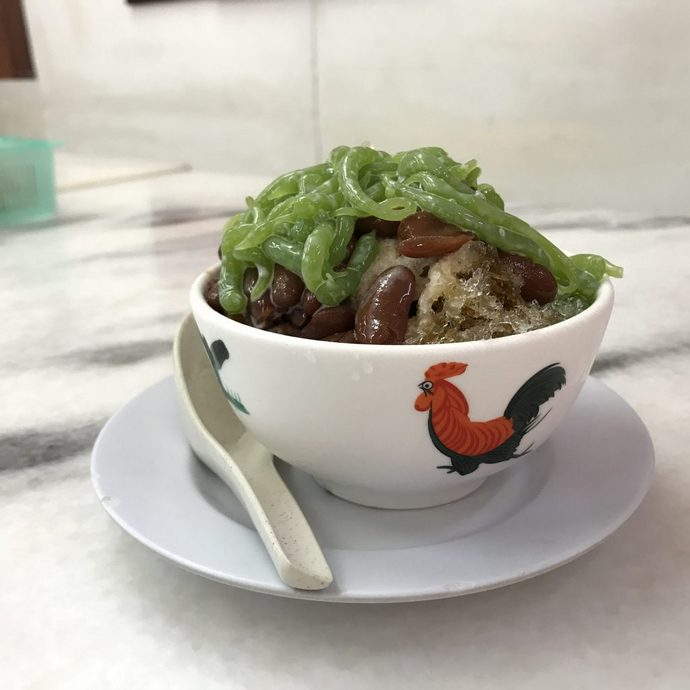 I found this very curious (for obvious reasons) and had to know what the Chendol of my people tasted like. It was good, creamy and light on the tongue. I recommend this as a nice dessert to your meal at Porki, you simply have to walk from the restaurant down a couple of stalls. I don't quite understand what's so Indian about it (I mean, it was served by a Vietnamese waiter!). But worth a shot nonetheless.
Putra Mall
Putra Mall is attached to PWTC train station, sort of what our neighbourhood malls are like. It's quite extensive for shoppers, hence worth it to check out. Here's what I go to Putra Mall for – Capriciossa. This is an Italian Fusion restaurant that has amazing lunch buffet offers (30 plus RM per person) and even more amazing Garlic Chilli Shrimp. You'll find yourself ordering more of the shrimp, I can tell you now.
I just realised that most of these places are of food. Okay, who am I kidding? They are ALL about food. I do more things during holidays! I promise! But I'll surely cover other things to do in KL (besides just stuff your face as I apparently do) in another post. For now, tell me if I've missed out on anything!