Everyone is talking about the best hotel and restaurant Christmas menu. Even we did a list of 12 awesome places to be eating at during Christmas. We thought we'll take the road less travelled and talk about 12 alternative places to have dinner.
Nothing to do with Christmas, but great for anyone looking to get out and have dinner with your family during Christmas. I mean, the true spirit of Christmas is in sharing a good meal, regardless of the meal being a traditional roast turkey or a mutton Briyani – right? Also, this list will come in handy when everywhere else is full. Not jinxing it, just keeping it real.
Mustard, Race Course Road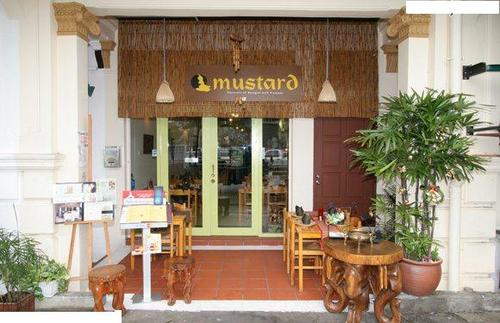 Mustard has the best Bengal and Punjabi cuisine in Singapore. Bengal is a region in India known for the intricate use of spices in their food. I would order the Prawn Curry in a coconut, but here's a fair warning: do NOT tell them you'd like it spicy when they ask if you would. I made the mistake of saying YES to this (queue egoistic Indian man who thought no amount of spice could break him) and regretted it. Aside from the curry, try their dry masala fish, succulent chunks of boneless fish served on a sweet platter. For dessert try Rasmalai; a tender flour cake that's been soaked in sweet milk. While the food here is good, its always crowded. You can make a reservation here.
Machaan's Kitchen, Race Course Road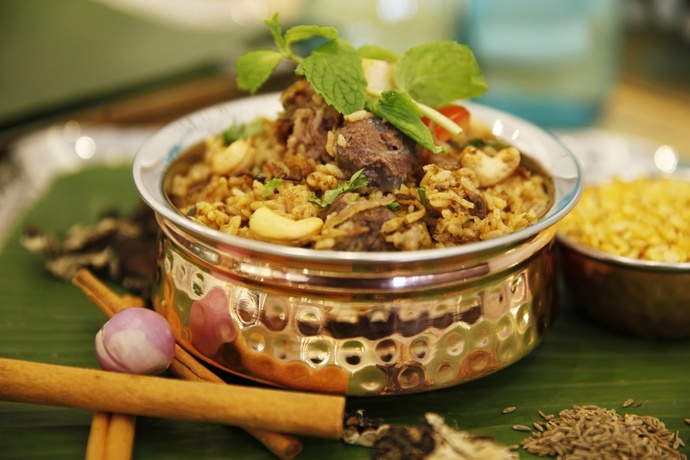 Machaan's Kitchen is the newest kid on the block along Race Course Road in Little India. They specialise in traditional South Indian Food, such as Fish Curry and Mutton Peratal (spicy, dry-fried muttons with a dry gravy). Machaan's Kitchen has a nice design concept as well, different from its counterparts along the street. When I was here for dinner one rainy night, I tried the prata and the appom, while a friend had the biryani. It's best not to expect the flavours to be like the kind that you can find at Tekka Market or your neighbourhood stall, as they take the Tamil influence on the food very seriously here. Waiting times can be a little long though, especially if the restaurant is full. You can make a reservation here.
Swee Choon
This dim sum place hardly needs an introduction with regular dim-sum goers. From a small hole-in-the-wall establishment, this popular Chinese restaurant has grown to deal with exceeding demand by having an automated seating service, and sometimes the wait can go up to 40 minutes or even an hour. The dim sums all come in small portions, which make it easy to eat (and overeat). What I particularly like about this place is their carrot cake (the steamed kind) that's soft, tender and full of flavour. The Xiao Long Pao here is not as soupy as the one at Din Tai Fung, but it's tasty nonetheless! Swee Choon has an extensive indoor and outdoor area, though that would mean sitting on the road along the drain. Some may be squeamish, but its a great way to bond with your family over a large round table. End the meal with their mango pudding. Worth every calorie. Swee Choon is also close to Mustafa Centre, in case you'd like to walk off your meal.
Char
Reservations at Char are essential not just to book yourself a seat, but to also order their premium char siew. This delicious platter of char siew is roasted with charcoal and lychee wood and basted up to 5 times during the cooking process. The restaurant makes only 10 plates a day and each table can only get 1 plate of the char siew. So I would really line-up to try this if I were you. Aside from this exclusive pork, they have their regular char siew, passion fruit prawns and black garlic chicken, all of which are tantalizing on their own. Its away from the hustle of town, but not too far away should you decide to see the lights after dinner. Check out the complete review of Char here.
Sing Ho Hainan Chicken Rice
Chicken Rice is a Singaporean staple – we all love it and have gotten used to it being one of our national dishes! While there are many places in Singapore that sell the best chicken rice, I won't claim this to be the best. I know all too well the affinity Singaporeans have with their favourite food! Chicken rice here is pretty well known, and the place can get crowded in the evenings. However, there is nothing that'll stop fanatics from sinking their teeth into the juicy soy-sauce chicken, spicy chilli and perfectly cooked rice. There's a Thai restaurant just next door, should you want to get a Thai milk tea or dessert.
Lobster Nasi Lemak (Lawa Bintang)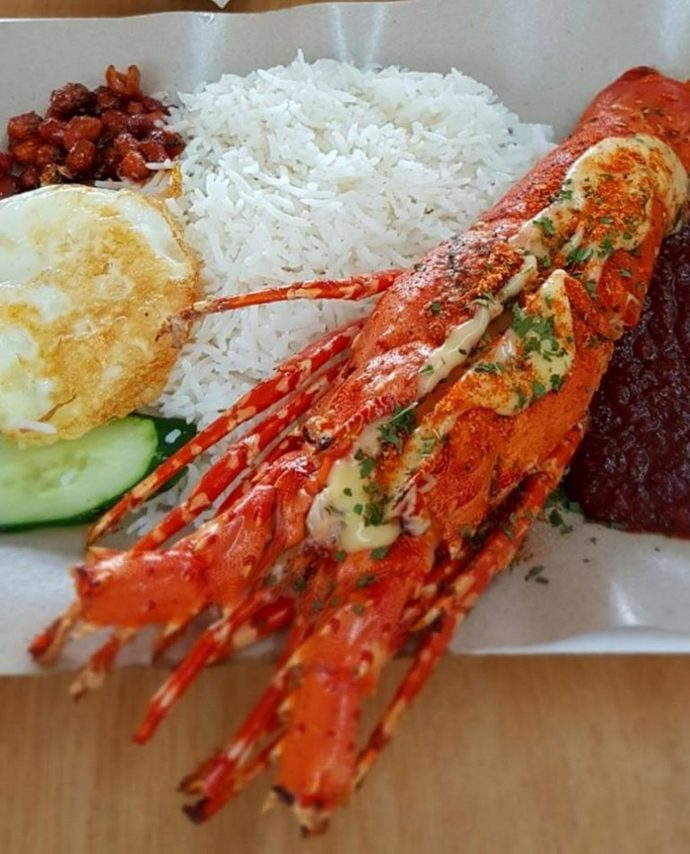 Newly opened in February 2017, the lobster Nasi Lemak craze swept Singapore by storm. The ques here can be quite long and stuffy, as it's not a restaurant per say. However, the size of the sinful lobster is enough to make anyone want to wait patiently in queue for the Nasi Lemak. Kak Sare (the mastermind behind this next-level Nasi Lemak) uses Basmati Rice for its health properties. The lobster, while accompanied by a single plate of rice, is enough for 2. Thinking of gathering your family this Christmas season and having some food and chatter over awesome local food? Look no further – sharing a plate of this nasi lemak can spawn great bonds (or spectacular arguments!).
Pondok Jawa Timur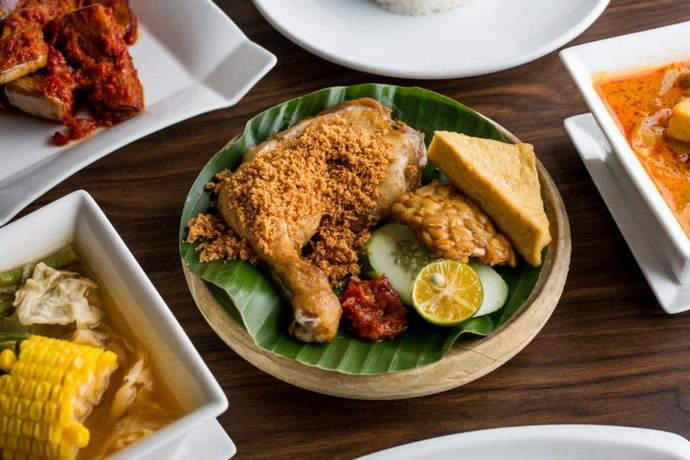 Its Indonesian food like never before at this restaurant in Wilkie Edge, a mall popular for Kaplan students (who don't go to this restaurant as often, so it's pretty empty). Some of the must tries on the menu include their Tau-Telor, a deep fried eggy structure with bits of tofu trapped inside. They also have a kick-ass sambal on the table, which goes great with the Tau-Telor. And of course, they have their very own Ayam Penyet and YES you can request for breast meat! Try their avocado shake (with gula-Melaka) while you're at it (you can jog it off next year).
Al Azhar
Make room for Mil0-Dinosaur at Al Azhar! This is a popular late-night haunt for many Singaporeans, as they have more than a couple of outlets all across the country. You can try their prata, or even Maggi Goreng along with their classic (and sometimes strange) concoctions of overly sweet and calorie-loaded drinks. I make it a point to try something new everytime I am here. Aside from the classic Asian menu, they also have an extensive selection of western food, for those who are feeling a little tired of the bold flavours in Asian food. This place can get quite full quickly, so you'll have to wait for a table – though I'm sure I won't have to tell you that!
Saybons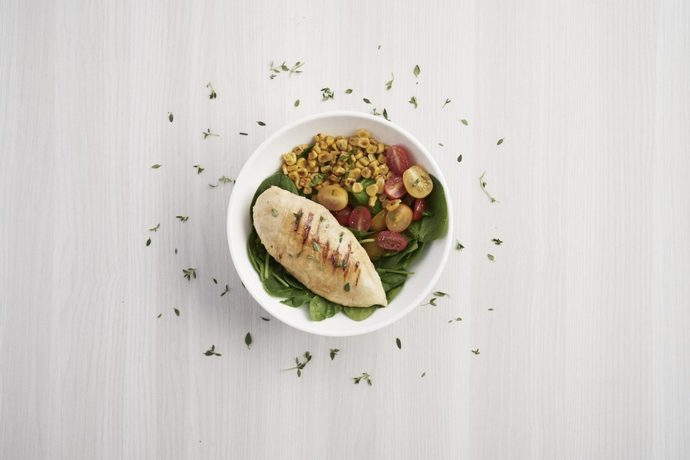 Aaaaahh affordable French Food! Saybons started as a tiny kiosk in Plaza Singapura 10 years ago. Today, there a number of outlets all over the country, each serving a wide array of delicious French or French-inspired food at reasonable prices. Latest on the menu is their selection of 10 different soups served in shot glasses. These soups are a mixture of new creations and classics served at Saybons over their 10 years of existence, created by the founder. Also, try their crepes and escargot. This place is in town, though, so you'll have to brace yourself for the crowds this time of the year!
Urban Bites
Don't let the contemporary name fool you! Urban Bites serves some of the best Lebanese Falafel and Hummus I've ever tasted! This middle-eastern restaurant has been around for 10 years, serving up authentic Lebanese food and drinks to their loyal customers at Telok Ayer. I highly recommend the sharing platter, which has Falafel, Warak Enab rolls, Lamb Kibbehs, and hummus along with other dips. They also make a delicious bulgar wheat salad and have a mean Cheese Manouche (cheesy bread) for weekend brunch.
Burger Monster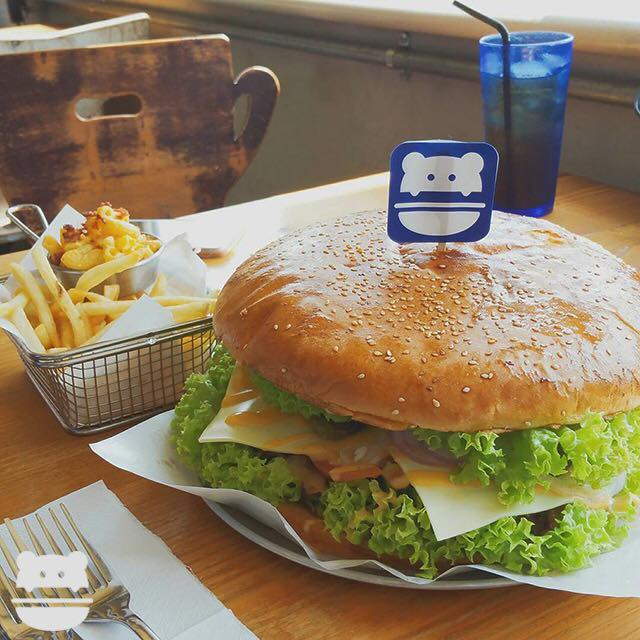 I found this place by accident one day when in Jurong East and desperately seeking burgers. This place does the best Korean fusion burger, with a layer if kimchi sandwiched between the meats. They also have an extensive collection of condiments to go with the burgers, sweet potato or truffle fries. The portions here can be pretty big, so order cautiously. Conveniently located beneath the Jurong East MRT station, Burger Monster is pretty easy to get to! Just pray there isn't a train breakdown, though. They also have their ultimate burger, which is a burger about the size of a newborn baby. Great for sharing and welcoming the New Year in a goofy way!