The ultimate pasar malam, they say. The Ramadan Bazaar, normally touted for its authenticity, has now become a by-product of the enterprising millennial culture. Also, sub-standard expensive food. Here's why its worth a trip, though.
So, On Monday, I did what most food bloggers have already done in Singapore – head to the Ramadan Bazaar in Geylang Serai. I must admit right away that I did not check out the entire bazaar. I stayed focus on my goal to discover as many food items as I possibly could, given my short time with a videographer. But it soon became apparent that I did not have to do any strategic planning to uncover the deliciousness – there were way too many stalls selling the same things! Here are some of the items I tried. (a side note: I wanted to do '10 things to try at the Bazaar' article, but after reading the review, you might conclude for yourself why I have not done so.)
The Unicorn Drink
One of the first few things I tried, and something that got me extremely excited – pale pink, luscious looking with sprinkles. I just had to. This set me back $5.50 and was literally ice-blended, diluted Bandung. It was incredibly refreshing in the punishing heat, but yes, I did feel kinda cheated that I paid $5.50 for a cup of well-branded Bandung. This 'Unicorn Drink' can be found next to Thai Ice Tea stalls – try those.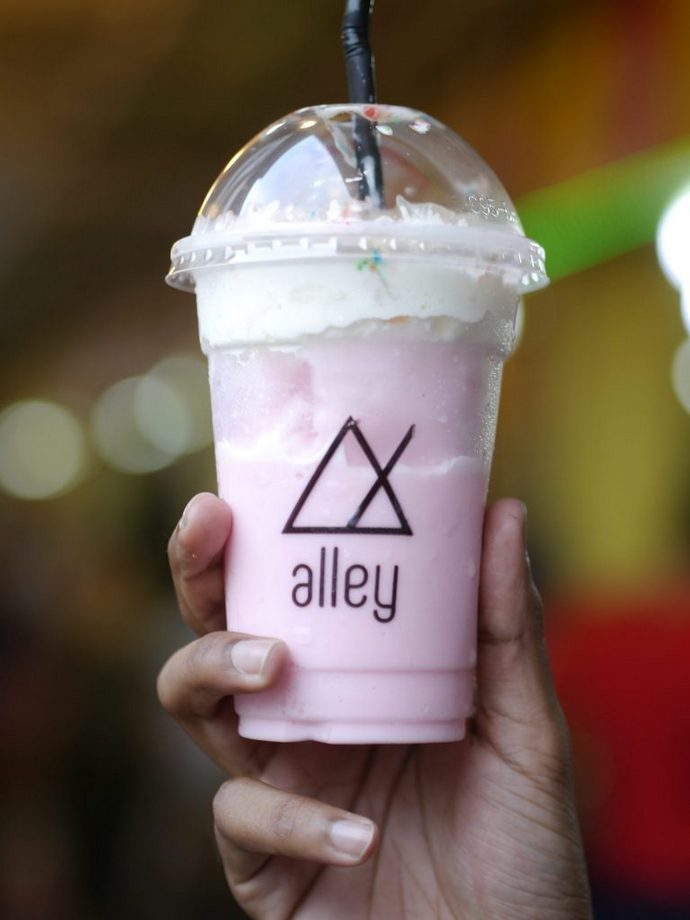 The Melted Cheese Thing
OK, for this, be prepared for the line-up. I was in the que sipping on my frozen Bandung Unicorn Drink, waiting patiently for melted cheese to be sinfully poured over sauteed cocktail sausages and baby potatoes. This dish is $12 and is definitely meant to be shared by 3 people at least. The cheese is melted before your eyes and then seductively scooped over the waiting sausages and potatoes. Its worth a try, as the cheese is really quite addictive. But eat it hot though, and be prepared for the stench that'll hit you when you're near the store. It's the melted cheese rind.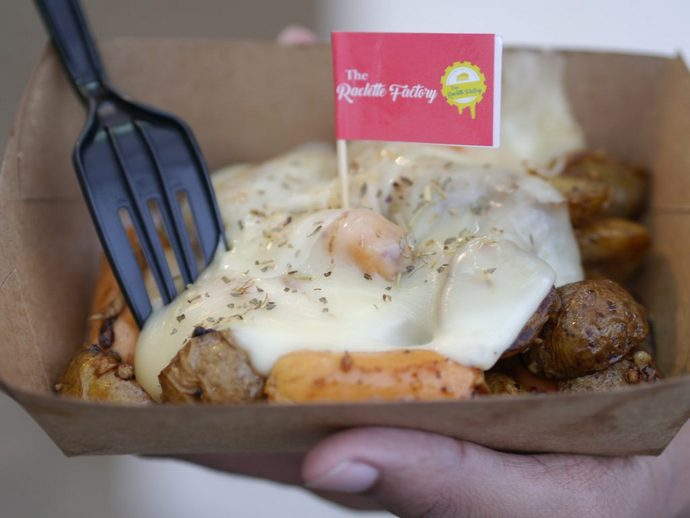 Deep-fried Milk
This was the most curious item I felt I had to try – how the heck do you deep fry milk? So predictably, the store owner was cleverly silent about the process. My suspicion is that they do something to the milk to curdle it and then freeze it in small cubes, before dipping it breadcrumbs and lowering into hot oil to fry it crispy, golden perfection. Then, this is soused with salted caramel sauce. Easily, this was the most unique item I tried. The milk (inside the golden, crusty exterior) was warm and melting – so much so that I couldn't pierce it with a fork. Try it at least once, at $5. Can be possibly shared with one other person.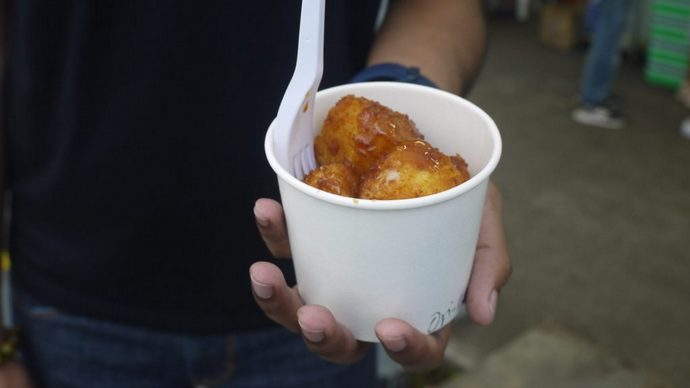 Chilli Crab Churros
Now, this item was at the top of my list. As a true-blue Singaporean, I have my own set of expectations when it comes to Chilli Crab, as I'm sure you do as well. This idea isn't a great novelty – Queen and Mangosteen have Thick Cut Fries with Chilli Crab Sauce and it's amaze-balls. So, what I loved about this is that the sauce was piping hot, poured over savory churros. The churros acted like little sponges, soaking up the sauce to no-end. You can see bits of crab in the sauce, too. Though it could have been spicier – that's my thing. I'm sure the next tourist would find it perfectly spiced. This was $6 and can be shared if you've enough of everything when you get to this booth.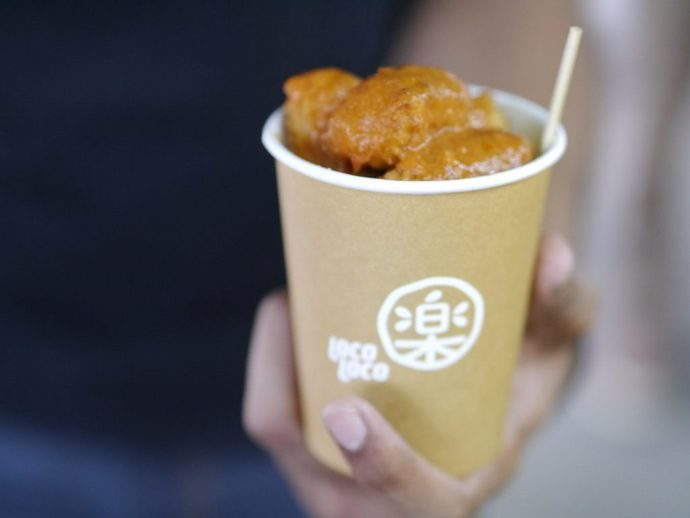 THE Chendol Ice Cream
I say this is THE Chendol Ice Cream because my dear cravers, this stall needs a que. It's so good and so authentically fresh. You can choose two toppings for the soft-serve, and your little ice cream will be served with a tantalizing drizzle of gula Melaka. Ugh, this is what dreams are made of (well, mine anyways). The two toppings are inclusive in the $5 you pay. They have the usual red bean and green chendol worms but also crushed almonds and corn flakes. By the way, not for sharing. Believe me.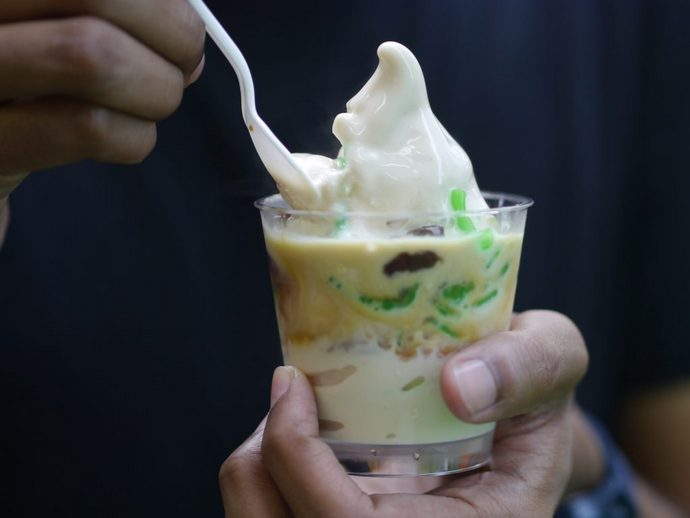 Chocolate -Smores Creation
I call this a creation because I don't think it can be called Smores, per say. This was really a solid bed of Nutella, topped with 6 or 7 round pieces of marshmallows, grilled under the oven and served with Hup Seng Crackers. For $3 we cannot expect graham crackers I suppose, but the lack of effort in getting this done sort of put me off. I tried my level best to get the Nutella, but all I kept getting was the melted marshmallows as the Nutella at the base of the aluminum dish was just chilled solid. I don't know about this one, guys. Maybe not worth the effort – sort of how they probably felt preparing it.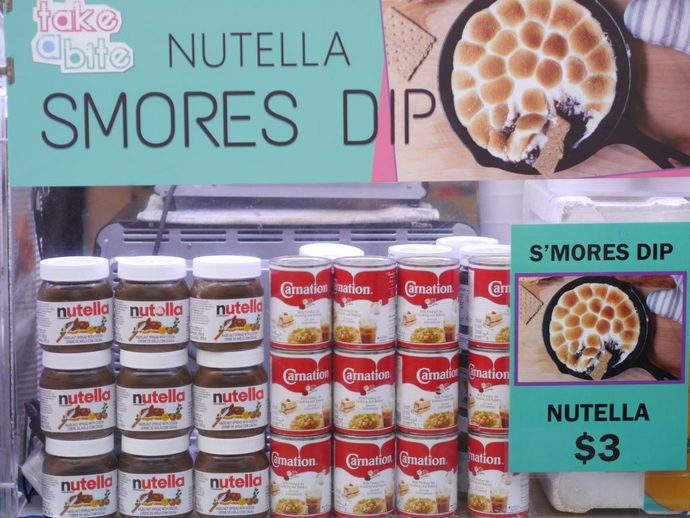 So there you have it – I did not try 10 items because after some time, I just could not put anything sweet or salty in my mouth. But like every year, this too is a year where the Ramadan Bazaar is a competition of who can come with the most unique dish or item to impress and attract customers. Check it out, but do not go expecting classics like tu-tu cakes and Goreng Pisang.