Kitchen ideas to make cooking and eating more grand.
It is quite the cliché, but the kitchen really is the heart of the home. This is where everyone in the house would at least spend 5mins a day, mostly lurking around for something to eat. Hence, this buy default becomes one of the more important rooms in the house. We've put together 5 tips to make your kitchen more inviting, and certainly, help make it look bigger.
Replace Solid Cabinet Doors with Glass Panelled Ones
You know how in most kitchens, there are 2 or 4 doors that are glass panelled and the rest are completely opaque? To create the illusion that your kitchen is bigger, try replacing all cabinet doors with glass panelled ones, or frosted glass fronts. Not only will light be reflected more easily in this kitchen but it will also force you to be more organised with storing your kitchen items. When you have guests over, they will be very curious to see how well you've stacked everything (everyone loves to look into others' windows, its just that no one will openly admit it). Plus, this could serve as design inspiration for your friends looking to give their kitchens a makeover.
Get Open Shelving
Reserve one wall in your house to create open shelving (they have a few great ones at IKEA). This is another place where you can show your organisation skills. Besides, if you spent a lot of your savings on that precious Kitchen Aid, this is the place to show it off! The shelves can also carry your dinnerware and fancy cutlery – this way, you will use it more often! The only drawback is that this method will require more dusting, but hey, cleaning more often than not is not a bad thing.
Mood Lighting
No, mood lighting is not just for the bedroom! The kitchen is wear more time is spent, especially if you cook and prep your meals for the week. New homes are designed to dissolve the little space between the kitchen and dining room, making the kitchen a place where the family gathers.
Change the lightings in the kitchen. Consider new hanging lamps, soft white or even sunset yellow lighting to create a warm and inviting space. This will make conversations lighter and promote unwinding after a long day at work.
Get Organized
The best way to make your kitchen feel like a true extension of you and your family is to organise it. Do an inventory in your kitchen once every few months and weed out things that you don't use, or have expired. This will help you save some space. Also, try to use a central colour theme when putting things together in the kitchen (all red bowls together, or all blue items on one shelf and white items on another. This will make your kitchen immediately impressive and by association, inviting.
Create A Recipe Wall
A wall of recipes will do you more good than you can imagine. Select a wall in your kitchen (it can be a small portion of a large wall), hang a cork board and stick on the recipes, tips and tricks you collect from magazines, or scribble down while you're watching cooking shows. This is the best way to ensure that you use every tip that comes your way. It's also a wonderful way to add a homely appeal to your kitchen.
You can even transform a wall into a giant chalk board, and draw in recipes, tips and messages for your loved ones. Or a reminder that the washing machine is running.
Keep the Bugs Away
Bugs, such as cockroaches and household lizards, can pose a real problem in kitchens. Espeically so if you live on the ground floor, and there has recently been a fumigation exercise. However, you can beat the bugs with some natural methods. Lizards are terrified of Cinnamon – it smells like poison to them. This is great news for us! Strew your window sills, pantry cabinets and even the top of the refrigerator with cinnamon sticks. If you're up for it, tie a bunch of cinnamon sticks with a yarn and hang it from the windows or small pipes that run along the kitchen. This will keep the lizards off the walls!
Deal with cockroaches in a similar fashion, but with Pandan leaves instead. An in expensive and eco-friendly way to remain bug free at home, creating a more inviting cucina in the process.
Go Green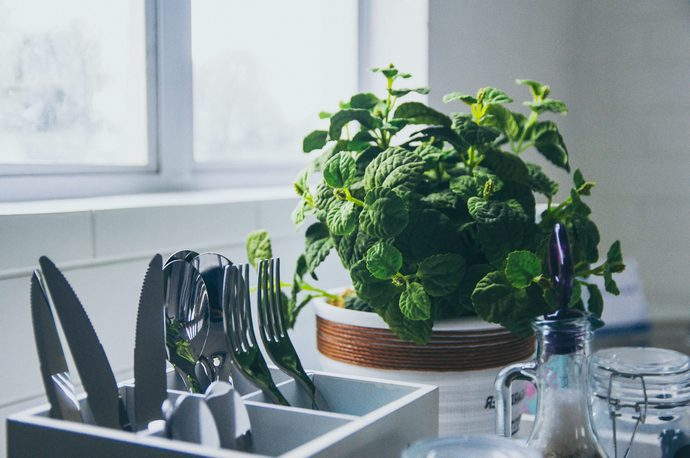 You can go green in the kitchen not just by reducing plastic! Add some plants, especially the sturdy indoor kind that can with stand the heat (pun fully intended). These include the snake plant and money plant, which can be bought from NTUC even.
You can also start your own mini herb garden, or get your hands dirty by planting some chilli or lemon seeds and watching it grow!
Contain The Odours
All kitchens (especially around the area where your trash chute sits) collect funky odours. While it smells most inviting and delicious when you're in there cooking, it needs to also be aptly scented for when you're not. Employ a few scented candles around your kitchen, and use natural scents to perfume the room, such as cinnamon or orange (or cinnamon and orange). If you have leftover coffee beans that have expired, pour them out into candleholders and leave them around the kitchen. Not only do they make your kitchen smell very good (and particularly inviting in the mornings) but they also keep off ants and lizards.