My Experience in Bangkok: The Land of Smiles. And why you should go back as many times as you can!
Thai food is famed for having stolen the hearts of many all over the world – I am no exception to this. The gutsy flavours – fishy, salty, sweet and unapologetically spicy, are all given to you in one hot and spicy serving. You will work up a sweat eating it, while the Thai person sitting next to you gobbles it up easily. After heading to Bangkok (twice now), I must say – the bold (and sometimes pungent) flavours, are a reflection of the Thai culture.
So here's a compilation of this beautiful culture through the Bangkok lens: a city very akin to Kuala Lumpur; busy streets, screeching trains and screaming hawkers. I soaked it all up.
Truly Smiling People
The people there are nicer than here in Singapore, although as a city, Bangkok is pretty similar to Singapore. The tall buildings, the efficient public transport system, the cutting edge malls and the Red Velvet Cake obsession – all make up for one Singapore personified. At the same time though, they have all these crevices of Thai culture, such as street corner temples or a daily 'pasar malam', Thai-style. I stayed near BTS station Nana the second time I visited Bangkok, and did not regret my choice even once. The main Sukhumvit street is littered with shops selling awesome local produce (and sex toys, but let's move on).
Stay close to the BTS
You must always make sure your place of stay while in Bangkok is close to a BTS station. It truly is the best way to get around. I took a train from the Airport all the way down to my hotel in Nana. You can buy a day pass at under 200 baht and take a train to everywhere you want to go, including the busy Jaktujak weekend market located at Mo Chit Station. Also, taking a taxi is pure insanity – even if you can wrap your head around the taxi fares – which in comparison to Singapore currency isn't so bad, the traffic is a killer. If you think our rush hour jams are hell, you do not want to even look at the traffic here.
You must take a River Taxi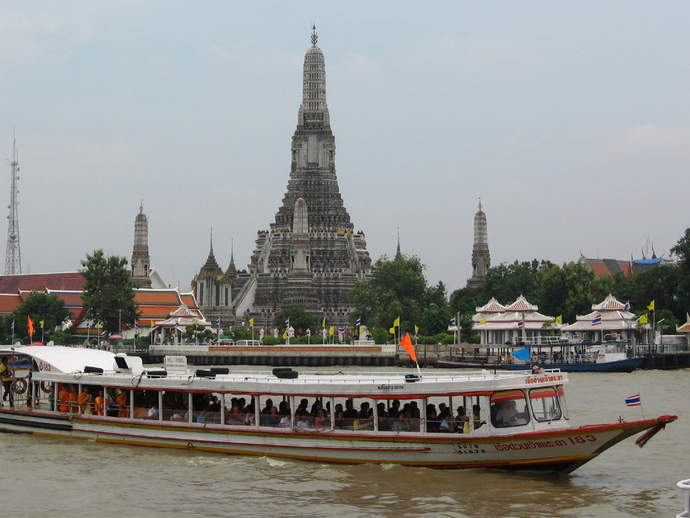 River Taxis are a paramount to your time at the City of Angels. We took a train to get to the river taxi station and almost got stuck in a downpour, but it was completely worth it. First off, I have to say that living in Singapore and growing up with your idea of 'river' being the Singapore River screws with your head a little. So when you do set your eyes on the Chao Praya River, you tend to refer to it as the sea (okay, so maybe it's just me). Little tip, though: Please hold on to something or someone to ensure you don't go flying out of the boat.
The Royal Palace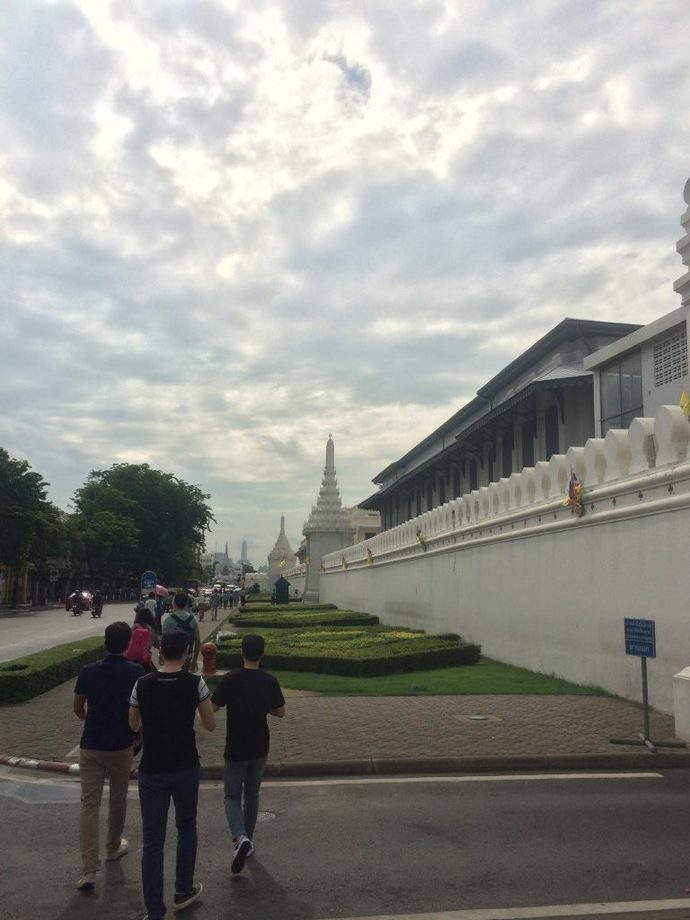 You must see the Emerald Buddha, located inside the Royal Palace complex. This is an experience to behold, whether you're Buddhist or otherwise. There is such a sense of tranquillity in the vicinity and within the temple complex that you will inevitably give in to the calm that will envelope you. There is an entrance fee, though I promise that it is worth it. Also a must explore is the river taxi station, where a small mall selling the best (and cheapest) macaroons in the world will await you.
Ayothaya
Ayothaya (or Ayutthaya) was the second capital of Siam during the 14th to 18th centuries before it was destroyed by the Burmese. Today, this city is about an hour drive from mainland Bangkok – you can easily arrange for a tour with your hotel. It's splendid to witness the ancient temples dedicated to Buddha, and larger-than-life monasteries. Although I wasn't able to go into the main shrine due to my claustrophobia, my companions loved it and said it is an experience to behold. Wear your sport shoes and be prepared to do a lot of climbing.
Jaktujak
I don't quite know about shopping in the malls – what I did enjoy was Jaktujak – more than the malls anyway. There were a whole slew of things you can buy, from kitchen to spa items, clothes to shoes, mason jars, oh the glorious, cheap as heck mason jars.
Everything here was incredible, including the wonderful Orange and Black Tea essential Oil scent diffuser – you had to smell it to know how spellbinding this scent actually was. If you're not into perspiring your way through crowds at the weekend market, there's always the night markets. You can try Asiatique, where many unique coasters and products will be on sale. Although the prices may not be as cheap as Jaktujak, the food here is pretty awesome. And the place looks pretty neat at night.
There's a trick to getting the best deals in the night markets that you head to: be the first one there. The Thais tend to be a little superstitious about their first sale, so they tend to really offer their first few customers the best deals (this would mean about 10 or 11am in certain shops). Do not be afraid to haggle the price to half of what they're offering – you might just get it at that price.
 The Sex Trade
The sex trade is live and well in Bangkok. No I do not mean people being sold to prostitution, though I am not sure if that happens. But people in general are not so uppity about their outlandish third gender population, or the many sois (lanes) with that house bars specifically for men and women to enjoy the joys of the flesh. You will be surprised to see the number of foreigners in these places, making you sort of wonder why they travel to Bangkok in the first place. But I digress, while this may not be something everyone wants to do, travellers just got to accept that this is a way of life in Thailand, just like how the Thais have.
The Food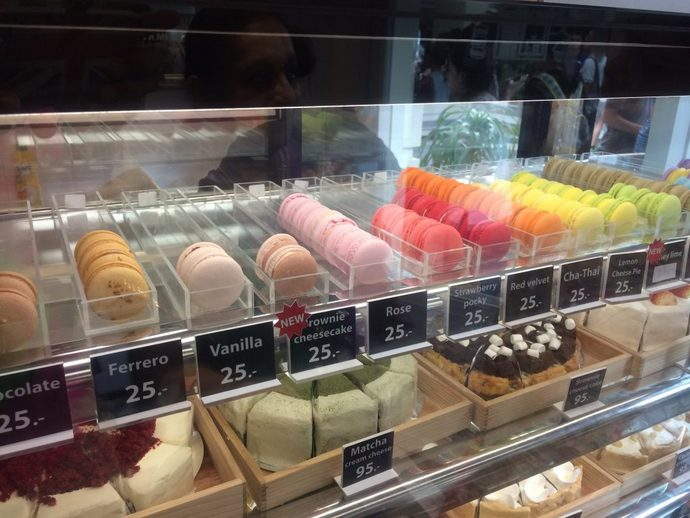 Directly opposite the Westin was Terminal 21, you should try the food at their food court. The food here is priced so low because the vendors don't pay a rent every month, a little perk the owner of the mall has offered the vendors so that they may price the food low. You might think that the flavour might be compromised, but boy oh boy, the Tom Yum here was as kick-ass as any other place, in fact more so than other places, in Bangkok.
When in Jaktujak, you must try the coconut ice cream with white coconut flesh served in a coconut husk. Too much coconut? That's what I thought too, until I actually tried it! I opted for toasted peanut and glutinous rice as toppings, though they have a whole range of others. It's the perfect reprieve for the otherwise killer weather.
Also a must try is the Thom Ka is the most perfect thing after Tom Yum: a very white and innocent looking coconut milk soup that comes with chicken or seafood and serves the same purpose as Tom Yum, but with a sweet kiss on your tongue just as you work your way through it. In Singapore, we eat more Tom Yum than anything, but if you have the opportunity to try it, get the Tom Ka. You would have found a new religion in food.
Accommodation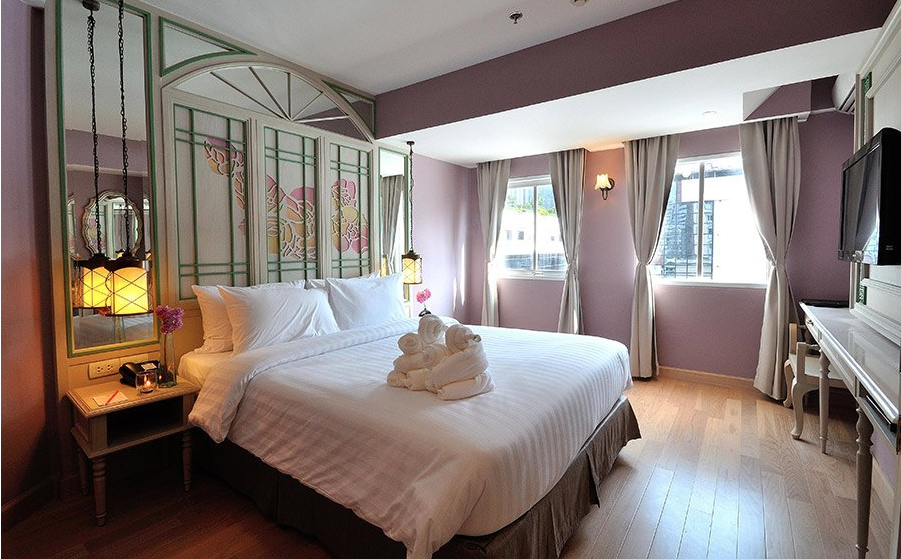 During my most recent trip to Bangkok, I stayed in The Salil Hotel, Soi 11. It was a real bargain, at SGD60 per night. I wasn't really expecting anything spectacular but I was pleasantly surprised – The Salil was really an awesome hotel! A boutique establishment located along the streets of Nana, the rooms are thematic coloured quirky, have awesome wifi connection and television surfing channels. The breakfast spread is pretty decent, too. For a boutique hotel, the rooms were quite spacious, had a view of the street and had full amenities, including an ironing board and iron.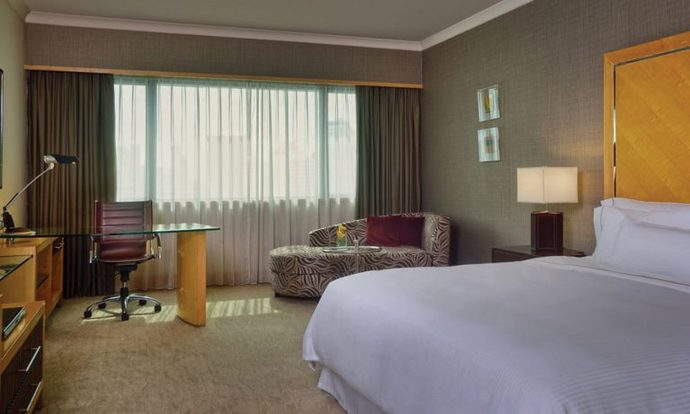 During my first trip to Bangkok, I had the lovely experience of being hosted by the folks at The Westin Grande Sukhumvit. The executive rooms come with special access to the club lounge, where you can go anytime of the day to enjoy a yummy snack or tea, especially after a workout in the gym. Happy hour in the club lounge starts at 5pm and you can opt to have quieter breakfast at the club lounge too.
Go Back
Once you've been bitten by the bug of Bangkok, you will just have to go back. I always wondered why Bangkok is the primary tourist destination of all locals but I had my question answered while I was there: the food, the shopping and the smiles. In Bangkok, everything is like the food – just the like not-so-subtle scream of spices in the food, the culture is vibrant, colourful and radiant. The next time you meet someone who has never been to Bangkok, plan them an itinerary and book a flight with them – Bangkok is calling you back.