The A-Sha Hakka Noodle storm is here, and every drop of it is as spicy and heartwarming as we can hope for!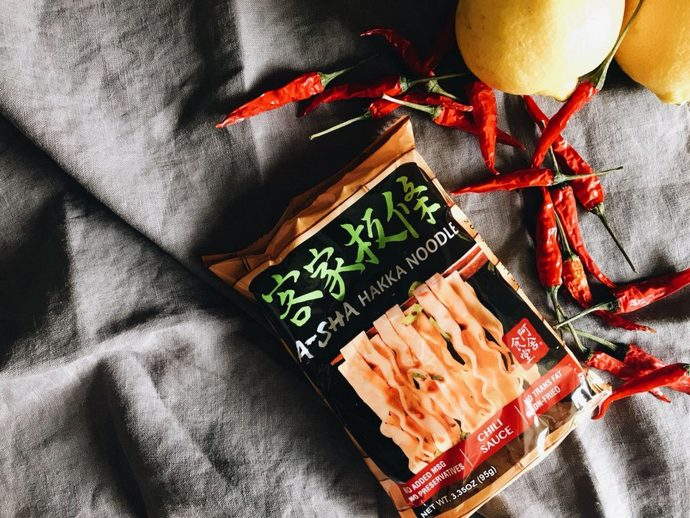 We are all guilty of it. By 'it', I mean preparing a steaming bowl of Instant Noodle Soup, or pouring hot water into a cup of dried noodles, or making (maybe buying) a plate of Maggi Goreng. So heavy is our obsession with instant noodles and the concept of 'fast to cook, good to eat' that over time, we've become more focused on the convenience of fast to cook than the actual good to eat part.
Instant noodles have reinvented themselves constantly to proof time and again that they are more than just 'exam-time-crunch' meals for students across the globe. And in keeping with such trends, the A-sha Hakka Noodles has hit the market with fierceness redolent of a steaming bowl of Mala Soup.
I'll be plain here, I was never bought into the instant noodle hype. Even at the peak of exam stress, I never succumbed to instant noodles. No, this does not make me better than the neighbouring instant-noodle fanatic. I just had a different vice, in the name of McDonald's. The clown and his burgers were my go-to when I had to spend all nighters getting my presentation ready.
Yes, I'll admit that instant noodles are easier to cook, and cheaper. But I found them SO lacking in flavour and the dried noodles just scared me at some point. At least with McDonald's, you don't see the frozen mess that we all know goes on behind the scenes. That's why I was a tad sceptical about these instant noodles but had to try them because I was told there's was mala involved.
I am very happy that I gave these a shot. Not only are the noodles delicious on their own, they go great with the vegetables or meat as recommended below. This brand has somehow managed to highlight the piquant flavour of numbing spiciness in their fiery red sauce, that you our over the cooked and drained noodles before plunging into the dish.
As I sat down slurping away greedily, I wondered about flavour pairings for this dish. Suddenly, the possibilities were endless. Below are two such dishes I came up with. Do you have other ideas? I would LOVE to hear from you!
A-sha Hakka Noodles is now available in a pack of 5 ($10.90) at all NTUC outlets islandwide.
Check out my recipe for Sambal Olek Noodles with Kale and Mushrooms
Soy Broccoli Hakka Noodles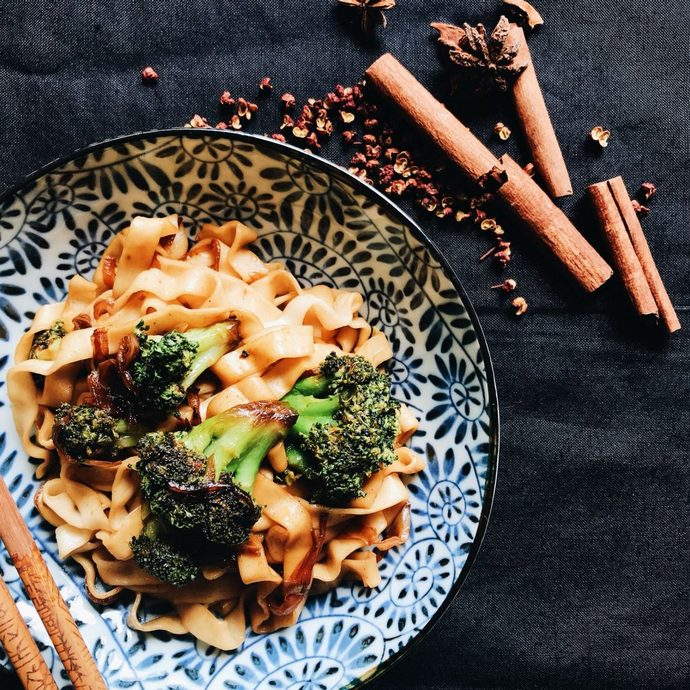 1 Packet Hakka Noodles
1 Tablespoon Olive Oil
1 Medium Onion, peeled and sliced thinly
1 Small Head Broccoli, cut into florets
2 Teaspoons Soya Sauce
Prepare the noodles only according to package instructions, do not add the hakka sauce. In a low skillet, heat the oil over medium heat, and add the onions. Saute for 2 mins until soft and translucent.
Then, add the broccoli florets and give it a quick toss, about 3 mins. Turn off the heat and add the soya sauce and the Hakka Sauce that came with the noodles. Stir to combine, then throw in the noodles and toss until noodles are coated with the fiery, salty sauce.
Serve warm and consume immediately.
Garlic Prawn Hakka Noodles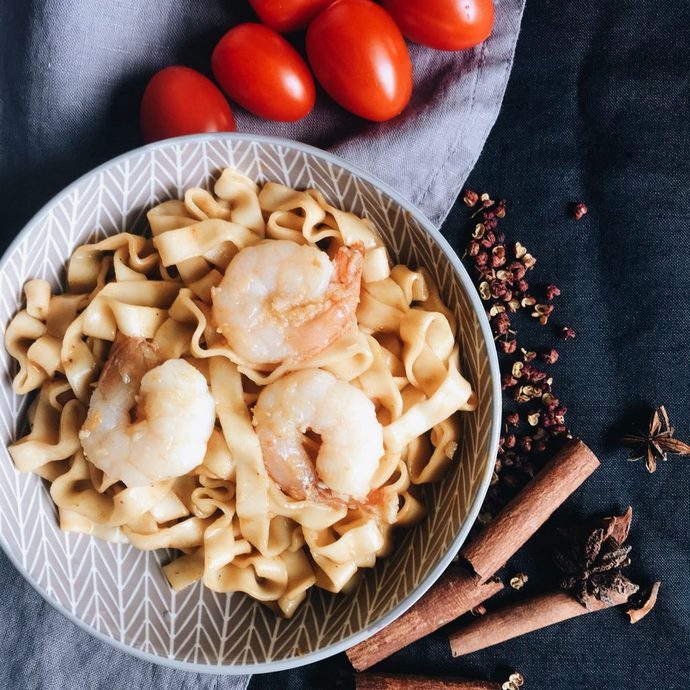 1 Packet Hakka Noodles
1 Tablespoon Olive Oil
2 Cloves Garlic, peeled and minced
4 Medium Prawns, peeled
Prepare the noodles, sans sauce, according to package instructions. Pour the oil and garlic into a non-stick pan, then bring it to the stove over medium heat. When you start to smell the fragrance of the garlic, add the prawns. It will sizzle, and this is a good thing. Cook the prawns till the go gloriously orange, then remove from heat.
Throw in the noodles and the Hakka sauce, and stir through with the prawns to combine and coat evenly. Serve warm and immediately.