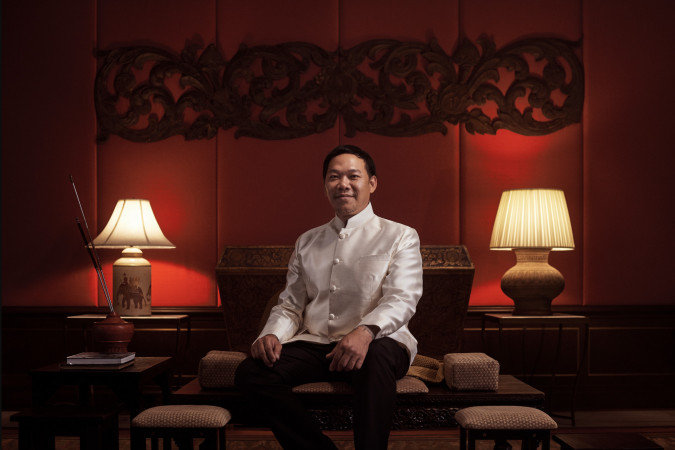 Anantara Siam Bangkok Hotel is offering travellers a rare chance to get inked and incensed by one of Thailand's most famous bamboo tattoo masters, Ajarn Neng Onnut.
Are you a fan of traditional tattoos? Thailand has some of the most intricate, enchanting designs, ranging from traditional to modern. Now, Anantara Siam is offering an exclusive private service by a revered master.
What is a bamboo tattoo?
A bamboo tattoo, formally called Sak Yant, is one of the world's most ancient and sacred traditions. It is expertly engraved into the skin entirely by hand using a traditional Khem Sak. This handcrafted metal rod is designed to replicate the shape of a bamboo stick. It's often passed down to an Ajarn, meaning master in Thai, by their own master. 
Sak Yant tattoos are traditional forms of tattooing magical ancient geometric and deity symbols with Buddhist prayers onto the body. These sacred blessings are believed to impart magical powers for luck, protection, charisma, fortune, and other powers onto the wearer.
The practice has become increasingly popular with foreign tourists to Thailand in recent years. Ajarn Neng has inked Hollywood actors including Ryan Phillippe, Jesse Bradford and Brooke Shields, and famed Hong Kong actor, Alex Fong. 
Yants, or tattoos
The most famous Yant is the Haah Taew or five-line Yant. Ajarn Neng also inks simple one-line Yants and Gao Yord, a nine-spine Yant, and much bigger Yants designs like Twin Tigers. Learning Sak Yant includes mastering the intricate artwork of the tattoos, which consists of almost 1,000 different graphic images.
 Ajarn Neng's had to learn how to read and write the entire ancient Khmer and Pali scripts. This includes memorising all the unique prayers and secret spells, chants and mantras that relate to the sacred tattoos. 
What does the session at Anatara Siam include?
A private inking session by Ajarn Neng at Anantara Siam is performed in a private treatment room. A consultation by the Ajarn takes place the day before. This is where the master meets and learns about your life goals and decides on a fitting Yant. Before and after inking the Yant, the Ajarn performs a ceremony where the body and art are blessed. This gives the wearer a permanent and deeply significant reminder of the unique experience. 
Why do we burn incense?
The burning of incense plays an important role, along with the recital of sacred mantras, to invoke good spirits into each Yant design so that they may offer protection against evil forces or bad luck. Each number of incense sticks burned simultaneously has a specific purpose. Most Thai people believe odd numbers to be auspicious. 108 is the maximum number of incense sticks that can be used. Break down as follows: 
three sticks relate to success in life
four sticks should be avoided
nine sticks relate to shifting your goal in life and moving on
and sixteen sticks are burned to worship ancestors and make a wish. 
Mantra Rak
The incense sticks – called Mantra Rak – used during the inking session are custom designed and produced by Ajarn Neng. He designs them based on what he learnt from his master to create a universal scent. This scent appeases all gods as an offering in all ceremonies, whether religious or spiritual.
The sticks can also be used by people who do not want a tattoo but want sacred blessings to impart magical powers and enhance spirituality and prosperity. Anyone can light a specific number of sticks relating to a specific purpose and recite the "Si na ta si ma ni no ye na ye no thit sit wat prat hit sit" prayer three times per day.
Looking to purchase the incense sticks? The Mantra Rak incense sticks with instructions are available to purchase at Anantara Siam and do not require the involvement of the Ajarn to use for meditation and mindfulness practises to awaken one's full potential and positive energy.
How much does the session cost?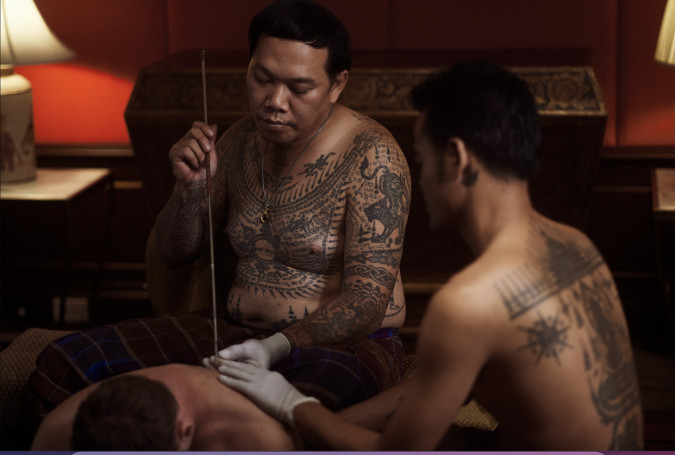 Prices for a private inking and incense session by Ajarn Neng Onnut at Anantara Siam Bangkok Hotel start from 20,000 Thai Baht per hour's inking – one hour is sufficient for a small symbol called Na and for a one-line Yant. A prior reservation is essential and can be made by visiting anantara.com/en/siam-bangkok or contacting Anantara Siam Bangkok Hotel on telephone +66 2 126 8866 or email siam@anantara.com.