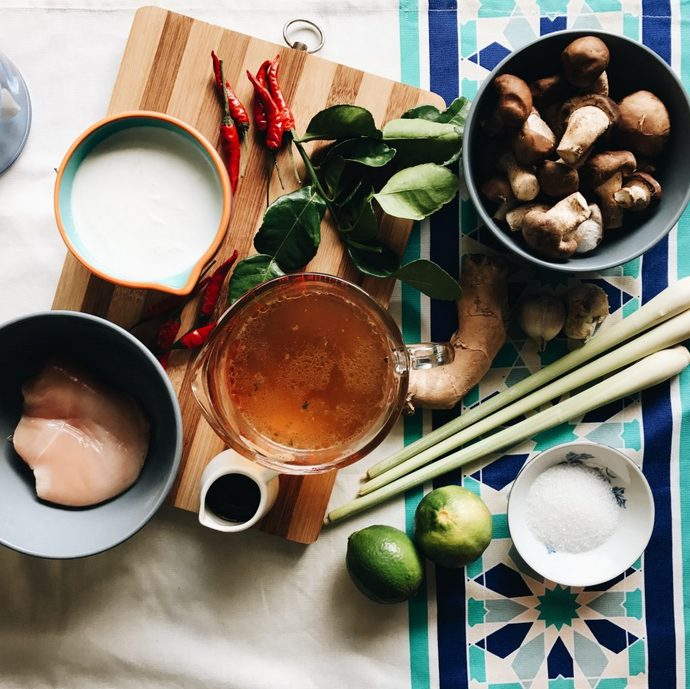 I discovered Tom Kha Gai by accident one day, when in Bangkok (where else?). As a true blue Thai food fanatic, I had found what I absolutely loved and kept ordering it for every meal. Until a friend, who was sick of Tom Yum Koong no doubt, forced Tom Kha Gai on me. And I was hooked. In fact, this is the first thing I cook when I start missing Thailand desperately. I share this recipe with you in hopes that it will transport your soul to Thailand the way it does mine!
Asian Cravings: Tom Kha Gai
Ingredients
1.5 Inch Ginger, peeled and cut into thick coins
2 Lemongrass Stems, bruised
6 Kaffir Lime Leaves
1.5 Litres Chicken Stock
3 - 5 Thai Bird Eye Chillies (Chilli padi), thinly sliced
500g Chicken meat, boneless
3 Tbsp Fish Sauce
1 Tbsp Sugar
200g Fresh Shitake Mushrooms stemmed and sliced
200ml Coconut Milk
1 Lime, zested and juiced
Method
In a large saucepan, bring the ginger, lemongrass, 4 lime leaves, chicken stock and chillies to a boil over medium heat. Then, reduce the heat and simmer for up to 8 minutes, so that the flavours get to know each other better. Then, add the chicken, fish sauce, sugar, mushrooms and continue to simmer, for about 3 minutes.
Once the chicken is cooked halfway through, add the coconut milk and remaining lime leaves. 5 minutes later, add the lime juice. Remove from the heat and let the soup sit for a few minutes. Serve warm with cooked, fluffy white rice.
https://thecraversguide.com/asian-cravings-tom-kha-gai/
Copyright belongs to thecraversguide.com.