Baker & Cook might be a familiar brand, known for their delectable bakes. Now, they have launched an all-new plant-based menu to set tongues wagging in the heart of the country!
Baker & Cook has a new plant-based menu that includes delicious creations with impossible meat, and a combination of fresh vegetables. All items on the menu are well thought, and paired with delicious vegan wine! Here's what to expect at this quaint eatery at the heart of Dempsey!
Baked Baby Heirloom Beetroot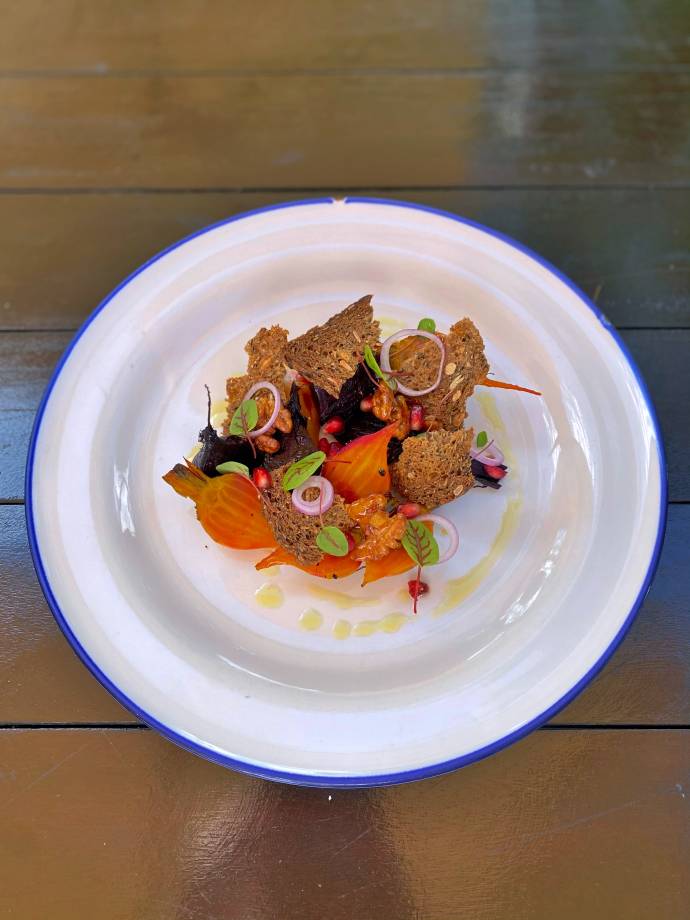 Beetroot, like red wine, is an acquired taste. Thankfully, I acquired the taste for beetroot in my younger years, unlike my love for red wine. The beets here are heirloom beets, which in my opinion can be very much sweeter, and very, very much earthier (you have been warned). They are prepared with a light-hand in seasoning, making this a dish for true beet lovers. I particularly enjoyed the grounded taste of the fresh beets, which come in dark puce and light beige colours. These roots are roasted at high heat, then topped with shallot rings, seeded rye crisps and caramelised walnut pieces, and finished with olive oil and pomegranate molasses. The molasses is everything in this dressing, combining deep, almost treacly sweetness with a punch of tang; flavours that marry perfectly with the beets.
Thai Green Curry Pot Pie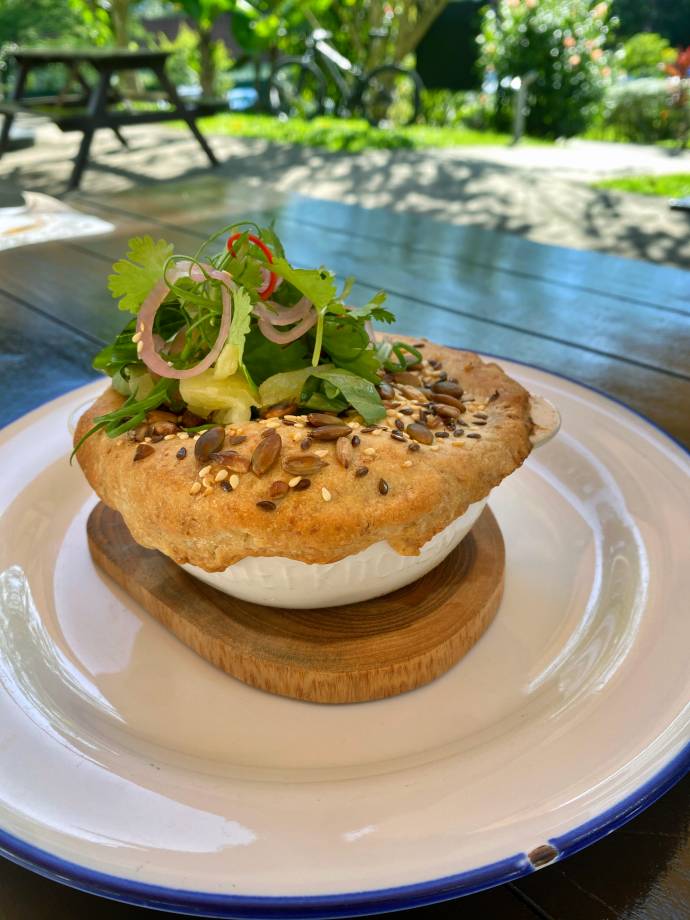 Anything Thai doesn't have to be sold to me, I'd buy it anyway at this point thanks to my Thaicoma (I'll explain more in an upcoming article). This Thai-inspired dish sees pumpkin, eggplant and snow peas cooked in a richly spiced Thai Green Curry gravy, then placed in a pot and subsequently pied with a vegan pastry skin. The flavours of the curry were perfect and punctuated the rather western tasting perfectly with Asian spiciness. I am a huge fan of pumpkin, so I heaped spoonfuls of the now formless pumpkin onto my plate. I for sure will try to make this at home next!
Impossible Mushroom Swiss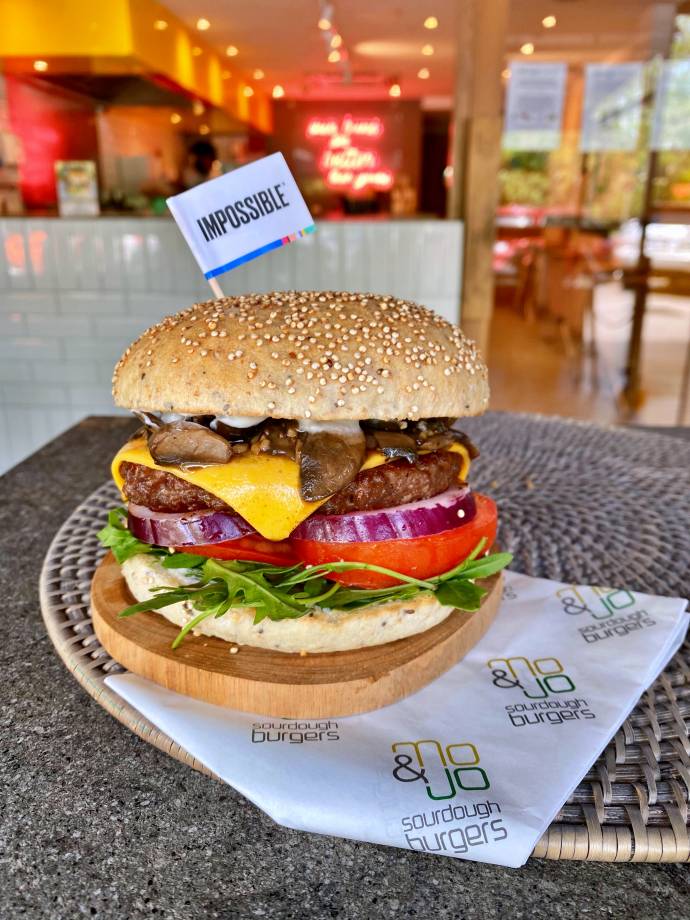 The next 2 items on the menu involve Impossible meat products, which in itself can be controversial (unnecessarily, IMO). Regardless, the Impossible Mushroom Swiss was delightful. Aside from the well season and handled Impossible meat patty, I was quickly drawn to the bread. These were eggless buns, studded with quinoa grains to add crunch to the whole dish. Oh, I loved them! Aside from the delicious buns, diners can find the impossible mince patty topped with the usual likes of fresh red onions, tomato slices, rocket, sautéed mushroom and
vegan truffle mayonnaise. I had a quarter of this burger because I was so full from everything else, but I would highly recommend this to everyone! However, I cannot vouch for how much of a replacement this is for beef, as I do not consume beef (or red meat, in general).
Vegan Libations
Vegan food is one thing, vegan wine is something altogether next-level. Traditionally, egg whites or milk protein are used to remove sediment from the wine, which cannot be eradicated through filtration. When preparing vegan wine, the wine is usually left to sit longer until the sediment collects, or pea protein is used to extract the bits of sediment instead.
As a person who loves red wine (almost to a certifiable extent, but that's our secret), I would highly recommend their full-bodied vegan wines. The wine goes down smoothly, is adequately potent and pairs well with the food that is served. Plus, it's vegan preparation process means it's also environmentally-friendly. That's a win-win(win)!
I have said this on many occasion and I will say it again; I am not vegan and nor do I intend to create the impression that I am. However, I do love the occasional vegan meal because taking a break from meat is not the worse thing. I completely enjoyed the meal at Baker & Cook, and would immediately recommend this to anyone who is looking for a meat-free alternative when it comes to lunch/dinner options. 
Address:
30C Loewen Road, Singapore 248839
(65) 6251 1098
Reservations available on weekdays and after 4pm on weekends and public holidays
Open from 8am to 10pm, daily
Free parking is available on site