I had one of the most wonderful experiences here in Bali, at a cooking course. I know that a cooking course is not a popular thing for most Singaporeans (you want to go all the way to a foreign country to cook? You siow ah?) but i swear by it. Every one of my trip involves a cooking course now, the obsession starting in Bangkok earlier this year.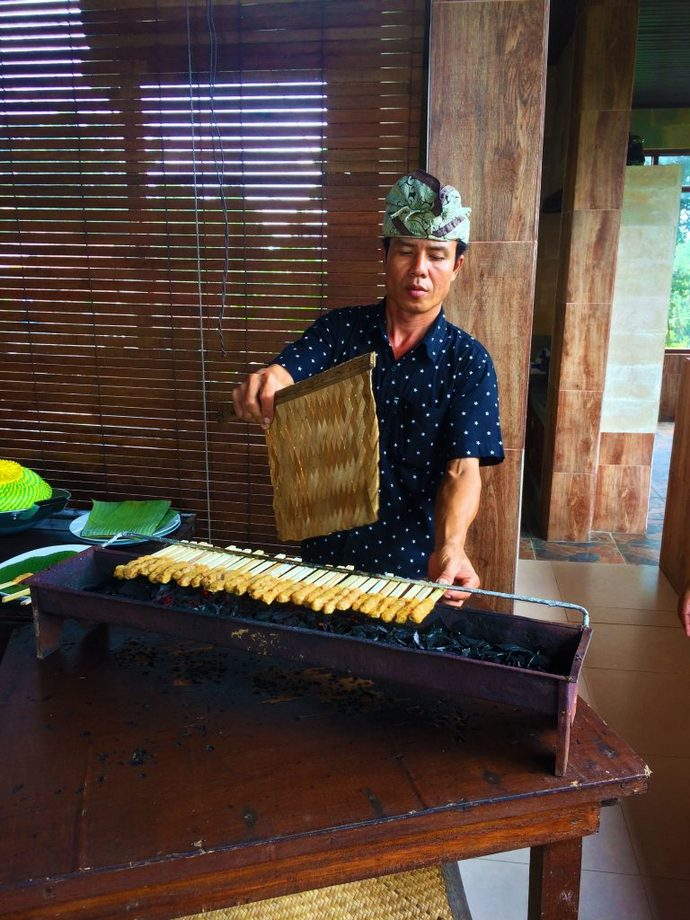 This one was at Paon Cooking School, one of the best in Ubud (according to Tripadvisor & Lady Iron Chef). This was an all service school – they pick you up from the resort and take you to the Ubud Market. The market was similar to that in East Bali – extremely large filled with everything you can recognise as local ingredients and then some that you've never seen. One can even find vanilla bean pods sold in bunches here, and inexpensively, too! This market tour was eye opening, with our guide, Wayan, explaining to us the various ingredients used in Balinese cooking. We sniffed and smelled and devoured the experience in 30 minutes, as we were taken from one location to another within the market and getting an understanding of all the various ingredients used in Balinese cooking. The market tour is really impressive you grew up without Asian ingredients in your life. Also, if you're worried that the market will have a stench, you will be right, in this case. While the Thai market was clean and had no unpleasant odour, I could not say the same thing about the market in Bali. Wear shoes, not flip flops, unless you'd like some unidentifiable liquid to splatter on your foot.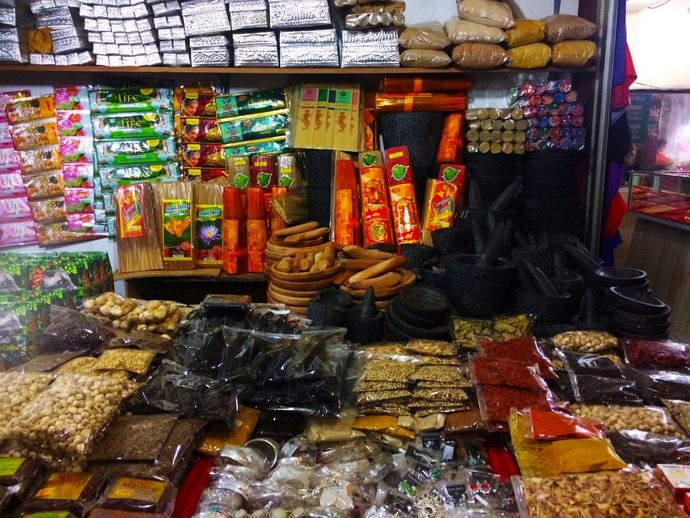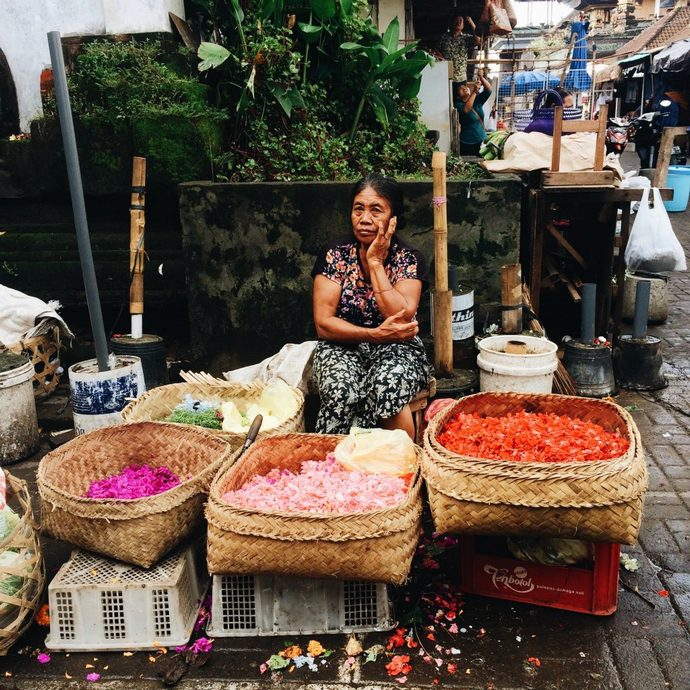 After wrapping up the market tour, we all get back into the car and head to the cooking school, which really is a house that belongs to Puspa, the head cook, and her husband (also Wayan. On a side note, 90% of the men I've met while in Bali have the name Wayan). Charming and authentic, the classes were held in the separate wing of the property, complete with individual stoves, a large work table and a dining area with stunning views of the surrounding greenery.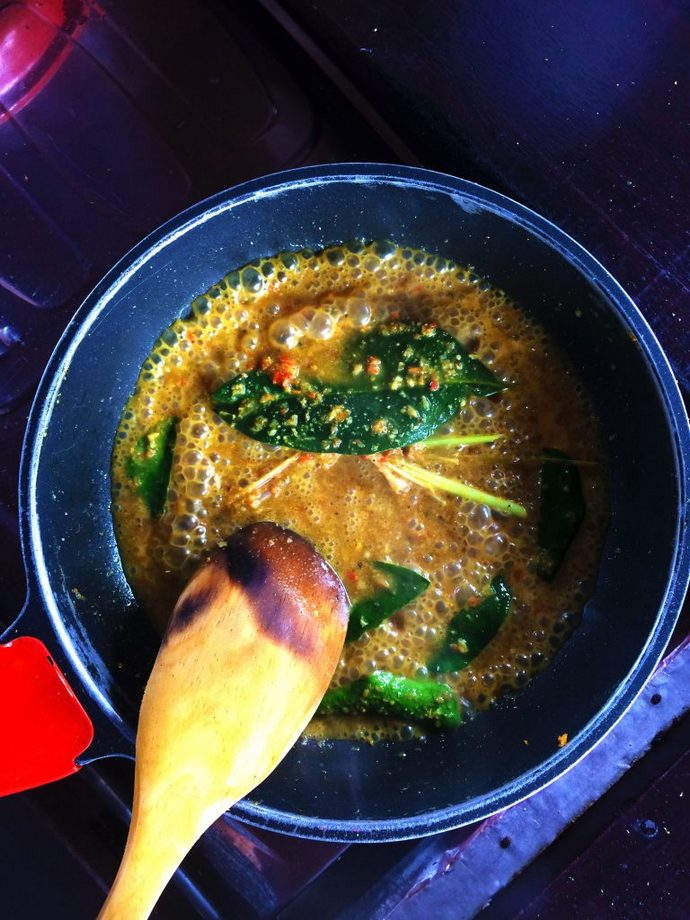 After a mandatory washing of hands and introduction to the ingredients, we started the class by chopping, cutting, tearing and pounding, all traditional methods of preparation in Bali. I have made Bumbu Bali before, when I did a cooking course in Alila Manggis. It involves the amalgamation of a whole bevy of pungent, sweet and aromatic spices, pulverised by a traditional Balinese pestle and mortar – which is 10 times the size of the regularly ones that you and I have at home. Here are the ingredients that go into the Bumbu Bali:
Bumbu Bali (Balinese Curry Paste)


10 Shallots
15 Cloves Garlic
2 Thumb-sized pieces blue ginger
2 thumb-sized pieces of galangal
2 thumb sized pieces of ginger
2 thumb-sized pieces of fresh turmeric (or 1 tsp turmeric powder)
3 pieces Chilli padi
4 Candle or macadamia nuts
1 tsp coriander seeds
1 tsp whole black peppercorns
1 tsp white pepper
2 cloves
1/4 tsp nutmeg
1 tablespoon palm sugar
1 stalk lemongrass
2 bay leaves
2 teaspoons shrimp paste (belachan paste)
3 tbsp coconut oil


To make this versatile spice mix, wash and roughly chop all ingredients. Transfer everything to your pestle and mortar or blender, and pound (or blend) away! Once the paste has formed, transfer this mixture it the pan and sauté in the coconut oil on low heat, for about 7 to 10 minutes. Your spice paste is ready! You can store it in the fridge for up to 2 weeks, or the freezer for up to 6 months.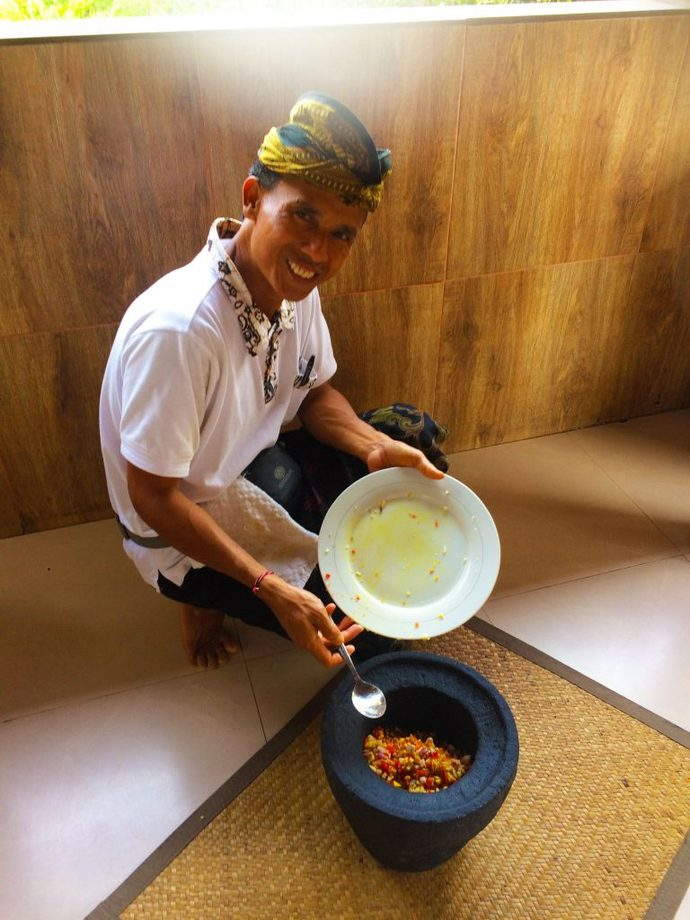 The bumbu Bali is the base for almost everything that we were preparing that day, from the Gado-Gado to the Peanut Sauce for the Satay (and even the satay). Here's a photo diary of all the food we cooked.