Kay's Boutique Breakfast in Bangkok is synonymous with a scrumptious, heartwarming meal that can carry you through lunch. With a wide range of delectable sweets and savouries, this all-day dining cafe is a must visit the next time you're in Bangkok.
Breakfast is said to be the most important meal of the day, even though there are many schools of thoughts that dispel this idea. Regardless of how dieticians and health freaks feel about breakfast, it's the first meal that I look forward to when I go to sleep the night before. When I was invited to Kay's Boutique Breakfast for a taste of their menu, I couldn't sleep thinking about the breakfast I was about to have. You see, I managed to take a look at their menu beforehand on their website and was simply drooling all over my pillow dreaming about breakfast.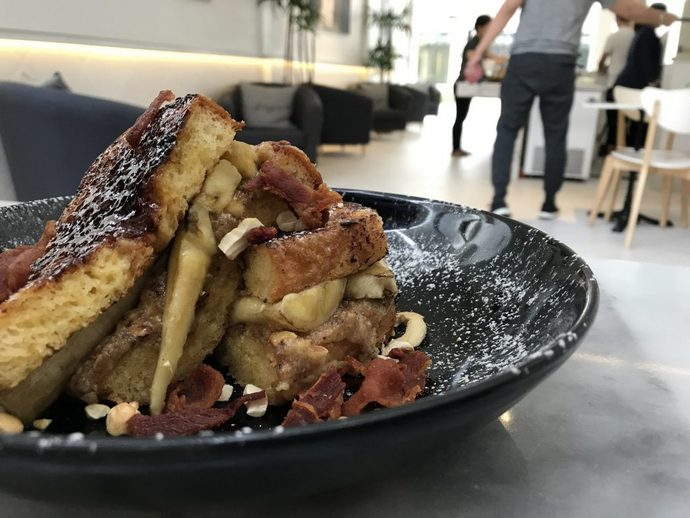 Kay's Boutique Breakfast is located close to Victory Monument BTS Station, from which the cafe is about a 10 to 15-minute walk. If you're staying in the area and are hoping for a cafe to be open before all others, Kay's Boutique opens at 6.30am. I am an early bird when I go for holidays, so I was out and about and managed to get to Kay's by 8.30am for my tasting. I was greeted with The Hulk, which is a Matcha Chocolate drink. If you think this combination is strange, it certainly is. As a person who doesn't quite fancy matcha, though, I couldn't help but finish this. While I wouldn't recommend this for your breakfast, you should certainly have this as a takeaway to sip and enjoy in the Bangkok heat as you're out and about.
Bacon seemed to be a huge feature in more than a few items on the menu. We started with the Truffle Aglio Olio. A divine blend of angel hair pasta, slivered garlic slices which were bronzed and burnished with rich olive oil, a generous drizzle of truffle oil and adorned with a wealth of crispy, salty bacon pieces. The truffle was not overpowering the rest of the dish, as it can sometimes be. Adding bacon to this dish was a nice contrast of texture to the soft pasta; it also provided a much needed salty hit with every mouthful.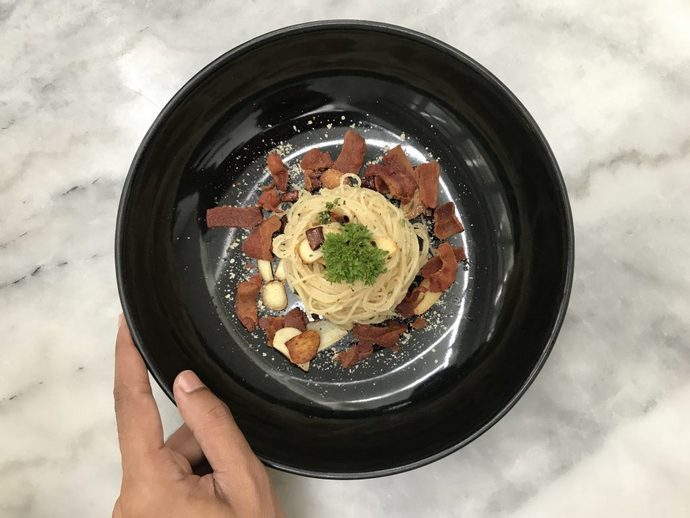 The Queen of Benny was literally the mother of all Eggs Benedicts. A gentle warning: the portion of this dish is HUGE, so if you're not a big eater, get this for sharing. Although sharing this is a novel idea, it will get messy when you try to cut up the lusciously creamy poached egg that's perched atop a buttered English muffin. And the cherry on the proverbial cake? This entire melty, sloppy, delicious mess is held together by a thick and tender swab of smoked salmon. The dish is finished off with rich hollandaise and served alongside a salad. While the salad was nice, who will really give it a second thought with salmon staring at you in the face?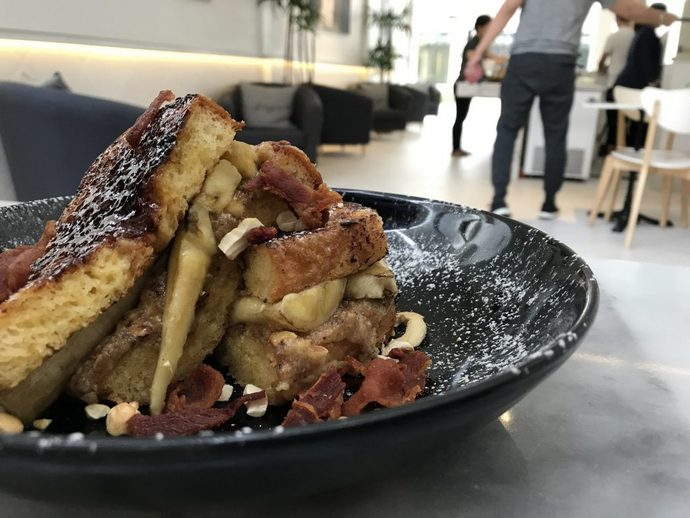 With the Queen of Benny, I already had an inkling of how they like to do things at Kay's Boutique Breakfast: they top the fray. The next dish at the table, Ultimate French Toast, cemented my belief and shook the greedy, sweet loving child in me to the very core. This french toast was literally fat slices of white bread, soaked in a delectable egg and cinnamon mixture and pan fried till caramelised as the outer layer. In the middle of the sandwich was almond butter – nope, the kind you get from the stores… no, this one was made in-house and was crunchy, sweet and so luscious. If you think it ends there, you'd be so wrong. They topped this off with caramelized, thick slices of fresh banana. The dish came to the table warm, with a light dusting of icing sugar atop the caramelised, crunchy bread and surrounded by a hearty sprinkling of, once again, crispy bacon pieces. You might think that the bacon pieces don't quite have a role to play in this dish when you see it, as I did too! But I understood when I took a bite out of everything – this dish can be a tad sweet, and the bacon bits helps to ground the sweetness of the almond butter and banana slices with its sharp saltiness.
To finish off this rather royal meal (which carried me through till 4 pm that day, needless to say), I ordered a cup of cappuccino. Though I have weaned off drinking coffee as much as I used to, the caffeine buzz helps when you're on a holiday and want (need) to walk around town. Kay's Boutique Breakfast is an excellent choice if you're up early, want to start exploring the country early but want a fantastic breakfast to start your day. Every dish was on point, generous and reasonably priced. You can check out their website for their e-menu. While Victory monument may not be a popular tourist stop, there are plenty of places around the BTS station to explore and they can all be easily accessed via a reference to Google Maps.
Kay's Boutique Breakfast
116/55-57 Rangnam Road, Phayathai, Ratchathewi Bangkok 10400
Open at 6.30am every day.
Closest BTS: Victory Monument (the cafe is about a 10-minute walk from the station)
Disclaimer: This was a tasting sponsored by Kay's Boutique Breakfast for thecraversguide.com. While I appreciate tastings, I am also very honest with the opinions I post up on this website for you, my readers. Hence, please be assured that this review is not contrived as a compliment to the dishes or the restaurant for a free meal, as I don't believe in making bad food sound good. Thank you! Now enjoy feasting the dishes with your eyes 🙂 Krishy.