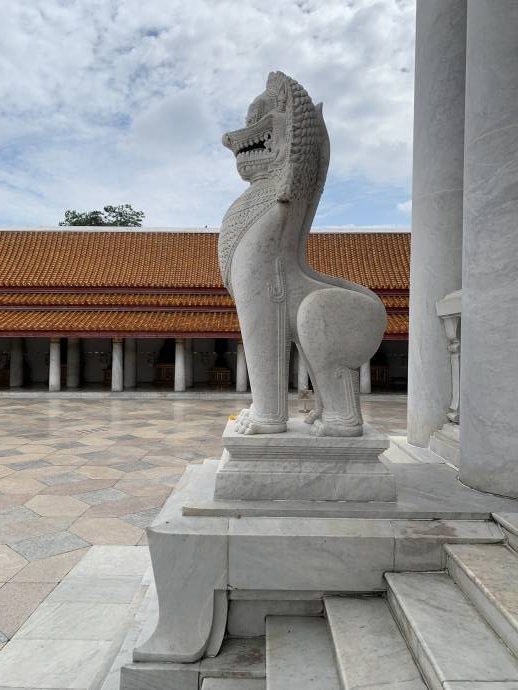 Discover the beauty of Wat Benchamabophit and the vibrancy of Talad Nang Leong – two must-visit destinations in Bangkok for culture and food lovers alike.
Bangkok is a city that's full of surprises, from its stunning temples to its bustling street markets. I have never concealed my love for this city – it keeps growing every year.
For new (and seasoned) visitors to the city, Wat Benchamabophit and Talad Nan Leong provide unique and rather 'local' experiences. Whether you're a first-time visitor to Bangkok or a seasoned traveller, this guide will provide you with everything you need to know! Let's go! 
I documented my trip to both of these places with a video. Check it out here: 
Wat Benchamabophit
Wat Benchamabophit, also known as the Marble Temple, is one of the most beautiful and impressive temples in Bangkok. This stunning temple is located in the Dusit district of Bangkok. If you know, Khao San Road, then this is just a short distance from there.
How to get there
Getting to Wat Benchamabophit is easy, with several transportation options available. You can take a taxi or tuk-tuk, or use public transportation such as the BTS Skytrain or the MRT subway. The temple is located near the Phaya Thai station, which is accessible by both the BTS and the MRT.
Need a quick and easy 4-day itinerary for Bangkok? Check this out.
Why this temple?
Wondering what makes this temple different from the others in Bangkok? It's constructed almost entirely out of white Carrara marble, which gives it a uniquely stunning appearance. The temple's main prayer hall houses a bronze Buddha statue, which is considered to be one of the most essential and revered Buddha images in Thailand.
In addition to its beautiful architecture and religious significance, Wat Benchamabophit has a rich history. The temple was commissioned by King Chulalongkorn in 1899 and was designed by the famous Thai architect, Prince Narisara Nuvadtivongs. The temple was constructed using Italian marble. This was brought to Thailand by ship, and the entire project took five years to complete.
It is said that King Chulalangkorn's remains are buried beneath this temple.
Personally, I can't get enough of the beauty and serenity of this stunning temple. However, the belly always finds a reason to lead the way to the next place. If you're like me, then you'll be in search of food after exploring the grounds of this temple. Might I suggest a walk to Talad Nang Leong, perhaps?
Talad Nang Leong is located about 20 minutes on foot from here. Alternatively, you can grab.
Talad Nang Leong
This is a traditional market located on the banks of the Chao Phraya River in the Nang Leong neighbourhood of Bangkok. It's one of the city's hidden gems and offers visitors a chance to experience the authentic sights, sounds, and flavours of Bangkok.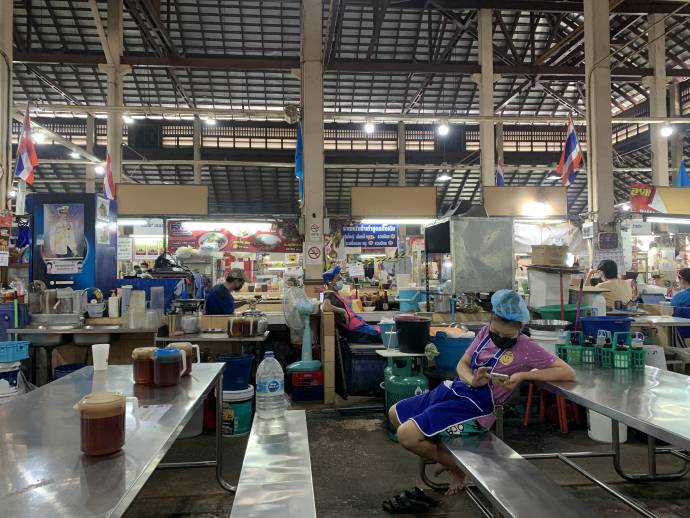 One of the main draws of Talad Nang Leong is its wide variety of food offerings. From street vendors selling grilled meats to traditional Thai desserts, the market is a food lover's paradise. Some of the most popular foods include grilled pork satay, crispy fried chicken, and coconut milk ice cream.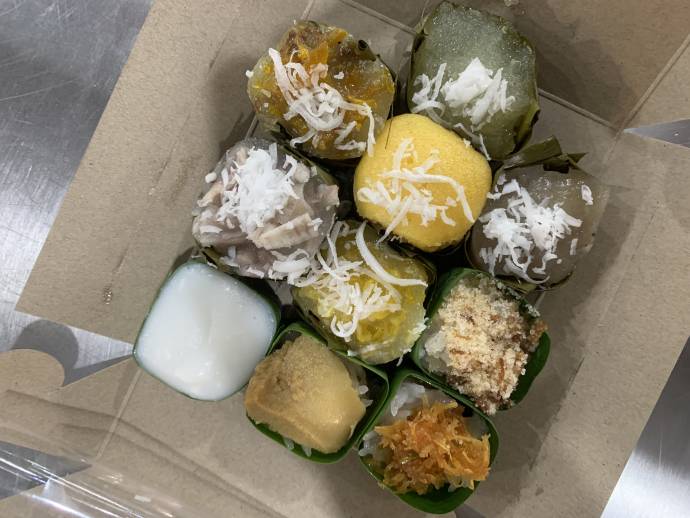 In addition to the delicious food, there's plenty to see and do at Talad Nang Leong. The market is known for its traditional Thai handicrafts, including hand-woven textiles and ceramics. Several small shops also sell vintage clothing and accessories. This makes the market a great place to find unique souvenirs to take home.
When to visit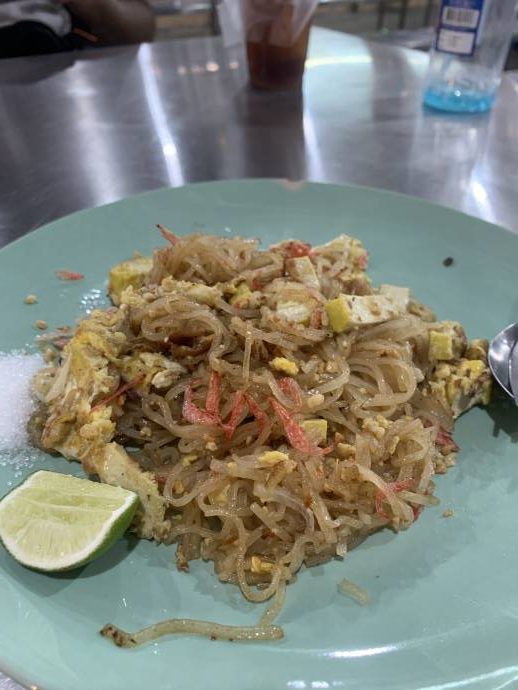 The best time to visit Talad Nang Leong is in the morning when the market is at its busiest. This is when you'll find the freshest food offerings, and the most active vendors selling their wares. However, the market is open all day, so you can visit at any time to experience this bustling local hotspot.
Talad Nang Leong is a must-visit destination for anyone looking to experience the authentic flavours and culture of Bangkok. I highly recommend just walking around the market and seeing what catches your eye – then eating it! When I was there, there was a shop selling Thai desserts (called kanom) for 10THB per piece – I bought a bit of everything they had and happily ate my way through the morning.
Whether you're a food lover, a shopaholic, or just looking for a unique and memorable way to spend a day in the city, this traditional market is sure to delight and inspire.
A visit to these local haunts is an excellent way to experience the rich culture and history of Bangkok. The iconic Wat Benchamabophit feeds travellers with rich history and stunning architecture. Talad Nang Leong, on the other hand, is a vibrant and bustling market. It offers visitors a chance to experience Bangkok's authentic flavours, sights, and sounds.
I personally walk everywhere – its a great way to experience the local culture of this city. With plenty of delicious food to try, traditional handicrafts to discover, and vintage clothing and accessories to shop for, there's something for everyone at these two iconic destinations.
Whether you're a first-time visitor to Bangkok or a seasoned traveller looking for new adventures, be sure to add Wat Benchamabophit and Talad Nang Leong to your itinerary. You won't regret it!