Bangkok Markets are legendary for being worth the trip and cash! Here are some fresh markets to explore during your next trip to Bangkok!
Bangkok markets are simply not the kind that we are used to but in a very good way. While I won't quite dare eat the food out of any random market around the world, I will approach (albeit cautiously) a stall in a Thai market for a Pad Thai fix where possible.
Thailand markets, particularly the ones in rural areas in the country, are a part of the local culture. People congregate there every morning on the way to work, pick up snacks, exchange hot gossip then go on their own way, before repeating the same thing the next day. This culture is evident even in completely modern and bustling cities such as Bangkok, where the markets are still high functioning in the morning of each day. I visited some of these markets during my time in Bangkok, and here's what I found!
One thing to note is that most of these markets are at their peak in the morning, so waking up early does help a fair bit. Especially if you're looking for food, it's best to hit the markets at around 8 or 9 am. If you're looking for street food in say, Silom, for example, then it's best to hit the market at 7 am. I know this sounds REALLY early especially when you're on holiday, but it's worth waking up – trust me!
Silom morning Market
You'll know this market if you know this district. This area housed one of Bangkok's most famous red-light districts, which unfortunately got hit by covid quite badly. While most of the old shops here are closed and the place looks quite deserted during the day (and night), the morning hours are highly active here.
Many pushcart vendors set up their stalls here for passers-by. On the menu is a wide variety of items, ranging from a light bite to a full-blown meal. I hit this market quite late (9 am) on a weekday morning, so many stalls had packed up. However, I still managed to get a decent breakfast, with the traditional Patongo, Sweet Meat dumplings and Steamed Glutinous Rice with Banana. I spent a total of 100 baht (that's $4) and was so full!
To get here, you need only to take the BTS Skytrain to Sala Daeng Station and walk to the morning market. Here's the google maps link you'll need to find this place! I recently made a video of this market; you can find it below:

https://www.youtube.com/watch?v=yY9gzkYgXWI&t=9s
Nang Leong Morning Market
This one is a bit of a walk from the BTS or train station. If you're not a walker, I would recommend taking a grab. Grabs in Bangkok are pretty convenient, language barrier aside. If you're heading to Wat Benchamabopit, then this market is about 20mins away by foot.
Getting here early is crucial if you'd like to sample all their delicacies. They don't serve things like spleen and oxtail – it's the usual Thai fare but with so much flair and local flavour. I got here pretty late (about 10ish, close to 11 am) and many stalls had shuttered for the day. So if you're coming here, I would propose 8 am as the optimal foodie hour. For the context of size and appearance, think of this as our Tekka Wet Market with an attached food court.
I had the Pad Thai here to line my stomach, before going for what I came here for – Thai Sweets. Known as Kanom, the sweets here are made with so much effort and care; the Thais really do take plenty of pride in shaping their cuisine. I was after a particular one called Kanom Piak Poon, which unfortunately had sold out. But instead, I bought a collection of 12 different sweets, each crafted into bite-sized nuggets. Each nugget was tenderly wrapped in a pandan leaf parcel before being steamed.
Most of the Kanom is primarily sweet, with savoury touches added here and there. The ingredients are usually a type of starchy flour (usually rice or glutinous rice flour), coconut milk, shredded coconut flesh, some palm sugar and shrimp. Yes, shrimp – that's the savoury part of Thai Kanom. I would highly recommend this market to anyone looking for a local experience in Bangkok.
Or Tho Kor Market (Farmer's Market Bangkok)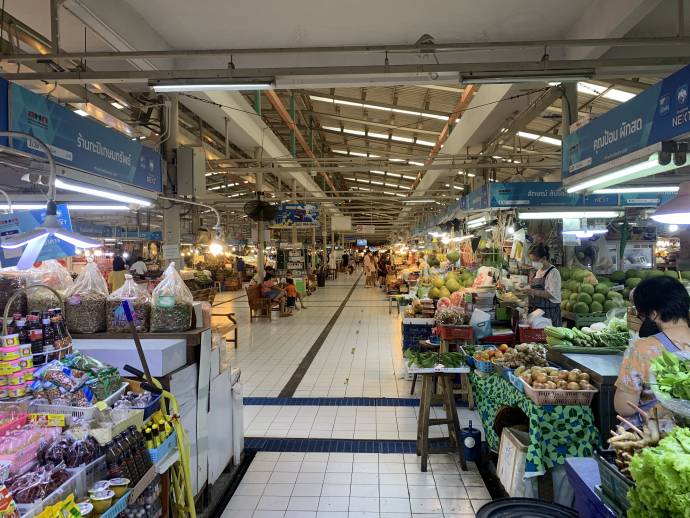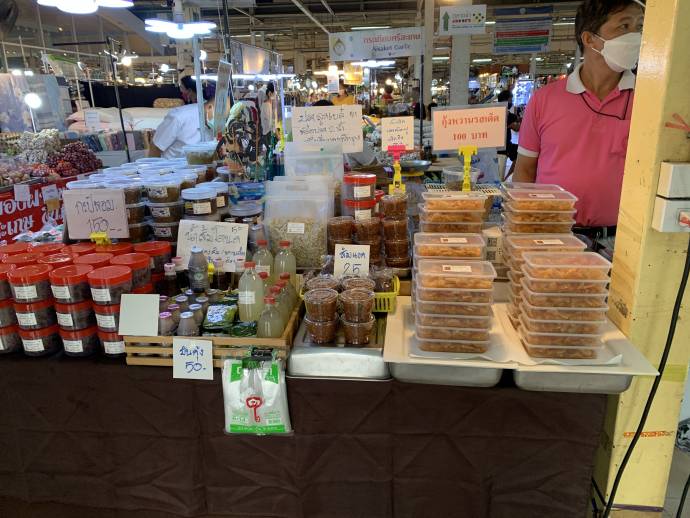 Talad Or Tho Kor is by far my new favourite Bangkok market! It's right next to the popular Chatuchak market, making it quite accessible. You can access this market via MRT – the station you'll have to alight at is Kamphaeng Phet. Once you exit this station, the market will literally be in front of you. Although open all day, you'll want to hit this one pretty early too if you're looking for food (such as pad thai, or other Thai dishes).
Or Tho Kor was set up to honour local armers and their organic produce. I went during the Durian season, and many stalls were selling Durians. The price point at this market is slightly higher than in other Bangkok Markets. But this is due to the organic nature of the goods being sold.
You can do some serious ingredient shopping here – there are rows of stalls selling palm sugar, fish sauce and all other condiments that you'll hardly find anywhere else. You can also pick up some ready snacks to bring back home, like Mango sweets and other sweet, sour and spicy delights.
I bought myself a small container of dried chilli fish flakes, homemade by the store owners. They sell a variety of other things here, including pots and pans, a wide selection of fresh fruits and seasonal vegetables. Definitely worth a visit.
Lalai Saap Market
I call this the Silom Corner Market, though that's really just the name I gave this market. This is a morning market around the corner of Silom, right at the junction where the BTS track turns toward Chong Nongsi Station. This small alley contains a riot of stalls selling a variety of food, drinks, and homeware items.
The clothes here looked like they were second hand, though I hardly shop for clothes at such places. My proud purchases here were kitchen utensils – I cannot resist a good spatula. I got here a little after breakfast so I didn't really try their food items.
This is another early market – they open at 6 am.
Yaowarat Night Market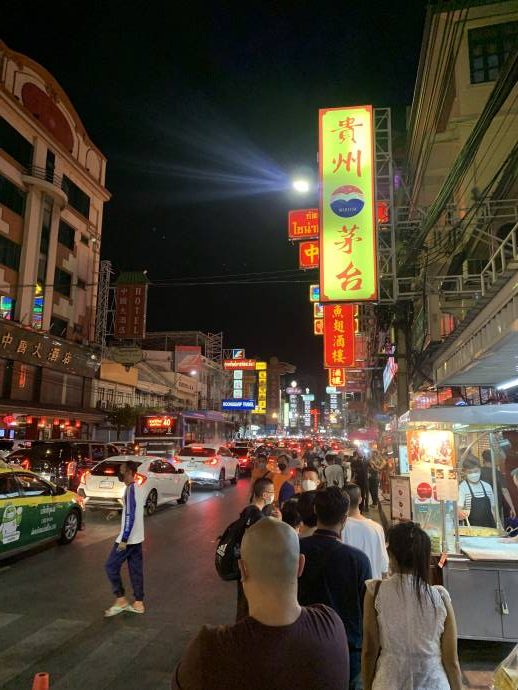 And now we move on to the nighttime Bangkok markets! This one is a very, very popular one that needs no special introduction. Yaowarat is synonymous with Bangkok's Chinatown, as it's the main street of Chinatown. In the evenings from around 4 pm, Yaowarat road comes alive with shops selling unique and exciting food items. You can try a large variety of items, from Michelin Starred Patongo to modern Cold Pressed Juices.
This is a night market but I would recommend going early, at around 4 to 5 pm when they start opening. The food here, especially the popular ones, tends to sell out fast. You can also get proper sit-down seafood and rice if that's what you're after. If you're looking for grab-and-go seafood, that's available too! Set aside at least 2 hours for this, and go with an empty stomach.
To get here, you can take the train to Wat Mongkol station, take exit 2 and keep walking. Yaowarat is the main road in Chinatown, and there are many small sois running outwards from this road. Every other street has a market of its own, so you can walk and explore. Wear comfortable shoes!
Asiatique Night Market
Asiatique is a relatively new market on the block, that's right by the riverfront. This market made headlines when it was launched and used to always be extremely crowded. People came here for the food, to watch a cabaret show called Calypso and just to absorb the exciting ambience.
However, all that has changed since the pandemic. My recent trip in May 2022 was a tad disappointing – almost 90% of the stalls have closed, leaving behind desolate-looking warehouses. The large Ferris wheel is still there but with hardly anyone around.
It's sad to see a popular spot become this way. While I wouldn't rush there again, it's worth giving this location some time to recover from the pandemic.
Jodd Fairs
This market is the funky, younger sister of the giant Rot Fai Market that closed just as the pandemic drew to a close. When Rot Fai closed, this new smaller space was created for some of the shops from there and new ones as well. However, I would not go here expecting a similar range/vibe that Rot Fai market provided. Here, the vibe is a lot younger, due to the much younger crowd that frequents the area.
Try their hip and happening food items, though there isn't a surprising range of clothes to shop for. You can access Jodd Fairs by taking the train to Praram 9 Station, then walking down.
I'll update this space and I discover more markets in beloved Bangkok! Did I miss out on something? Let me know!