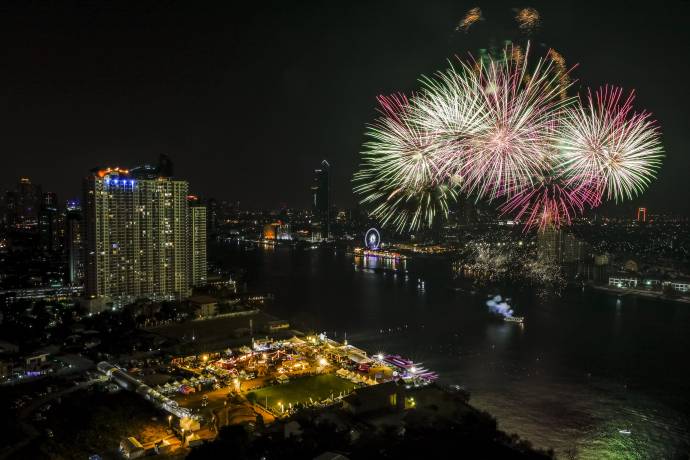 Bangkok Riverside Fest is heerreee! Well, almost. Here's what to expect at this long-awaited event so you can start planning your trip!
Note: this article was sponsored by Anatara Riverside Resort. I've adapted it to be posted here.
The Bangkok Riverside Fest 2023 held on the 3rd – 5th February along the Chao Praya River. Get ready for endless activities and events for all the family. Open-air vintage shopping, all-night dancing with live DJ's and concerts, tantalising food and drink, and exhilarating river races await. Here are the 10 things Anantara Riverside Resort wants you to know about this event!
Elephant Boat Race
Easily the event highlight! Watch as current champions – the Royal Thai Navy Seals – compete against seven other teams in this high-stakes competition in beautiful Thai long-tail boats. The races culminate in a prestigious awards ceremony on Sunday evening.
Music
What's a festival without music! Dance away to live DJ sets and some of Thailand's biggest artists who will be putting on mini outdoor concerts. On Friday, guests will groove to PiXXiE, Poly Cat, and V Violet. Saturday will bring out MEAN, Lipta, and 4Eve; and finally, Patrickananda and Wanyai and Mon Monik will be closing out the show on Sunday.
Dog Friendly
Bring the whole family! This wonderful weekend event is fun for all ages and members of the clan, including the four-legged kind with plenty of space for them to run and play.
Paddle-Boarding and Kayaking
Marvel at the riverside as professional kayakers and stand-up paddle boarders take part in a number of high-intensity fun races. Watch in wonder as they avoid falling into the river!
Tug of War
Enjoy the intensity of the tug-of-war style boat battles on the water as rowers compete in this friendly, powerful game on the water. Be prepared to get splashed!
The Gourmet Zone
There's something for everyone. Feast on a mix of festival food staples, Thai street food classics and international dishes from Thailand's top restaurants and Bangkok's favourite chefs.
Beer and Wine Garden
A relaxing area for guests to sit back and cool down sipping an indulgent artisan cocktail, chilled glass of wine or craft beer, watching the festival goers as they stroll by.
Flea Market
Peruse the colourful flea market and indulge in some retail therapy. Support local artisans and independent businesses. You can get everything from clothing to local handcraft items and souvenirs.
Keep the Kids Entertained
Keep the little ones and the young at heart entertained! Kite making from the Thai Kite Festival Association and a Playzone including Euro Bungee and a Zorbbal Race Track await!
All for a Good Cause
There's nothing better than celebrating in style and knowing it's all for a good cause. This festival captures the spirit of community and celebrates local culture. It also raises charitable donations for elephant-related projects throughout Thailand.
For more information about Bangkok Riverside Fest and to buy festival tickets, check out www.bangkokriversidefest.com.
Planning a trip just for this weekend? Why not stay at the Anantara Riverside? I personally love the location – it's right by the river! Fantastic room service and heart-warming views of the Bangkok skyline await. For Anantara Riverside room bookings, check out www.anantara.com/en/riverside-bangkok/offers