AFC has uncovered a gem in Ili Sulaiman, and they are sharing this joy with us in By The Sea with Ili, a new series that has us drooling at the TV screen.
If you haven't caught it on the tele already, Ili Sulaiman's brand new series By The Sea With Ili features our the 2015 Food Hero competition winner traveling to 5 unique Asian cities. During her delicious journey, she transforms not only herself, but her viewers as well, into lovers of seafood. Even if you're not a fan of seafood, you've got to tune in at least to watch the stunning shore lines of coastal cities, and experience the hidden happiness you can find in Asian coastal cities. Who needs the Caribbean? We have Asia.
We chatted with Ili Sulaiman, and she graciously shared some tips and her experience with us.
What was it like to be travelling to all the different Asian cities in this series?
It was amazing! I often had to pinch myself because it was just so beautiful and just so mesmerising. I consider shooting on beaches with crystal clear waters, white sandy beaches and seriously good seafood a blessing and what made it even more amazing was the people I met on this series – the people behind the food and the people who live in these amazing coastal cities.
What is one unforgettable culinary secret you've discovered in the process of this series?
To always marinate your seafood with dry ingredients before you add your wet ingredients. The dry ingredients (salt, pepper, powdered spices etc.) help flavour the protein and if you add the wet ingredients too quickly (oils and sauces) the dry ingredients will flavour the sauces instead.
If you had to pick one cuisine over another, which one would it be?
I would say, the food in all these cities was truly exceptional but what surprised me the most was the cuisine served in Central Vietnam which was packed full of flavour, and had loads of chillies and influences from Peranakan culture. It took me by surprise in the best possible way.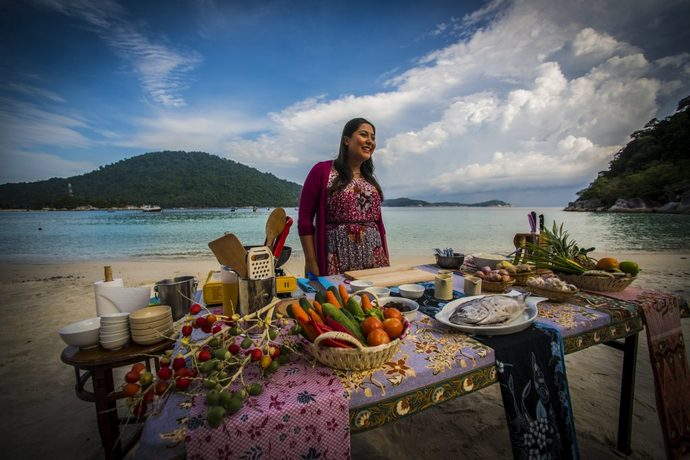 Besides the food, what was your take on the culture of the cities you visited?
Culture and tradition was so important to the people I met on the show. Each and every one of them were advocates of preserving their way of life, their culture and their food in their own respectable way. The biggest thing I took away from spending time with these amazing individuals is the fact that they all believe that culture and tradition need to be preserved and passed down to the next generation, and that the most important and valuable thing in life is their family! That knowledge is the key to leaving a legacy.
What can readers look forward to in this new show?
Expect really, really, really beautiful coastal cities, AMAZING and unique seafood and me getting up to all sorts of activities which include, octopus hunting, sea urchin fishing, clam digging, cooking and eating some of the most delicious seafood in the world with the most interesting bunch of locals I have ever met. If you are a lover of seafood and beautiful beaches, this is the show for you.
What advice would you give people who would like to cook but do not know where to start?
I would say, be open minded to stepping into the kitchen. If you're a foodie, you will know flavours and ingredients that work for you. Keep the cooking technique really simple and maybe just use one type of cooking method to avoid having to do so many things at the same time. What also helps is buying really fresh ingredients. If you need some inspiration, watch my web series Home Cooked: Malaysia on www.asianfoodchannel.com/shows/home-cooked-malaysia.
By The Sea with Ili
Premieres on Thurs, 10 Nov and subsequently every Thursday @ 10pm
Asian Food Channel (Starhub Ch 435)