Here's an Indian Cauliflower Masala that is not too spicy and healthy for the heart, mind and soul! Another vegan recipe for my vegan friends!
Gobi, or cauliflower, is very popular in Indian cuisine. This vegetable can carry many flavours well, and can be given a fantastic facelift with spices, oil and a bit of deep frying. Many of you may recall a popular North Indian dish called 'Gobi Manchurian' that has everything from flavour to a soft-interior and crispy exterior.
This dish is not deep fried, but is charred quite a bit. If you have a griddle pan, you can use that to char the vegetables very slightly while cooking them, before adding the other spices. Essentially, this dish is quite mellow in flavour. If you're not into anything with heat, you can leave out the Bird's eye chillies and chilli powder as well.
I have made this with frozen green peas, as green peas are a staple in my freezer. You can use any other green vegetable, fresh or frozen, to your liking. I have not tried this with frozen spinach, but I reckon it'll be quite tasty. You can also try it with asparagus or snow peas, depending on what you can find in the market.
Spices
This dish uses a number of spices from the indian larder, unsurprisingly. If you don't have these at your disposal, then you could certain substitutes. Garam Masala is a good alternative to most combination of spices. Garam Masala has a deep, earthy flavour that can be found in Cumin, but it contains a host of other spices that can affect the outcome of the final product.
If you're really up against it, then you can use curry powder. Curry powder can be spicy though, as it has a base of dried chillies. This could mean your dish may come out more like a dry cauliflower curry than a Cauliflower Masala, but that's okay as long as you enjoy it!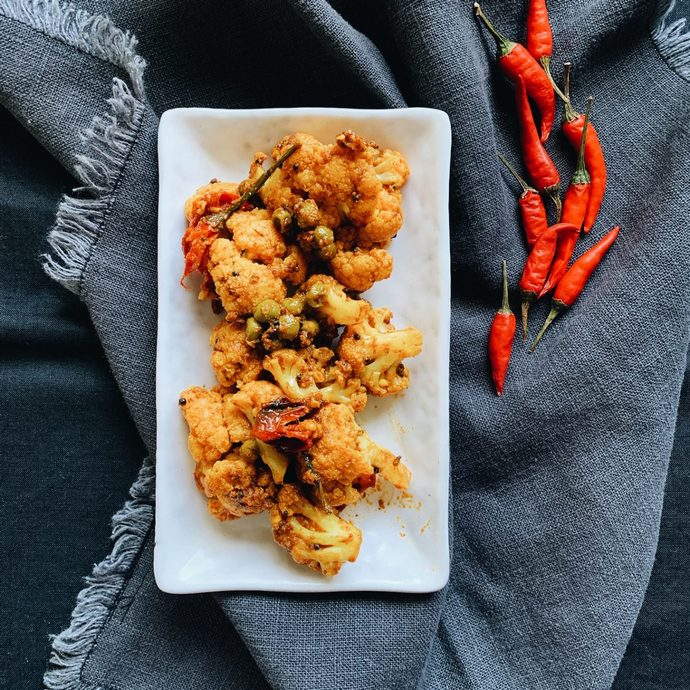 Cauliflower Masala with Green Peas
Course: Main
Cuisine: Indian
Difficulty: Easy
Here's an Indian Cauliflower Masala that is not too spicy and healthy for the heart, mind and soul! Another vegan recipe for my vegan friends!
You'll need;
1 Large Head Cauliflower, broken into florets

1 Tbsp Olive Oil

1 Tsp Plain Flour

1 Tsp Turmeric

1 Tsp Salt (Or More, to taste)

1 Tbsp Olive Oil

1 Tsp Mustard Seeds

3 Thai Birds Eye Chillies, slit lengthwise

1 Tsp Coriander Seed Powder

1 Tsp Cumin Seed Powder

1 Tsp Kashmiri Chilli Powder

100g Frozen Green Peas

3 Tbsp Tomato Puree

50 ml Water
You'll need to;
Start by placing the cauliflower florets into a large mixing bowl. Add the oil, plain flour, turmeric and salt. Toss everything together, ensuring that the florets are well coated.
Then heat up the second tablespoon of olive oil over medium high heat, in a non-stick skillet of choice. Add the mustard seeds, allow it to sputter.  To this, add the cauliflower and red chillies; fry till it's cooked halfway through, and slightly charred. If you cover the pan during this process, it'll help to cook the cauliflower faster. This process will take about 6 mins.
Then, remove the lid and add the coriander seed powder, cumin seed powder, and kashmiri chilli powder, along with the green peas. Continue cooking to soften and char the vegetables further, about a further 6 minutes.
Mix the water and tomato puree together. Add this to the pan and continue to cook. It's best if you add this, stir everything together and cover it with a lid. You can leave it for about 2 minutes, by which time the food should be ready to eat.
Serve as a side, or enjoy it as a main with some yoghurt – it goes really well together, trust me!