Grain Singapore has a splendid festive spread for all who are looking to impress guests this holiday season, but do not want to commit themselves to cooking it from scratch!
Grain's festive menu is one unlike many other food caterers! Known for their ready-to-go meals that are usually delivered to your doorstep, Grain also has an extensive catering menu helmed by its Michelin-award winning team. This Christmas, they've put together a show-stopping menu complete with a festive set up. and live carving and hot chocolate stations. Here's a highlight on some items you'll probably enjoy.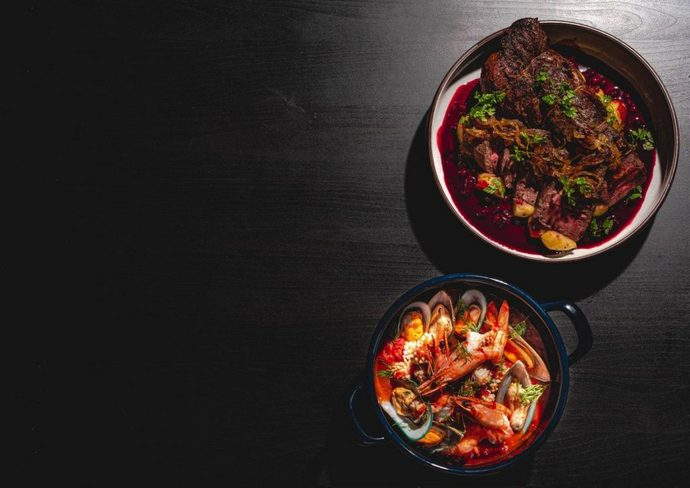 Here's the breakdown of what's available:
CHRISTMAS PARTY SET at $288 –10 courses, good for 10 guests
CHRISTMAS BUFFET TO GO – starting from $17 / guest.
CHRISTMAS BUFFET – starting from $18 /guest.
EXTRA DELIGHTS
• Maple Glazed Whole Turkey ($118)
• 40 Cloves Garlic Roast Chicken ($40)
• Slow-roasted Beef Tenderloin ($128)
• Lychee Rose Yule Log ($42)
• Live Station: Campfire Hot Chocolate ($4/guest) *minimum 30 guests
Grain Singapore is having a special promotion; pre-order your Christmas Buffet before 6 December and enjoy a free Lychee Rose Yule Log (capped at 200 guests!). For more information on their menus, check out their website. For my take on what I tried, continue reading…
Christmas Spiced Rice
In my (humble) opinion, is any party really complete without a rice dish? It's the most versatile carb out there! The Christmas Spiced Rice is one to please the crowd (and fill them up). I loved the little bright jewels of pomegranate in this dish, along with roasted chunks of pumpkin. This Basmati rice dish is a pleasing medley of bright orange, red and white, a combination which puts you in the Christmas spirit quite instantly. If you're not quite there yet with the colours, then the subtle aroma of holiday spices such as cinnamon, cloves, nutmeg, and star anise will take you there!
Wild Mushroom Pesto Pasta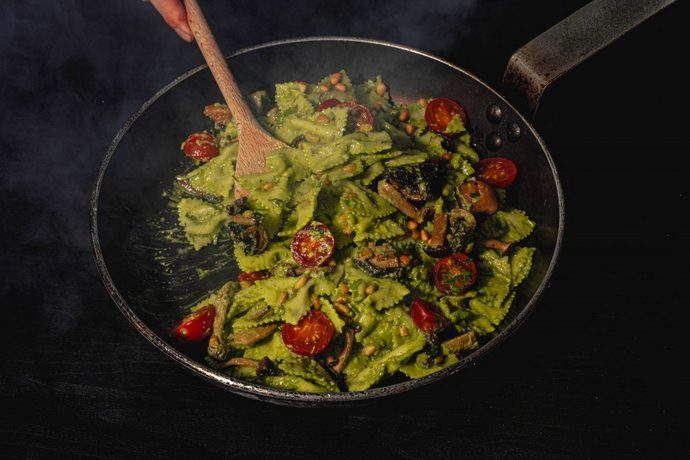 This is easily a winner in any party and when you cater this, everyone is going to keep coming back for it. The pesto here is mellowed with generous helpings of cream that make this dish highly appetising. Plump, halved cherry tomatoes add Christmas colour to this pasta dish and serve as sweet nuggets of flavour when eating. I salivate as I now dream of this pasta and hence I shall stop here.
Sweet Citrus Salmon Parcel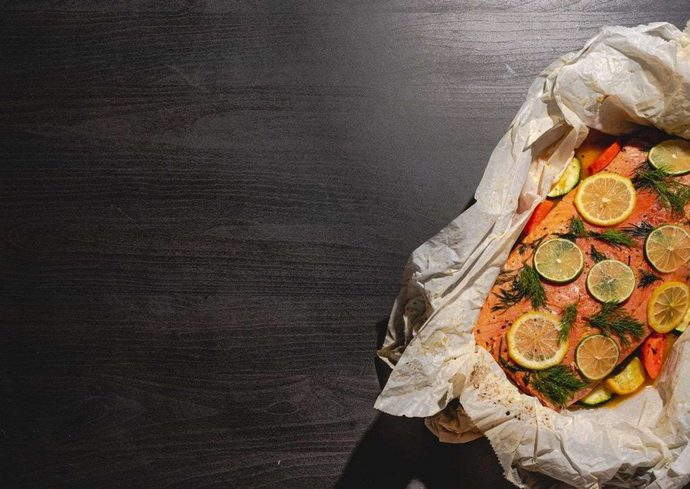 Salmon is a fish that's very right when done right. The chefs at Grain have paired this naturally sweet yet fatty fish with honeyed citrus and roasted it to pink perfection. The salmon is fresh as can be; you can taste the this when you bite into it. The fish is roasted alongside root vegetables and dash of dill to bring a certain licorice spice to the dish. The fish is also prepared, cooked and served as a whole fillet, and not individually portioned. I particularly like this idea because you can secretly take more and not look too guilty.
Tamarind Vinaigrette Capellini
I normally don't like cold food, in fact I hardly take cold food – everything I eat I heat, or reheat. However, there is always an exception to the norm and this pasta appetiser is that exception. The Asian-inspired dish is the perfect way to start a meal; I much preferred this to the salad. Tamarind adds a complex flavour profile to any dish. The cold pasta brings out the bold punch of tamarind in a palate-soothing manner that would make you want to keep having more… and more!
Cinnamon Sugar Glazed Chicken
We all know and love cinnamon sugar donuts (if you don't, you're eating it wrong) but who knew this sweet delight would make a delectable glaze on sous-vide chicken? Chicken thighs are marinated for up to 12 hours in a bevy of herbs, then oven roasted under high heat to achieve the signature char on chicken that we all know and love. The glaze is the last to go on, and is an infusion of ginger flower, orange and cinnamon. It sounds poetic and tastes just as much.
Lychee Rose Yule Log
Oh this cake… is fit for the angels of Christmas to delightfully inhale while perched on their heavenly clouds. Now, I don't normally wax lyrical about cakes (HAH!) but this one had the most unique combination of Lychee and Rose. Brought me back to the days when I sold Lychee and Rose cupcakes for Teachers' Day! An airy lychee sponge cake is rolled into a log with intensely sweet and sour raspberry coulis, then frosted delightfully in rose cream. Then comes a dusting of matcha crumble and careful studding of freeze-dried raspberries, fresh blueberries and cinnamon. This cake serves up to 25 guests, but if I'm invited to the party then this number is going to plummet steadily.
Rosemary Iced Tea
Not your ordinary iced-tea, this version by Grain has been delightfully spiked with Christmas flavours. The dark black tea base is aromatised with apple, pomegranate juice and smoked rosemary sprigs. Not a traditional flavour combination, I know. But the taste of this tea is Christmas in itself – cool, comforting and refreshing yet sweet and ever so lightly spicy.
I do not normally talk about catering services this way, as I've had enough lousy experiences to take catered food with a pinch of salt (sometimes, literally). Grain seems to have learned what people look for in catered food, and catered to those needs (no puns, kay?). This Christmas menu is something I would want my guests to try if I was entertaining in such a capacity. Of course I'd probably make some honey-soy cocktail sausages to go around as finger-food but that's just me!