Chatterbox Singapore has still got people talking about how good their chicken rice is – but now it's got a spankin' new outlook and fantastic new dishes on its refreshed menu.
Chatterbox is an institution of classic Singaporean food. It's got two things a local food lover would turn to for comfort: familiarity and flavour. And this has been its winning formula for the past 51 years. Chatterbox today is still feeding hungry hordes of Singaporeans with their classic Chicken Rice, but have added a selection of other delightful dishes to their tantalising new menu. They even have a bar that serves a variety of cocktails, and a swanky interior that's both classic and modern.
The Chicken Rice (obvs!)
It is impossible to wax lyrical about the beauties of the new Chatterbox menu without starting with the Chicken Rice. The Chicken used here is a plump, free-roaming bird that's been given about 60 odd days to grow organically. This results in meat that is naturally sweet when poached. The rice is also cooked with their signature and strictly guarded recipe. In fact, I was told that they have had the same person cooking the chicken rice for over 40 years! Each plate of $25 chicken rice is served with a side of traditional chicken rice chilli, minced ginger and soya sauce. The soya sauce in itself carries a breadth of flavours; it's richly dark and piquant with a mild berry-like tinge. 
Sea Perch Fish with Burnt Green Chilli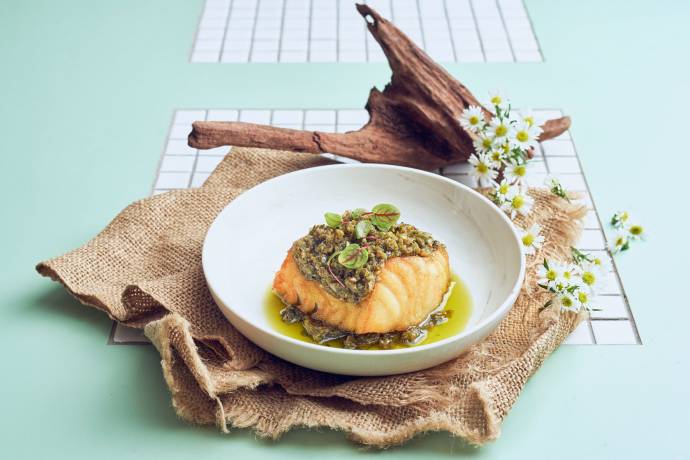 I love perch – it's a sustainable fish that can replace Cod very easily in most recipes. In fact, I use frozen perch cuts in my Asam Pedas and Fish Curries very regularly. This white fish carries flavours very well, especially when topped with a sambal hijau paste, like it's done here. The luscious fish is first pan-fried, then crowned with a crushed green chilli paste. It's a rather simple dish but packed with such complex and complementary flavours. Aahhh this dish made me so happy because I am generally obsessed with both fish and chillies and this dish bring both together in such a beautiful way.
Lobster Laksa
This dish made me go 'Ooooooooooohh'. Now, I'll have to say straight up that I am a die-hard fan of coconut milk. Anything and everything with coconut milk is instantly edible to me. This dish is nooooo exception – every spoonful of laksa gravy had my heart singing in delight! The rempah is no doubt made in house and has a harmonious balance of pungent laksa flavours which are all seductively mellowed with coconut milk. Somehow the lobster's rich and buttery meat just works here, marrying the spices so well.
Mackrel and Crab Otah-Otah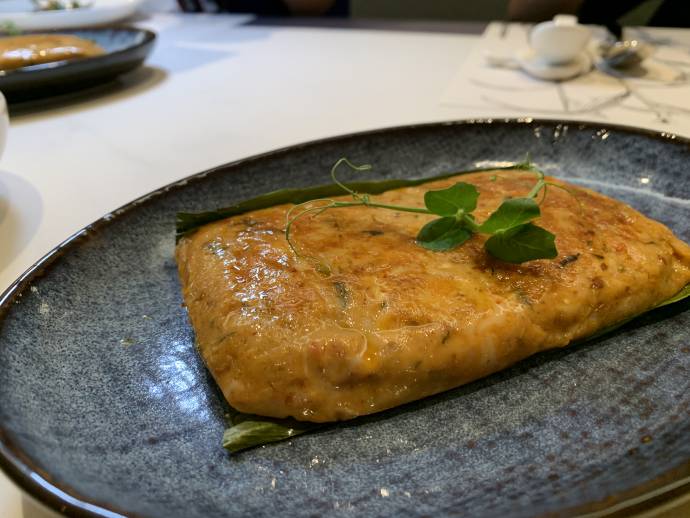 Another in-house stunner! I don't take to Otah-Otah ($15) very well, the store-bought one always has a metallic taste that I don't quite enjoy. This one, however, was created beautifully. It's served in a large and promisingly heavy banana leaf parcel. Imagine fresh mackerel fish paste with snow crab claw meat seasoned with a homemade spice mix. This is the perfect way to begin your culinary journey at Chatterbox.
Relax. That's just my fancy way of saying this will make a good starter.
Lemon Butter Tiger Prawns
Fry prawns once, and they are good. Fry them twice, and they turn heavenly. This plate of heaven costs $25 and will have you smacking your lips with a tangy, lemony butter sauce. You might expect the flavours here to be too rich, but the opposite's true. The lemon cuts the butter's exuberance, and heat from chillies helps to deepen the lemony tang. Also, the prawns are HUGE here, totally worth the buck.
Wok-fried Sambal Winged Beans
Winged beans are not new in the market but have become more and more popular in recent times. They are extremely easy to cook with (I stir-fry mine with XO sauce). Here, the chef at Chatterbox has applied the same concept of Sambal and Winged beans. The sambal is fiery but not scalding, while the winged beans are bite-sized and crunchy, not overdone. I must say that this HAS to go with rice, it's just meant to be that way. Also, you won't notice it finishing.
Signature Coconut Ice Cream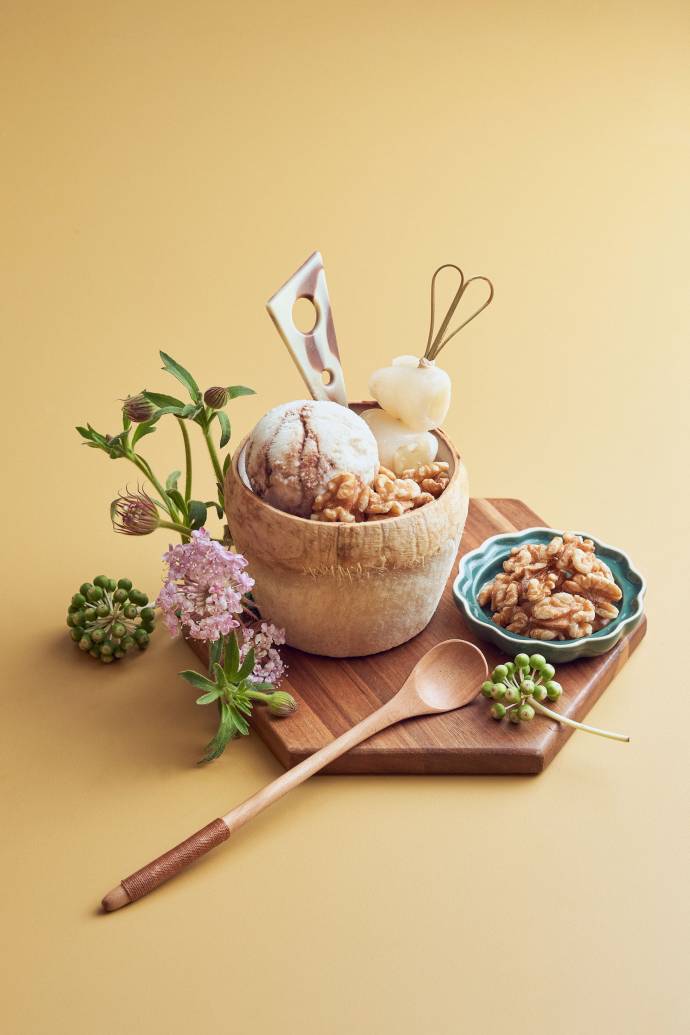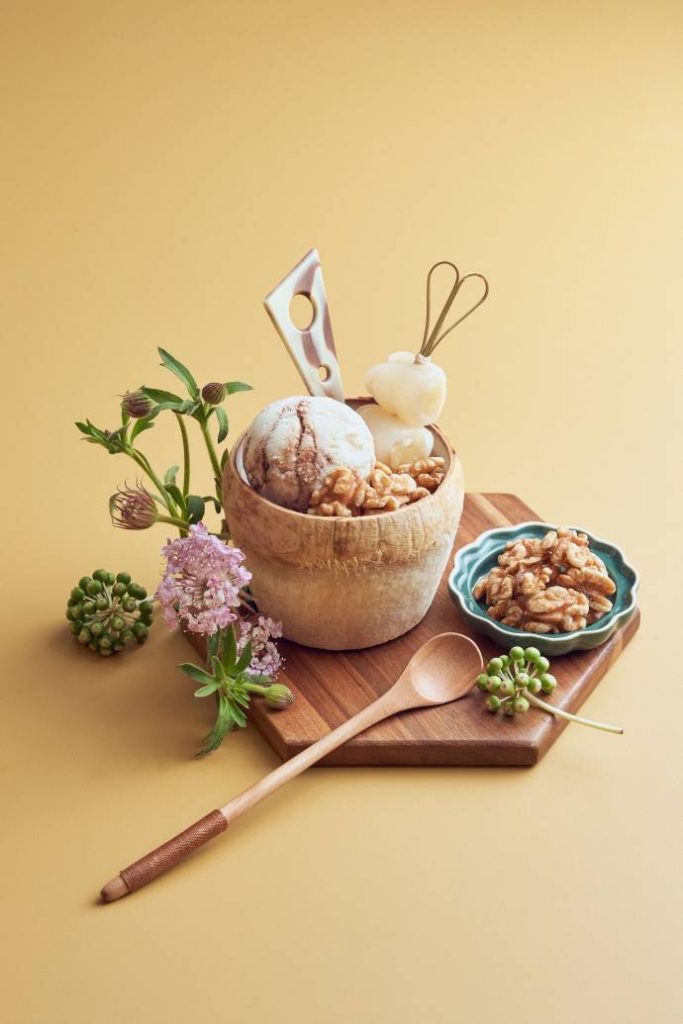 We ended the meal with another classic item on the menu – the Chatterbox Signature Ice Cream. Made with fresh coconut milk, coconut flesh and desiccated coconut and then laced with chocolate swirls. Yes, chocolate. I know you're thinking HOW this could possibly work – I did too! But boy oh boy did it work so well together. It was the perfect way to bookend the meal.
Drinks: The Chatterbox Punch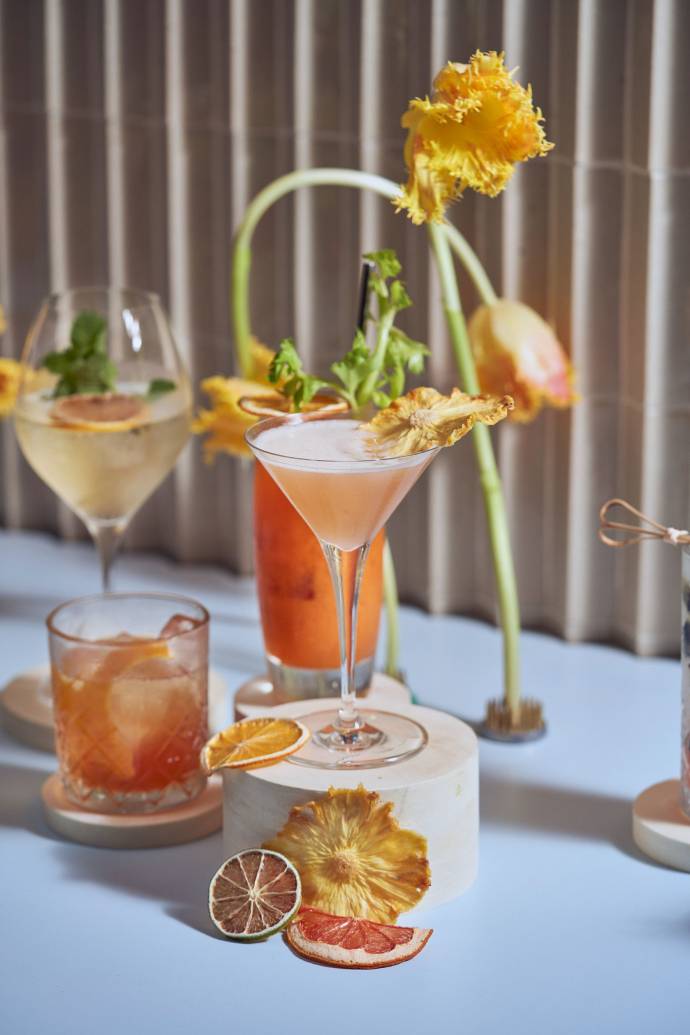 The Chatterbox also offers a unique and intimate bar for drinks before or after dinner. Their signature cocktail, Chatterbox's Punch ($17) is an easy-drinking 21-days vanilla, cinnamon, lemon, banana-infused gin served with house tonic. It was so smooth and fragrant, and complimented the food so well! They of course have a range of other cocktails and wine on the menu.
Chatterbox is located in Hilton Hotel, however, you can access the restaurant via Mandarin Gallery too. Regardless of how you choose to get there, a fantastic feast is promised. Check out their Instagram Page! They are available on Chope, if you'd like to make reservations (recommended!).
Chatterbox
333 Orchard Road, 05-03, Singapore 238887
11:30am to 2:30pm, 5:30pm to 10:30pm, daily
6831 6291