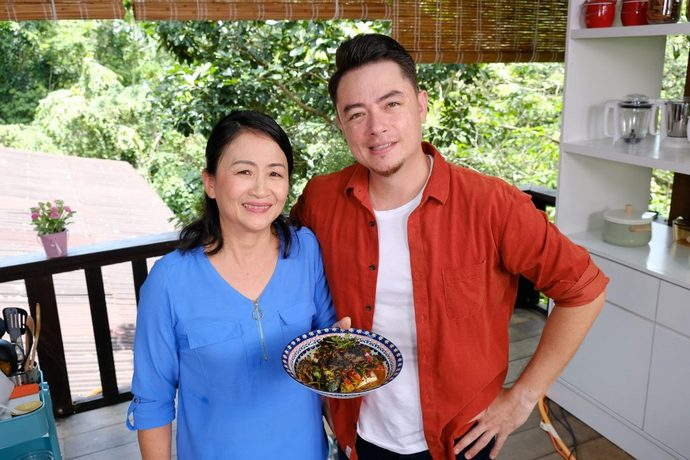 If you haven't watched the premier of Family Kitchen with Sherson Lian on the 25th, you can still catch up. It's really that good! I have been a huge fan of the show ever since it started. The family-oriented cooking show has won many hearts across Asia for its warm, approachable cooking tips and tricks, with familiar recipes that make anyone want to start cooking. I had the wonderful opportunity to check out the new show and get a short interview with the mother and son stars of the show: Ann and Sherson Lian.
What do you think of the Singapore and Malaysian food scene? How does it inspire you?
Ann: Singapore is organized, neat and hygienic, even street stalls and hawker centers are so clean! Taste wise, I still prefer Malaysia's as I am used to the flavors I grew up eating.
Sherson: For the hawker scene, Singapore has taken such a huge leap, it is more organized and systematic than before. Sadly, the shift has also resulted in the loss of authentic flavors and touch. Although Malaysia may be less hygienic, flavour-wise, it's a spot on! For the mid-range to higher end, I see an increasing number of world renowned chefs coming to Singapore to open their restaurants as Singapore provides a perfect platform, and because of that, Michelin-starred restaurants are now more accessible and closer in proximity, allowing more people to explore and taste the highly recommended food.
 Part of the draw of your show is its family oriented approach. How did the idea of a mom-and-son show come about?
Sherson: There are a lot of food shows but Family Kitchen with Sherson is not just another food show. It goes beyond showcasing food and highlights the importance of family. I personally believe that food is tied very closely to family, and as we always say in the show, a family that cooks together, stays together! Through this show, we hope to inspire more families to cook and eat together.
Ann: Our family loves to eat! I honestly had no idea how it came about until Sherson phoned me one day and asked me to join him on the show. I was hesitating but my husband, who was beside me then, nudged me and kept asking me to say yes, and so I did.
How is the new season different from what you've done so far with your shows?
Sherson: My mom is more comfortable in front of the camera this time round, you will see her bossing me around more in this new season! She also prompted me to cook for health-oriented dishes and together, we explored beyond family recipes, and included recipes inspired by our regional neighbors such as Thailand, Vietnam, and Indonesia.
For Sherson: I understand that you have you're your own restaurant – can you tell us more about the food served there and the vibe; is it the same as the family approach you have on your show?
Sherson: For the restaurant we have of now, which is HELLO by Kitchen Mafia, the vibe is very similar to what the name stands for. It's not commercialized but a neighborhood spot perfect for gatherings with families and friends. Our menu varied to suit different taste buds, you can come in after a long working day and enjoy a bowl of warm Duck Noodles Soup, or you can swing by for some Fried Rice during lunch and some quality tapas and wine on weekends. On days you feel like splurging, you can order a brunch spread and share it with your family or friends. The dishes in the menu are familiar dishes but of course, we added our personal touch to the local favorites to guarantee a hearty and delicious meal. It caters to a huge range and because of all that, the vibe in the space is very lively, vibrant and diverse, which is similar to Family Kitchen as we emphasize a lot on togetherness and families.
What are 5 of your favorite ingredients in the kitchen?
Sherson: garlic, coriander, bunga kantan (torch ginger flower), ginger flower and onion
Ann: chili, ginger, onion, lemongrass and basil leaf
How do you feel about fusion food?
Sherson: I enjoy creating fusion dishes because that is what I serve in my restaurant. People often have a misconception that fusion means mixing 2 and 2 together, which is not the case. I always abide by this rule when I create a fusion dish: maintain the identity of each dish or cuisine that's featured. You must be able to taste the different elements and identify which cuisine it belongs to. For instance, one of the best sellers in my restaurant, Salted Egg Buttermilk Soft Shell Crab with Aglio Olio, it's not just blanched pasta drizzled with oil and crabs on the side. It's a combination of nicely cooked Aglio Olio, seasoned generously with chilies and garlic, and a creamy salted egg sauce drizzled over the soft shell crabs. You can clearly identify the Italian and Chinese origin, and that's what I meant by maintaining the identity of a cuisine. Since I did not undergo classic culinary trainings, I was never taught the "right" way of doing things, but I believe that when you do it right, fusion can be interesting.
Ann: To me, the fundamental element of cooking is being creative and explore flavors. Regardless of what you put together, as long as it comes out nice and tasty, you deserve a pat on your back!
What is one dish you make whenever you're pressed for time?
Ann: Spicy egg omelet because egg is one of the key ingredients I always have in my fridge, and I will always have chilies in my kitchen because my family loves spicy food. I will fry it with anchovies, chili padi, garlic and lots of onions.
Sherson: I seldom cook at home nowadays but when I do, it's always planned! At the restaurant, if I am pressed for time, I will most likely cook fried noodles or fried rice, but that's only for me.
You make complex Asian food recipes look so easy – like making your own curry powder as opposed to just buying it. What are three essential tips you can give to newbies in the kitchen?
Sherson: Just start cooking! Don't be intimidated, when you think it's hard, you will never be able to start learning how to cook. Commit to something simple first, like an omelet or a simple stir fry chicken and vegetables, that itself makes a perfect meal for 2. After you master that, you will be motivated to make something more difficult, for instance, Rendang. Then you will go to the supermarket to buy the paste and the essential ingredients. As time pass by, you will want to make your own spices to add your personal touch to the dish, and that's how you move forward from a newbie. It's like running before you run, you walk and before you walk, you crawl and before you crawl, you wiggle!
Ann: For me, I would say don't set rules and be versatile. Whatever ingredients you have at home, be creative and cook something that suits your taste buds.
So there you have it – secrets from the Family Kitchen from their mouths to your ears, from their recipes to your eagerly awaiting palates. Tune in to AFC (Channel 435) every Thursday night at 9 pm to catch Sherson and his mom cooking up a storm in the kitchen. Pics above are sponsored by the Asian Food Channel.