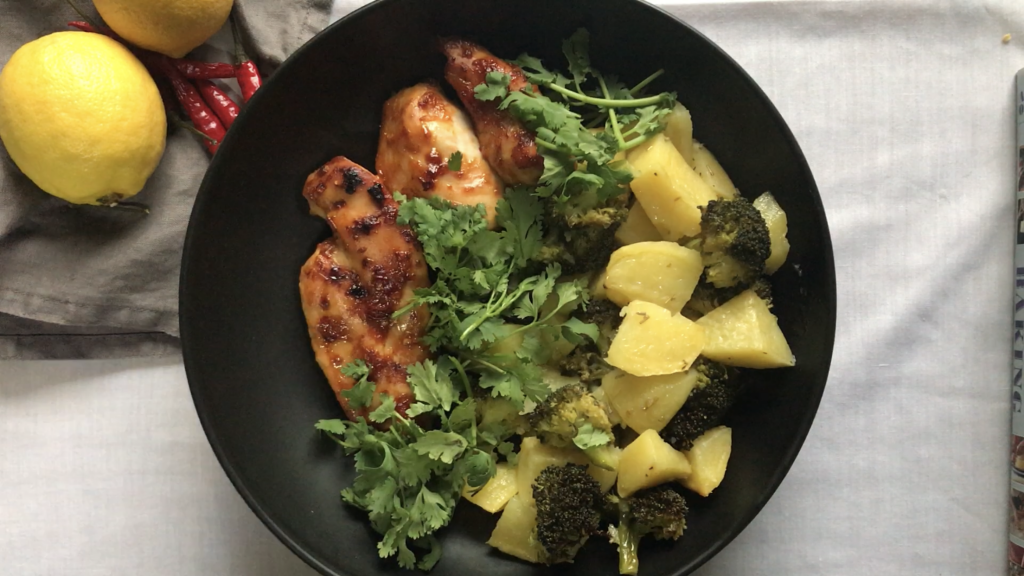 A tray bake is hardly a recipe, I can say that for sure! This really involves throwing a bunch of ingredients together in a pan, placing it in the oven for about 40 minutes and then digging in with some mayonnaise or yoghurt.
Chicken Breast
Chicken breast has an extremely bad rep – you can always hear someone telling you that it can get exceedingly try and papery when cooked. And these people would be right, overcooking the chicken breast can result in chewy meat. However, cooking the chicken breast for just the right amount of time can result in a juicy, tender cut of meat. If you're not bothered to cook it for the right amount of time and at the right temperature, like me, then you'll cheat!
Baking Chicken breast is the easiest way to cook it, in my opinion. Whenever I cook it, I cover the tray with a sheet of aluminium foil. This helps to keep the moisture sealed into the meat, even during cooking. It is also useful to remember that cooking chicken breast is similar to cooking a cut of beef. When you cook beef, you remove it just before it is fully done and tent a sheet of foil over it. This allows the meat to cook further in the residual heat. It also allows the meat to absorb some of the moisture it has lost back in, making it juicy and tender.
With chicken, the same concept can be applied to get a juicy chunk of meat. Once cooked, leave the covered chicken just as it is for about 5 to 7 minutes, undisturbed. This will go a long way in making the meat tender. Also, there will be plenty of juice pooling around the chicken – use this as a sauce to flavour the chicken!
Vegetables
I've used potatoes and broccoli here, but feel free to use anything you like! I've made this recipe with carrots, mushrooms, green peas, cauliflowers – it's your meal, so you choose. It's a simple way to incorporate vegetables into your everyday meal and can be easily stored for lunch the next day. Usually, I take this one step further by making a simple dressing. Mix 1 part each of Yoghurt and Mayonnaise with 1 clove minced garlic and you have a dressing full of flavour. Stir this through the roasted vegetables and you have an easy salad!
Cooking at home does not have to complicated. Feel free to experiment with this with whatever ingredients you like and make it yours! Happy cooking!
Chicken and Vegetable Tray Bake
Ingredients
200g Chicken Breast, fat trimmed
2 Tbsp Sambal Paste
2 Tsp Soy Sauce
1 Garlic Clove, grated
Salt to taste
2 Tbsp Vegetable Oil
4 medium sized potatoes, peel and cubed
200g Brocolli florets
1 Tsp Parsely
1 Tsp Thyme
2 Tbsp Olive Oil
Method
For the Chicken, mix the sambal paste, soy sauce, garlic and oil together in a bowl. Pour over the chicken and set aside.
Marinade the vegetables in the herbs, salt and oil.
In a baking tray, create two 'mini-trays' with aluminium foil. You can use separate trays if you prefer. Place the chicken on one side of the tray and the vegetables on another side. Cover with foil and roast in a moderate oven (180 Degrees Celsius) for 40mins.
Remove, and tent the foil over the chicken to retain moisture. Serve warm, with condiments of your choice.
https://thecraversguide.com/chicken-and-vegetable-tray-bake/
Copyright belongs to thecraversguide.com.