This Chiang Mai Chicken Curry is one that is made of chicken, spices, tamarind and dreams.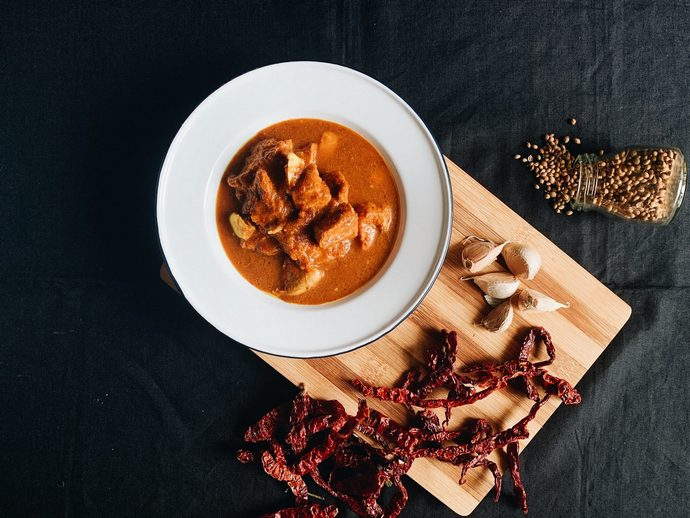 Chicken and Curry are one of the greatest combinations to have hit Asia! Almost every country, region, state and municipality has its own version. Take India, for example. There are so many versions of chicken curry throughout the entire country!
While most of us would be familiar with Green Curry with Chicken we get all the time in restaurants here in Singapore, this Chiang Mai version is slightly different. It does not use the requisite coconut milk to mellow the heat of the chilli paste, and the meat is added to the pan first followed by water and tamarind that helps to thicken the gravy. 
This is not a rich and cloying curry, rather slightly spicy and scented. The meat is also marinated beforehand, allowing the spice paste to tenderise the meat before it goes into the curry. The water and tamarind is added to the meat in the pan, and not the other way around like in traditional curries. This curry needs to be simmered until the meat is tender and gravy is thick.
Garam Masala
This dish is unique in that it uses quite a bit of dried spices in flavouring the gravy. This dry spice blend is known as phong hang lay, which consists of up to 10 different dried spices blended together. In olden days, this mixture was hard to come by and it was always made at home. In Singapore and Malaysia, it's hard to discover this spice blend even in Thai speciality stores.
Hence, I have used Garam Masala instead. This Indian spice blend is a close second to phong hang lay and uses similar spices to the original mix, making it an ideal substitute. 
The Thai name for this dish is Kaeng Hang Lay, and can be ordered in most Northern Thailand Restaurants. However, each place might do this dish differently.
Vegetarian
If you'd like to make a vegetarian version of this recipe, replace the chicken with carrots and cauliflower. Both these vegetables can carry the spices in this curry well, and can withstand the simmering process as well. Potatoes can be used here as well!

Chicken Curry from Chiang Mai
Course: Main
Cuisine: Thai
Difficulty: Easy
This Chiang Mai Chicken Curry is one that is made of chicken, spices, tamarind and dreams.
You'll need;

2 Tbsp Vegetable Oil


350g Chicken, cut into 1 inch pieces


1 Tbsp Garam Masala Powder


1 Tbsp Sugar


1 Litre water


1 Tbsp Dark Soya Sauce


1 ½ Tbsp Tamarind Paste


6 Cloves Garlic, peeled and smashed


Spice Paste


8 Dried Chillies, soaked in warm water


1-inch Galangal, chopped roughly


1 Lemongrass Stalk, chopped roughly


4 Garlic Cloves, peeled


1 Tsp Sambal Belacan


1 Medium Red Onion, peeled and chopped
You'll need to;

Start by making the spice paste; combine all ingredients in a blender with a splash of water and grind till you get a smooth paste. Pour this mixture into a large mixing bowl; add the chicken and garam masala and set aside for up to 30 mins, or overnight in the fridge.

Heat the oil in a large wok or saucepan over medium heat. Add the chicken pieces and allow to cook halfway through; the idea here is to help them develop a nice brown crust. Then, add the water, soya sauce and tamarind paste and mix everything together. Allow the mixture to come to a boil, then let it simmer over low heat  as the gravy thickens. 

Add sugar and taste for seasoning. If it needs a bit more salt, add salt (not fish sauce).

Serve warm with rice.