A traditionally Malaysian dish, Chicken Kicap has many names in various parts of Malaysia, Indonesia and Singapore. The recipe differs slightly from one home to another, much like another local favourite, Laksa.
I made Chicken Kicap for the first time in forever, after asking friends and relatives for tips and clues on how to get the combination just right. Most of them seemed to think that either the entire chicken or a combination of wings and thighs would do the trick.
As a breast meat fan, this was hard for me. I didn't compromise on the breast meat, as you can see. However, you can use this same recipe with an equal amount of brown chicken meat. Just add more time to cook the dish, as brown meats takes slightly longer than breast meat to cook.
Chicken Kicap is essentially Chicken in Soy sauce. You can see where the crossover comes in now, I'm sure.
Chicken Kicap
The distinct salty flavours that come with soy sauce are met with spicy chilli and tangy tomato in this classic dish. The final dish is darkly coloured, thanks to the the combination of the different sauces. IN most places, this dish can be found served with white steamed rice and sambal chilli on the side.
Usually, there is a long list of ingredients required to put this dish together. Of course, I condensed it to a handful. I tried my level best not to compromise on flavour. A long list of ingredients is such a solid put-off for me. I normally strive to make sure the recipes all have 10 ingredients and less, and this one will be no different.
Marinate
You can choose to marinade your chicken in soy sauce and blended chili paste (sambal) for an hour prior to cooking this dish, or you can marinate it overnight too. I cooked it instantly and the flavours were just fine on their own.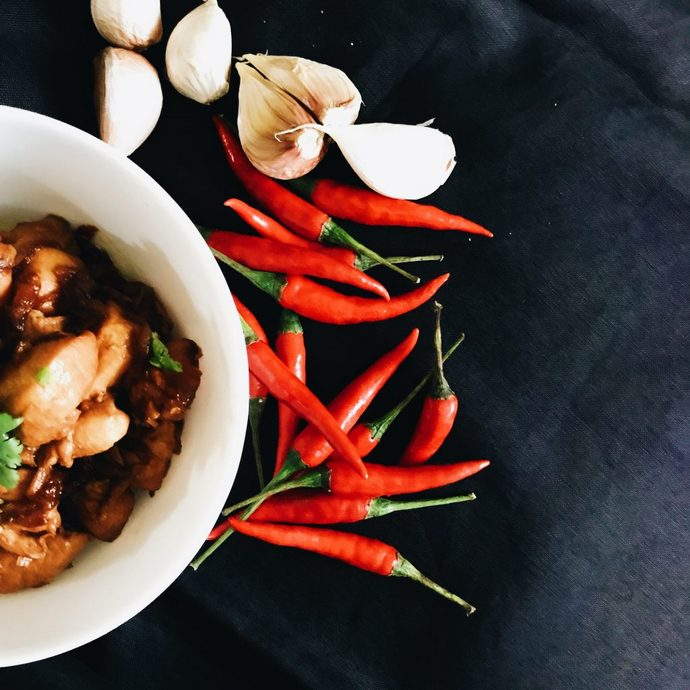 Ingredients
200g Chicken Breast, cubed
3 Tbsp Light Soya Sauce
1 Tbsp Dark Soya Sauce
1 Tbsp (heaped) Ground chilli/sambal
1 Medium Onion, peeled and sliced
3 Cloves garlic, peeled and chopped finely
2 Tbsp Vegetable Oil
Salt to taste
Method
Marinade the chicken cubes in the soya sauces and ground chilli. Set aside.
In a heavy based saucepan, heat the oil and add the onion. Saute for 2 minutes until tender, then add the garlic. Saute for 30 seconds.
Add the chicken with the marinade sauces, and stir until the meat is fully cooked. This will take about 5 to 7 minutes, during which time the juices from the chicken would have formed a thick sauce along with the soy sauces.
Serve warm with rice, fried egg and more sambal.
https://thecraversguide.com/chicken-kicap-recipe/
Copyright belongs to thecraversguide.com.