Chicken Pulao can sound very foreign and intimidating, but it really is a simple and straightforward way to prepare a favoured Indian rice dish!
Chicken Pulao differs from traditional biryani in its cooking method. A pulao, or pilaf as known in the west, is rice and spices cooked in a measured-out quantity of water. Essentially, this denotes that all the ingredients are first sautéed, then the rice is added and everything is cooked with a specific amount of water. A Biryani on the other hand, usually depicts layers of half-cooked meat and rice that are then covered and cooked the rest of the way, together.
If you're looking for a Briyani recipe, check this out!
I made this chicken pulao without adding biryani masala, too! Biryani masala has a more rounded taste profile, compared to the Cumin and Garam Masala that I've used here. Biryani Masala is essentially a combination of various spices in differing proportions, to create that signature taste we all know and love in the South Asian rice dish.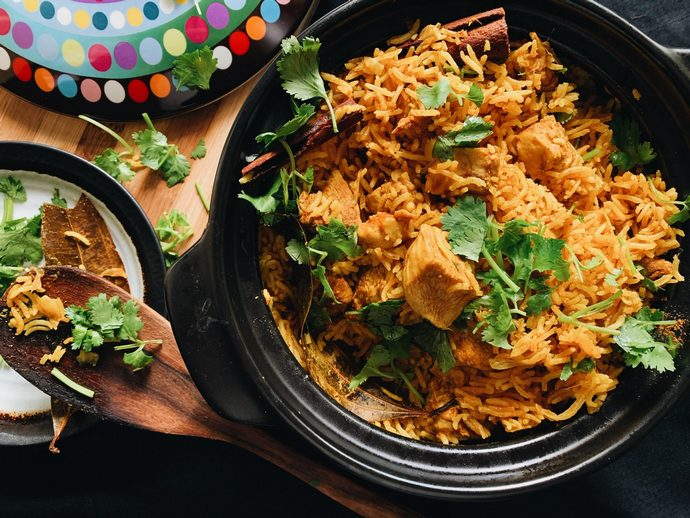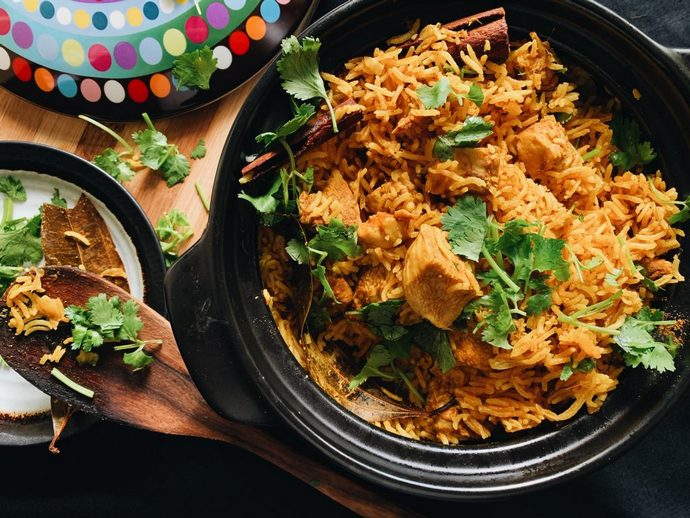 Whole Spices
Whole spices form an integral part of this and other pulao or biryani recipes. The slow tempering of whole spices in hot oil or ghee creates subtle, earthy flavours that permeate throughout the dish. Before starting, it's best to get all your ingredients ready to go. If you'd like to use Ghee instead of Olive Oil like I did here, go right ahead! Traditionally, biryani is also known as 'ghee rice' in Tamil; to signify that the rice had been cooked in ghee.
Rice
I used Basmati rice for this recipe. You can of course use plain white rice, or Thai Hom Mali rice. However, I wouldn't recommend using brown or multi-grain rice. These grain types can be delicious, but have a different cooking time and can react to the spices differently too. Generally, various grain varieties have their own particular flavour, ranging from earthy to grassy. When using heavy spices like these to cook, it's best to go with the most bland of the varietal; white rice.
I've used a fairly small cup for rice here; 160ml.
This dish can be successfully made in a rice cooker. However, you'll have to do the initial part of the cooking on the stove top. Once you've added the rice and liquid to cook the rice, you can move the pot into the rice cooker and switch it on.
Vegan/Vegetarian Alternatives
This is a Chicken dish, after all. If you're vegan, you can simply replace the chicken with chickpeas, or paneer. However, if you're going the way of the chickpea, I would suggest getting the dried chickpeas and rehydrating them before using them here. This recipe requires everything to be cooked together in water over low flame. As canned chickpeas are already soft, they might get mushy while being cooked further. The Paneer can be defrosted before using. Adding it in frozen is not fine; it just won't absorb the spices well enough and will change the water content of the dish. You can also add green peas for some colour.
Chicken Pulao Recipe
Course: Main
Cuisine: Indian
Difficulty: Medium
Chicken Pulao can sound very foreign and intimidating, but it really is a simple and straightforward way to prepare a favoured Indian rice dish!
You'll need;

3 Tbsp Yoghurt


480ml Water


1-inch Ginger, peeled


6 Garlic Cloves, peeled


2 Tbsp Olive Oil


1 Stick Cinnamon


2 Bay Leaves


2 Cardamom Pods


2 Cloves


1 Large or 2 Medium Onions, peeled and thinly sliced


420g Chicken (thigh or breast), cubed


1 Tbsp Garam Masala


1 Tsp Cumin Seed Powder


2 Tsp Chilli Powder


1 Tsp Turmeric Powder


240g Basmati Rice (see notes)
You'll need to;

Mix the yoghurt with the water; set aside. In a pestle and mortar, pound the peeled ginger and garlic, set this aside, too.

In a heavy bottomed saucepan, heat the oil over medium flame. Add the whole spices and let them temper for a few minutes. Then, add the onions and brown them really well. Depending on how far you'd like to go, this can take up to 10 minutes.

To this, add the pulverised ginger and garlic. Cook for 1 min, before adding the chicken, Garam Masala and spice powders. Mix everything together and allow the chicken to cook halfway through. You can cover and let the chicken pieces sear in the heat a little. However, remember to remove the lid and keep turning the chicken every few minutes. This will prevent the spice powders from burning. This process will take about 10 minutes.

Once the chicken is cooked halfway through, pour in the washed basmati rice. Mix the rice into the spiced and seared chicken. Then, pour in the yoghurt-water and continue to mix until the ingredients are all covered by liquid. Cover and bring to a boil, then reduce to a simmer and cook the rice. This will take a further 10 minutes.

Remove the lid slightly to check if the rice is cooked. When it is, remove the pan from heat and serve immediately. Add a final sprinkling of coriander to this; it's divine!
Recipe Video
Notes
You can also add green peas for some colour. Try not to add too many vegetables, as this will alter the cooking time.
I've used a fairly small cup for rice here; 160ml. The water content reflected here is in relation to this cup.