Update: This establishment has permantly closed down.
Chicken Rice is the ultimate comfort food! Picnic in Orchard Road has a new stall that claims to serve the 'Ultimate' Chicken Rice. Here's why you should try it.
Chicken Rice is a highly debatable dish in Singapore; almost everyone will claim that they know where the best version of this classic dish is served. Brother Cheng's Chicken Rice is not claiming to be the best, but is definitely sitting up there with the shining few restaurants and stalls that serve up this local favourite to many adoring foodies! As a truly Singaporean experience, made with a time-honoured recipe that has survived three generations in the Cheng Family.
From the chicken to the chilli, every aspect of this meal has been carefully thought out and perfected over a period of two years. Yes, two years! So you can bet the final product is as juicy and flavourful as the chicken rice of your dreams. 
The Chicken
In China, 'Wenchang' Chicken is identified as the perfect breed to make a tantalising plate of Chicken Rice. While we may not have access to this, Cheng Hsin Yao (the owner of Picnic in Wisma Atria) and his team of dedicated chefs found Kampung Chicken to be a close second. Corn-fed Kampung Chicken, each of a specific weight to ensure succulence, is used in this dish.
They only have steamed chicken on the menu, but fans of roasted chicken will be freshly amazed at the quality of this chicken! The signature yellow-skinned chicken is first immersed in a boiling broth till fully cooked, then plunged in ice-cold water to stop the cooking process. This move shocks the bird into forming a tender layer of collagen underneath its skin; one of the many selling points of this dish. The birds are then hung to dry.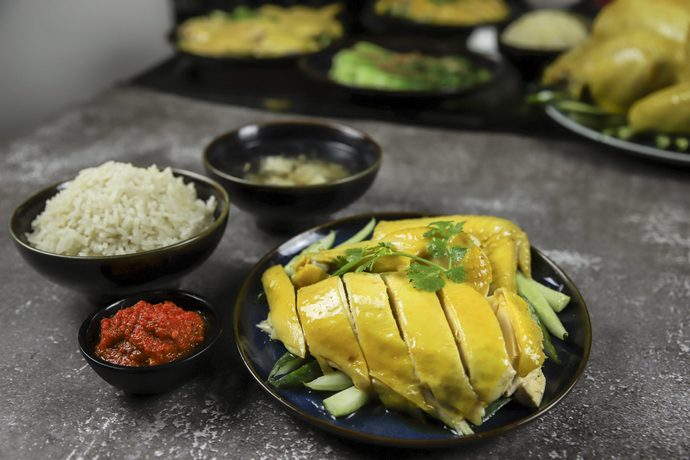 The Rice
The second most important component of this dish is also prepared with utmost precision. Ginger, being a signature flavour in rice, is given an upgrade here. Bentong Ginger, a strain of the root that boasts a spicy piquancy, is used here when the rice is dry-fried with chicken fat. Then, it's cooked in stock with knotted pandan leaves to pack in maximum flavour into every grain of rice.
The rice is not over or undercooked; the perfect texture is presented that straddles between a soft, fluffy grain and a slightly gritty edge that is significant in this classic dish.
Thinking of making Chicken Rice at home? Here's how!
The Chilli
The chilli in this dish can make or break it, in my opinion. Unlike chilli served in your neighbourhood stall, this one is inspissated to a large extent. Therefore, you don't need too much of it to add to your spoonful of meat and carbs.
The base for the chilli is made with the same Bentong Ginger that's dry-fried with the rice; creating a rich and flavourful chilli paste that marries the collagen-rich chicken and rice together. Keeping in mind that this is a traditional Hainanese recipe, expect the chilli to be slightly saltier. This is not a cause for concern, however. When consumed together with everything on the plate, the food simply sings!
Additions
To me, a delicious plate of chicken rice is only complete with an accompanying plate of oyster sauce of vegetables. If you're not too keen on this, try the Traditional Beansprouts
($3). Diners can also order add ons of Chicken ($12.90 per portion), Fragrant Chicken Rice ($2.50) and Signature Chilli Sauce ($1.50) are also available for a la carte orders.
Brother Cheng's Chicken Rice is available at Picnic Food Park in portions of one ($14.90), three ($42.90) and six ($84.90).
Brother Cheng's Chicken Rice at Picnic
435 Orchard Road
Wisma Atria, #03-15-49,
Singapore 238877
Opening Hours
Daily: 11 am to 10 pm