Chilli Padi Nonya Cafe has a variety of delectable Nonya dishes at wallet-friendly prices, all prepared in classic Peranakan style: with lots of love!
I visited Chilli Padi Nonya Cafe on Black Friday, in the afternoon, via a taxi because it was not near public transportation. And it was PACKED. Now, if that doesn't tell you that the food here is worth checking out, I don't know what will. 
The restaurant has a heavily Peranakan vibe, which enriches the dining experience for sure. All the dishes are served in a style that's a throwback to the long table feasts (tok panjang) in traditional Baba/Nonya households. The "All you can eat" buffet is a signature at this establishment. Food is served to diners at the table, and you'll be so stuffed that moving after the meal will be a challenge: you have been warned!
Every dish here is prepared with care to preserve the Nonya heritage the best way possible: through the food! Here are some of the highlights from the lunch buffet I attended. 
DIY Kueh Pai Ti
DIY here is used loosely; you're served both the crispy, deep-fried shell and the filling (so you won't have to, you know, fry up your own shells). The fragrant filling includes thin julienned strips of turnip braised with dried shrimp, mashed hard-boiled egg and tangy cilicuka to finish off the whole dish. It may not look much; braised turnip won't win awards for its beauty. But boy oh boy, it's packed with such aromatic flavour from the dried shrimp!
Otah Mantou
As a huge fan of Mantou, I was very happy to partake in enjoying these cute little buns stuffed so seductively with richly-flavoured otah. Otah is literally a fish cake that responded very well to the Nonya kitchen; it's so richly flavoured with spices and of course, chilli! The punchy and slightly salty otah is a perfect partner to the soft, almost pillow-like baby mantous. 
Ayam Buah Keluak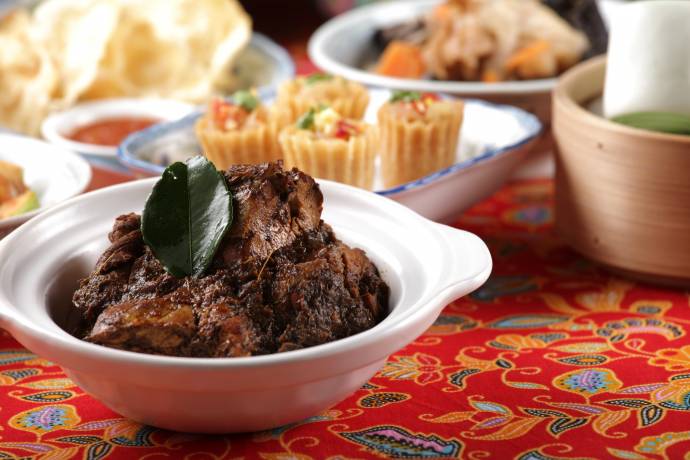 Most homes take great pride in their rendition of Ayam Buah Keluak, because this is not a dish that can be made in a flash. It takes hours of slow cooking to get the chicken cooked to the requisite tenderness, which essentially is for the meat to fall off the bones. Here, I am happy to report that the Ayam Buah Keluak is so good that the chef should beam with pride while serving it. The richly spiced and herbed rempah had permeated the very bones of the chicken such that the meat was tender and succulent.
Babi Ponteh
This dish has such a rich and exuberant gravy; I kept scooping whatever little sauce there was clinging to the pork belly onto my rice. Babi Ponteh is Pork braised in a fermented soya bean paste. The addition of dark, almost treacle-y dark soya sauce gives this dish its signature dark, deep caramel colour. This is where flavours go very right by working hand in hand – the fatty pork flavours the sauce, while the thick sauce permeates the meat in a tender, beautiful way.
Fried Chicken
Can anyone go wrong with this? The fried chicken was a dream and a perfect accompaniment to the dish. But then again, fried chicken can be a perfect snack at any point of the day.
Ikan Goreng Chilli Garam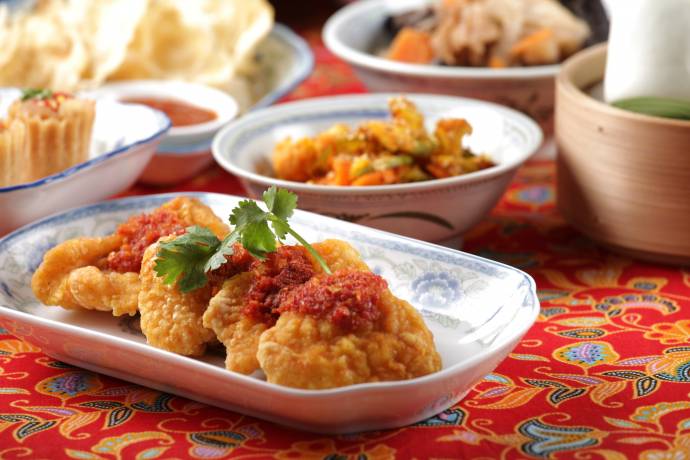 Here's why I liked this dish: the fish was actually neatly presented as fish fillets. So there's none of the undesired risk of swallowing a fishbone (what, am I the only one with that fear?). Deep-fried fish fillets are adorned generously with a rich chilli garam paste. The chilli garam carries the signature flavour profile of spice with tang; a delightful mix!
Vegetable Masak Lemak Kledek
Anything that is masak lemak immediately gets my attention, because of my love for everything coconut milk. This dish did not disappoint; it was presented handsomely in a bowl, with thick, green leafy vegetables and quail eggs cooked in warm, yellow gravy. This was no doubt due to turmeric, a popular spice used in Peranakan cooking. This gravy was smooth and very easy to eat.
The Sweets
The Peranakans are known for their dessert or sweet snack craftsmanship. From Kueh Lapis Sagu to everything that has Pandan (screwpine leaves), the Peranakans enjoy adding coconut milk, sugar and other wonderful ingredients together and creating scrumptious treats. Here, try their kueh lapis sagu and kueh seri muka. Both are served in small portions, so that you can pick at it leisurely after your meal.
When you need a break from all the heart-warming food, take a walk around the restaurant. Many Peranakan artefacts are on display, including some of their precious ceramic artwork. Chilli Padi Nonya Cafe is not just a place to go eat, but a venue to experience the Perkanakan culture.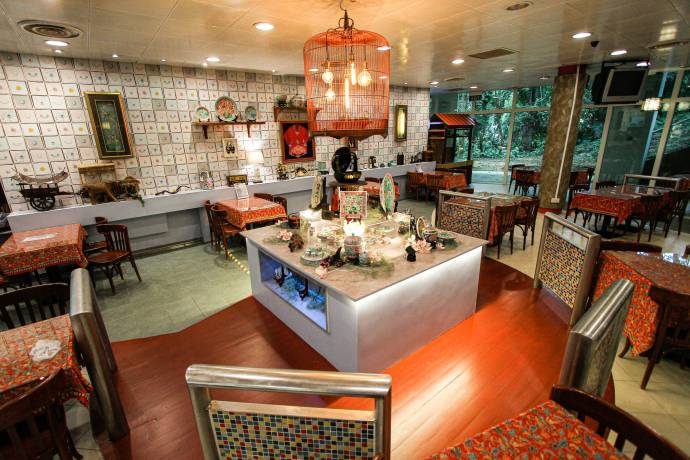 The café is open for lunch on Mondays to Sundays (11.15am – 3pm/2.30pm on the weekend)
and dinner on Fridays to Sundays and Public Holidays (6 – 9.30pm). A High-Tea buffet is also
available on weekends (3 to 5.15pm). The a la carte buffet prices are as follows:
A la Carte Buffet