Chocolate Brownies are the answer to almost anything in this world. Here's a recipe for a celebratory chocolate treat this festive season!
I have long been an avid fan of chocolate. I also have loved working with cocoa powder, regardless of the challenges it presents when used in cakes. This, however, isn't a cake. It's a delightful cross between a cake and cookie, and hence it's an exception to most rules about food.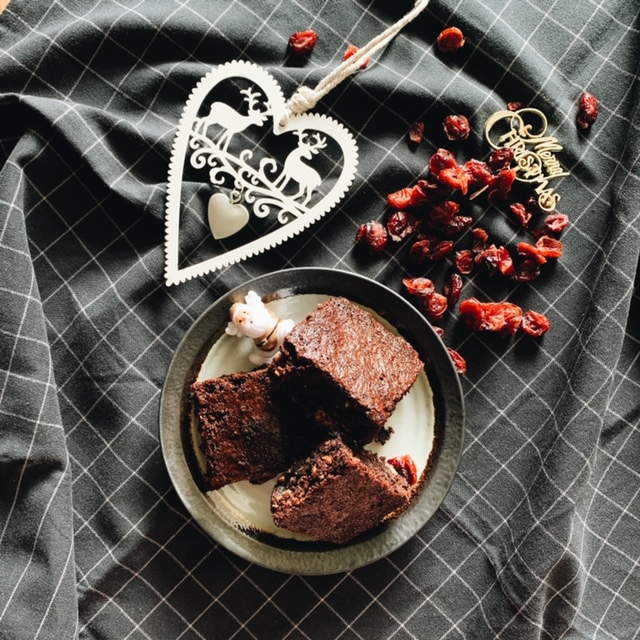 Firstly, you never bake chocolate brownies until it's fully cooked – that's just going against the concept of cookie-cake hybrid. I always under-bake the brownie just slightly and allow it to cool a little longer than I do my cakes. This makes the top of the brownies nice and crispy, while the insides stay fudgy, warm and gooey. And of course the middle piece of the brownie always goes to the baker. Everyone else can have the edges. Because. We need to check for doneness. Ya know? 
I usually make this brownie with a generous helping of nuts. This helps to add texture to the smooth chocolate brownies, but also gets stuck in your teeth so that's something to look out for. In this recipe, I have used pre-roasted cashews that I chopped using a chopper. You can use raw nuts of any kind. I've made this recipe with almonds, walnuts, macadamias and cashews. I find walnuts and cashews to be my favourites here – but you of course choose what you like or better yet, go with what's in the store cupboards. 
The festive part of this chocolate brownie comes from the dried cranberries. I love putting dried cranberries in baked goods, it always give the final cake or bread a lovely sweet yet tangy bite. Here, the cranberries help to make the rather rich chocolate bake a little tangy, with some bites being extra chewy. It's a small quantity of the dried fruit you will find here – 30g – but this is so that the dehydrated berries hide like little gems in the cake and then surprise you when you least expect it. 
Here's a Christmas Breakfast Muffin Recipe with dried cranberries!
Ingredients
175g Good Quality Butter
50g Good Quality Cocoa Powder
2 Eggs, at room temperature
160g Fine White Sugar
50g Plain Flour
30g Dried Cranberries
70g Roasted Cashew Nuts
Equipment
1 Standing Cake Mixer
1 20cm X 20cm square cake tin (about 2.5cm deep)

Method
Prepare the brownie tin by lining it with parchment paper and spraying it with non-stick spray. Alternatively, you can use butter. Place nuts (if using whole) in a food chopper and blitz for three seconds, until chopped. Set aside.  Sieve the flour into a small bowl and add the dried cranberries directly to the flour. Mix with a spoon so that the flour coats every bit of dried cranberry. Preheat the oven to 160 Degrees Celsius. 
In a small saucepan, melt the butter slowly. When it is completely melted, take it off the heat. Sieve in the cocoa powder (you must do this, otherwise there'll be horrible lumps) and stir gently with the spoon until you have a dark, gleaming, thick chocolate mixture. Set aside. 
In the bowl of a stand mixer, place the eggs and sugar. Start the mixer on low for a minute, then switch to medium speed. Within the next 3 minutes, the mixture should become pale and mousse-like. Turn off the mixer. You're going to have to work everything out with elbow-grease from this point. 
Pour the chocolate-y melted butter in the eggs and sugar, then add the flour and dried cranberry mix. Start folding in gently, but firmly like you mean it. When the flour is about 80% folded in, add the chopped nuts and continue to stir till the last streak of flour gets engulfed in darkness. 
Pour the batter into the waiting tray and bake for just 20 minutes. Check with a skewer or toothpick, the centre should be set on the top but still slightly damp towards the base. Remove brownie from oven and let cool completely. 
Serve with ice cream, if you're able to wait long enough to plate the cake and reach out for the freezer. I, personally, do not possess such restraint. Merry Christmas.