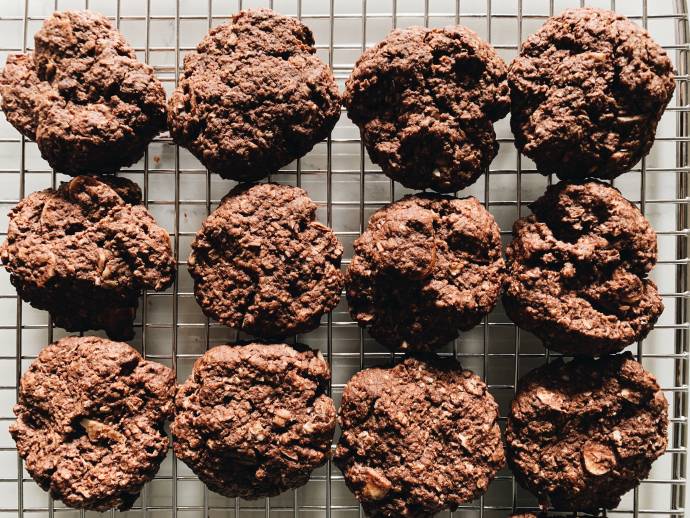 Chocolate oatmeal cookies are the perfect answer to a snack that's filling and delicious!
I never thought I'd be making Chocolate Oatmeal Cookies. I have never cooked with oats before this, dismissing the idea as something for health fanatics. All that changed when I saw Ellie Delights (my Insta-hero from KL) make these cookies on her page. My eyes lit up because they were so easy to make and looked fabulous!
This recipe is highly flexible, too! You can make it with whatever oats you like, be it instant or traditional. This will, of course, affect the texture of the finished cookie, but it'll still be delicious nonetheless. I used instant oats in this recipe because that's what I had at home.
The chocolate component of this recipe comes from cocoa powder. The cocoa lends a bitter chocolate edge to the cookie, which can otherwise be too sweet. The drying properties of cocoa powder also help to make this cookie less dense, and more like a health-snack. In fact, it's only the sugar that stands in the way of this being a truly healthy chocolate treat! Though a bit of sugar is perfectly acceptable, in my book.
Making the cookies
Making this is very, very straightforward. You have to simply beat the sugar and butter together, while not even needing to wait for the sugar to dissolve. A little crunch goes a long way in cookies. To this, add the egg with vanilla, followed by all the dry ingredients. These cookies do not expand much in the oven; they tend to stay the same shape as you have moulded them.
I pinched off bits of the finished dough and rolled them into balls, before flattening them out onto the baking sheet. You can make this a very thin, flat cookie; this will also mean you have a shorter cooking time in the 160 Degree C oven.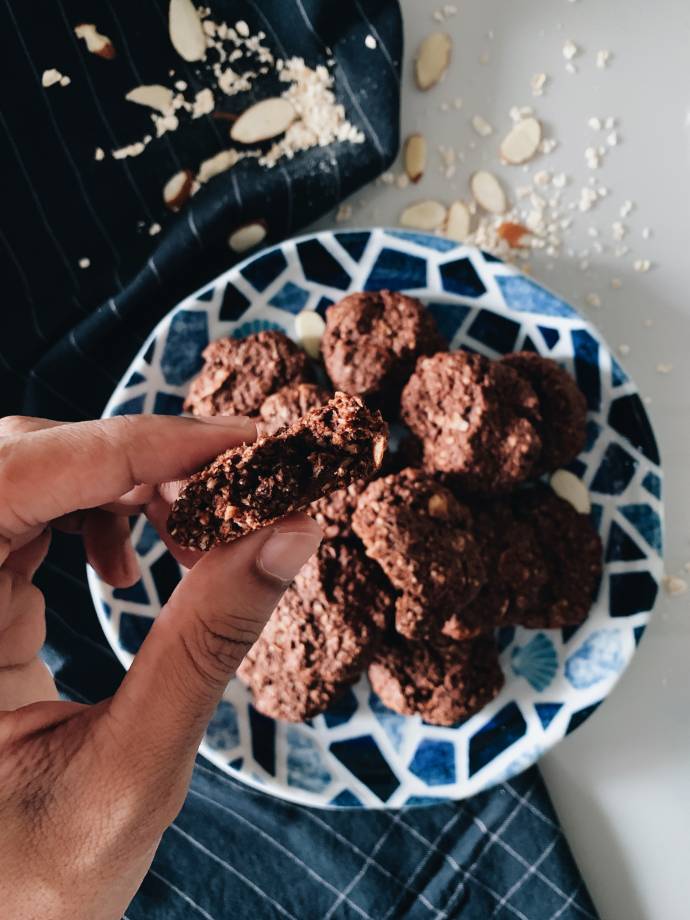 Chocolate Oatmeal Cookies
Course: Recipes
Chocolate oatmeal cookies are the perfect answer to a snack that's filling and delicious!
You'll need;
110g Unsalted Butter

110g Dark Brown Sugar

1 Large Egg (60g)


1 Tsp Vanilla

135g Oats

110g Plain Flour1 Tsp Baking Powder

3 Tbsp Cocoa Powder

½ Tsp Salt

50g Flaked Almonds
You'll need to;
Start by softening the butter to room temperature. Sift the flour, baking powder and cocoa powder together into a bowl. To this, add the oats, flaked almonds and salt. Stir through with a fork to combine.
Crack the egg into another small bowl, add the vanilla and beat lightly. Then, set this aside. Preheat the oven to 160 Degrees Celsius, and prepare 2 cookie sheets.
Then, beat the butter with the dark brown sugar to combine it. This doesn't have to be for very long, as you don't need the butter to help dissolve the sugar; you're merely combining the ingredients together.
Add the egg and vanilla mixture to this, beating well to combine. 

With the mixer on low speed, add all the dry ingredients. Mix until just combined, then turn off the mixer. The dough should be clumpy and easy to handle. Pinch off small, fist-sized amounts of dough and roll them into balls. Place each ball on the cookie sheet, about 1.5 inches apart. Flatten the balls into a flat disc, then transfer to hot oven to bake for 15 to 17 mins. 

Cool the cookies for about 5 to 10 mins, then dive into them with some milk and lots of happiness.