Cornbread that's soft and squidgy, and can be perfect for breakfast or with your main meal.
Cornbread was made famous in this region thanks to Kenny Roger's! There, I said it. As a kid, a never really liked Kenny Rogers much, but I would repeatedly eat the corn muffins. They were a great way to end my meal, even though that may not have been the original intention with those muffins.
I am not professional enough to know the subtle differences between corn muffins and cornbread. I would say that one is more savoury (cornbread) and can be had as a side to your main dish, while the other is more of a dessert or tea-time treat. If you ask me, I had this corn muffin as a dessert, side, breakfast and tea-time snack and my belly didn't complain even once.
These corn muffins are so tasty, you'll want to keep making them.
Light, airy cornbread
Easy, one-bowl recipe
Can be made ahead and frozen
Great for breakfast with some melted butter
Using Cornmeal
Cornmeal is essentially dried and ground corn kernels. It's ground to such a fine texture that it almost resembles plain flour. But, depending on the brand and quality, you can get slightly gritty cornmeal. There's nothing awfully wrong with that, you might just have a slightly crunchier output for your cornbread, not the end of the world honestly. Sometimes, some places might use the term 'polenta' interchangeably with cornmeal. Polenta is in fact a dish made with cornmeal, not the ingredient itself. However, as the market evolved to suit human terminology, polenta is essentially a medium-grind cornmeal mixture – this is to say it's slightly grittier than regular cornmeal. This still can be used for this recipe.
Corn grits are yet another variation on cornmeal, though this is really just hard corn bits. I wouldn't recommend using corn grits for this recipe unless you'd like a very chewy, crunchy cornbread. However, you can sprinkle some corn grits on top of each little cornbread if you prefer.
Looking for a festive roasted chicken recipe? Look no further!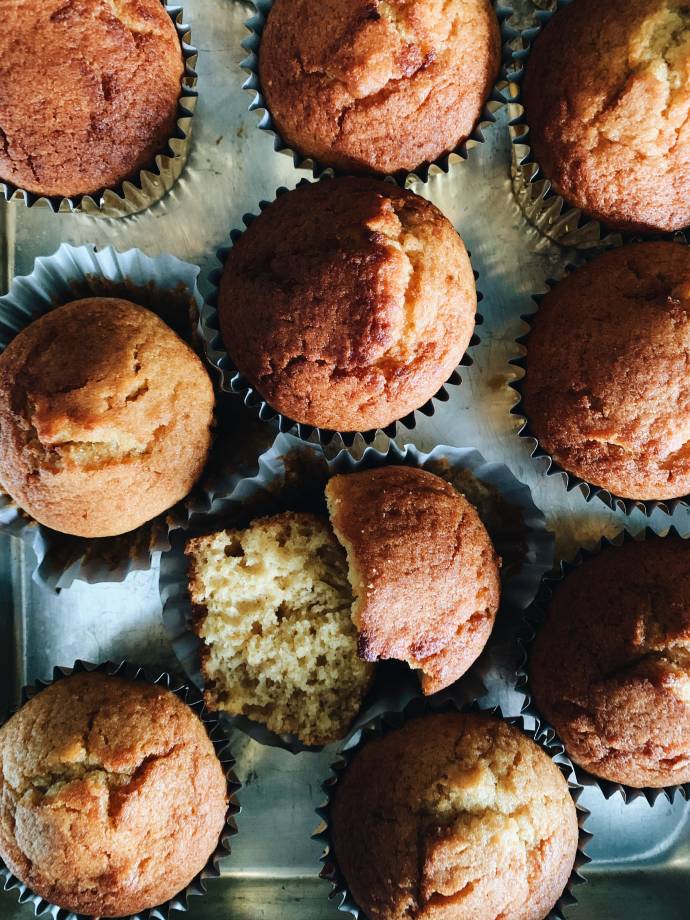 Quick Recipe
This is a super simple wet-into-dry recipe, that is to say, you mix the wet ingredients into the dry, give it a very good mix and then make it. In a large bowl, sift the flour and add the remaining dry ingredients. In another bowl, beat together with a wire whisk the melted butter, brown sugar and honey. To this, add the egg and beat well, then add the buttermilk. Pour the wet ingredients into the dry and bake for 15 to 20 mins in a 200°C oven. Serve warm.
Buttermilk
I am a huge fan of adding buttermilk or yoghurt to the cake. This makes for a light, fluffy and moist cake with a deliciously close-knit crumb. However, I do acknowledge that buttermilk is not easy to come by in most places, and can be expensive. I make my own buttermilk for recipes, by combining half and half of milk and yoghurt. If this doesn't work for you, then try adding 2 Tsp of vinegar to the total quantity of milk, and leave it aside to curdle. 
Christmas Corn Bread
You'll need;
120g Fine Cornmeal or Polenta (see description above)

125g Plain Flour, sifted

1 Tsp Baking Powder

½ Tsp Baking Soda

115g Unsalted Butter, melted and cooled

2 Tbsp Honey, or maple syrup

70g Dark Brown Sugar

1 Large Egg

240ml Buttermilk
You'll need to;
Preheat oven to 200°C. Line 12 cupcake holes with your favourite cupcake liners and set them aside. 
In a large mixing bowl, mix together the dry ingredients – cornmeal, flour, baking powder and baking soda. Set aside.
In another bowl, whisk the melted butter, brown sugar and honey together. You are looking for a thick, brown paste. Then, add in the egg and whisk until well combined – that is to say no traces of the egg remain. Then, add in the buttermilk and continue whisking. Once the buttermilk is combined with the sugar, pour this entire mixture into the dry ingredients.
With a whisk, combine until everything is just mixed, being careful not to overmix. Slowly pour out this rather watery mixture into the waiting cupcake holders. Bake for 15 to 20 mins. At the 15 min mark, check with the skewer to see the doneness.
If the skewer comes out clean, it's done. Remove and leave it to cool to room temperature. Otherwise, whack it in for another 5 mins.
These cakes are great with warm butter, or even whipped cream.
Notes
You can use store-bought buttermilk, or make your own by combining half and half of milk and yoghurt.
If you prefer to make this as one whole cake, you can! Simply use a 9-inch square pan.