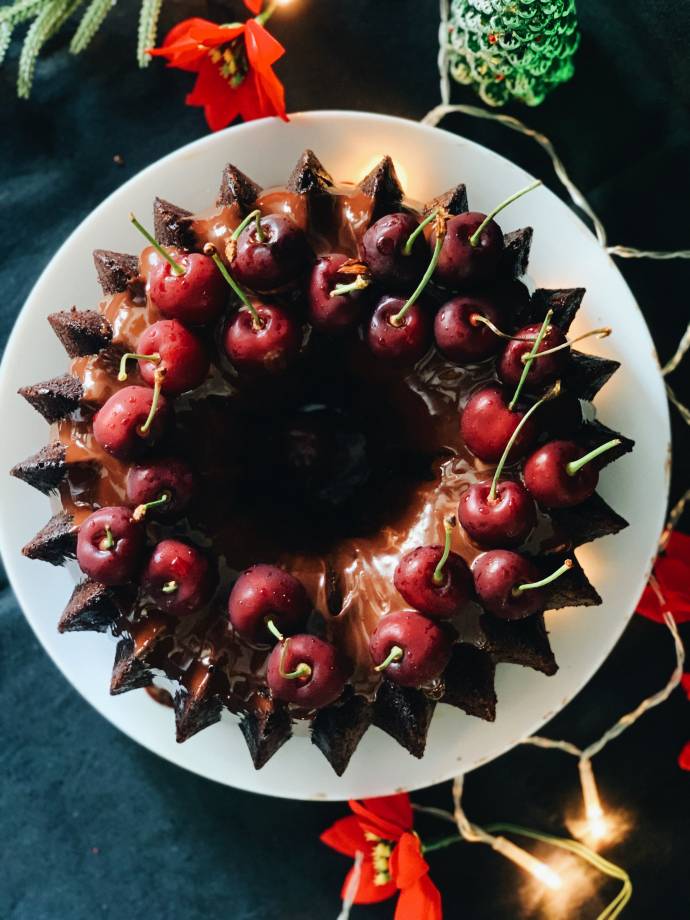 Mulled Wine Chocolate Cake brings mulled wine to another level; with chocolate! This easy, soft-as-sponge chocolate cake will have your guests swooning in Christmas cheer!
Jump to Recipe
This recipe was inspired by BBC's Chocolate Layer Cake.
Chocolate cake is appropriate for any occasion if you ask me. And with mulled wine? That takes the cake to a whole new level! Worry not about the taste of wine in this cake; the wine lends a deep berry flavour to this cake, making it irresistible.
Here's an easy Mulled Wine Recipe!
Fudge and Toppings
Because I made this into a bundt cake, I chose to drizzle chocolate ganache over it and top it with fresh cherries. I love the combination of cherries with chocolate. In ice cream and in cakes, cherries and chocolate can work wonders together! If you'd like variations, you can always make a simple chocolate buttercream to top this cake, especially if you're making it a sandwich cake (see variations below). Then, you can sandwich fresh fruits in the middle of the layers, too! Although I used cherries here, you can feel free to experiment with strawberries or raspberries. I like the red currants; they add Christmas charm to the finished cake. You can use blackberries, too, if you're looking for something simpler!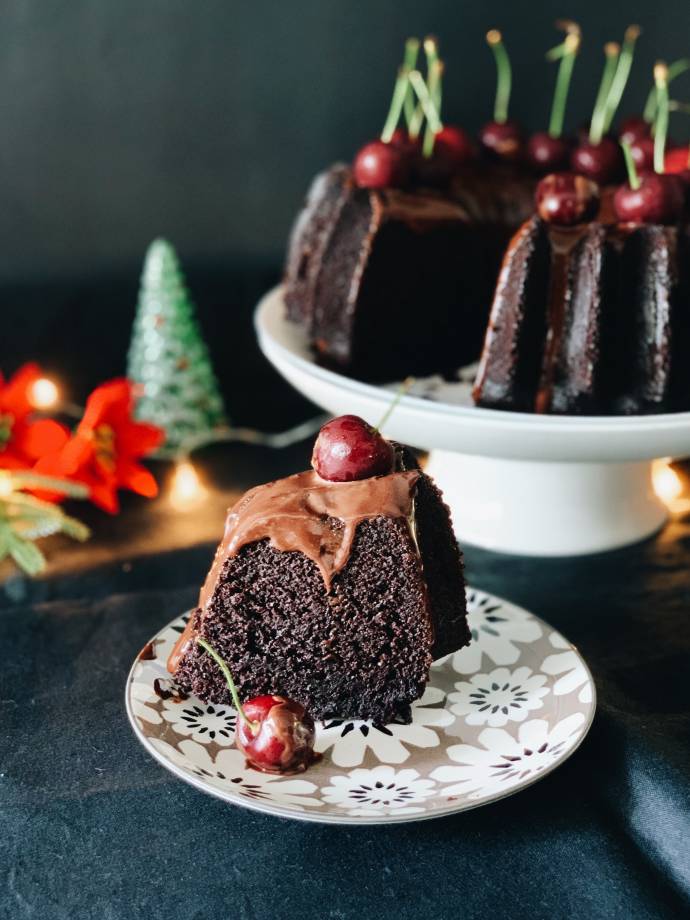 Variations
If you're not a wine drinker, you can always make this cake with hot, boiling water in place of the wine. Another option is to use juice instead of wine, though I am not sure how the juice will react to being heated. You see, this cake requires the addition of the hot liquid at the end so that the ingredients emulsify and become one homogeneous batter. You can also use hot tea.
I have made this in a bundt pan because we be fancy people on Christmas. However, you can make this into a sandwich cake, with 2 8-inch round cake tins. I would not recommend making this as one whole large cake, as the batter is too runny.
Also, note that this is a very, very runny batter. It's important for the cake to be this runny because of the high amount of cocoa used. Cocoa can make any cake really dry, so you need the liquid to maintain moisture in the cake. In fact, it's this runny consistency that gives the cake its extremely soft and melting texture.
Christmas Special: Mulled Wine Chocolate Cake
Course: Dessert
Difficulty: Easy
Mulled Wine made even better; with Chocolate Cake! This easy, soft-as-sponge chocolate cake will have your guests swooning in Christmas cheer!
You'll need;
Dry Ingredients

225g Cake Flour

1 ½ Tsp Baking Powder

1 ½ Tsp Bicarbonate of Soda (Baking Soda)

330g Sugar

80g Cocoa Powder

Wet Ingredients

2 Eggs

250ml Whole Milk

125ml Melted Butter

2 Tsp Vanilla (I used bean paste)

250ml Hot Mulled Wine
You'll need to;
Preheat the oven to 180 Degrees Celsius. Prepare the baking tin by buttering and lining it with parchment paper. If you're using a bundt pan, then butter, oil and flour the tin. Set aside.
Place all ingredients (except the wine) in a free-standing cake mixer and whizz at medium speed (number 2 or 3 in a Kitchen Aid) until the ingredients are just combined. Then, change the mixer to low speed and add the hot wine in a trickle while the machine is running. Increase the speed so that the chocolate mixture becomes one homogenous batter. It'll have the consistency of runny chocolate milk.
Transfer this batter into the prepared tin(s) and bake for 25 to 30 minutes, until a skewer inserted into the thickest part of the cake comes out clean.
Leave inside the container for 10 to 30 mins, then turn out onto a wire rack to cool completely. Top it with chocolate ganache or buttercream and serve with a dollop of fresh cream and berries.
Happy Christmas!