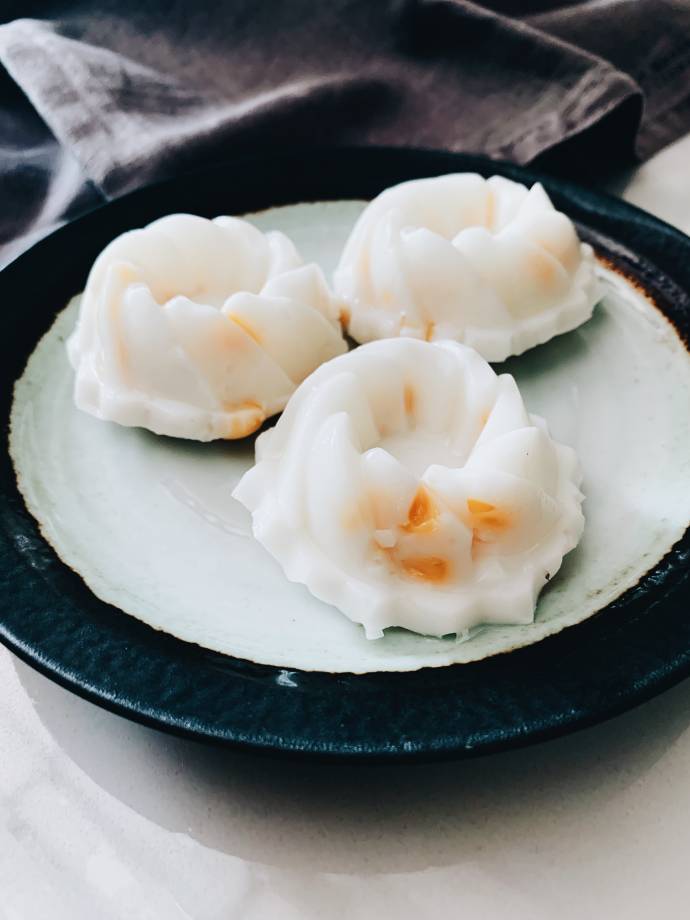 Corn Kueh is by and large a classic tea-time snack loved by Singaporeans and Malaysians alike, regardless of race. Here's a simple recipe to make corn kueh at home!
Jump to Recipe
Corn Kueh is one of those slippery kuehs that come wrapped beautifully in banana leaves. I have to admit, I've made this before with plastic sheets and it turned out quite badly. I have no idea how the mavens at Bengawan Solo do it.
When I made this, I tried wrapping it in banana leaves, and pouring it into a mould too! You can use most types of plastic jelly moulds I reckon, though I used a Puteri Ayu mould to make these. I love the little bundt shapes, and I did not have to oil it in the least! The stark white flesh of the kueh is rather beautiful when studded with the golden-yellow from the corn. This recipe below makes around 25 Kuehs.
Corn Kueh not your thing? Here's a snack of a healthier sort: Chocolate oatmeal cookies
Corn
I used canned corn in this because it's so much easier to manipulate then to get raw corn, steam it and remove the kernels. The recipe below uses exactly 1/2 can of drained corn kernels. You can easily double the quantity which makes it easy to shop for this recipe. Simply drain the can of corn kernels, and add it directly to the kueh mix at the end of the cooking process. 
If you're not a fan of kueh, you can use chopped up pieces of jackfruit of equal weight. However, this would involve having to chop up the jackfruit flesh into smaller pieces to be added into the mixture.
Cooking
It's hard to say exactly when the mixture will thicken, but thicken it surely will. This happens once you add the hoon kueh flour, which is the resident thickener. Do note that this mixture will set and harden as it cools, so it's best to work quickly once the batter is off the stove. To allow for even mixing and avoid lumps, I would recommend using a wired whisk to combine the coconut milk and flour. When liquid touches the hoon kueh flour, it hardens the flour immediately. You will need a whisk to stir it back into the coconut milk.
Corn Kueh Recipe
Course: Snacks
Cuisine: Local
Difficulty: Easy
You'll need;
90g Hoon Kueh Flour

200ml Water

200ml Coconut Cream

350ml Water

100g White Sugar

120g Corn Kernels
You'll need to;
Layout the Kueh or Jelly moulds at the ready. In a large mixing bowl, combine 200ml water with the Hoon Kueh Flour. Whisk till the flour dissolves, set aside. 
In a heavy-based saucepan, combined the coconut cream, 350ml water and sugar. With the heat on medium, stir everything together until the sugar is dissolved completely.
Then, give the hoon kueh mixture a good whisk to stir up any sediments, then add it to the dissolved sugar mixture. Start stirring until mixture starts to thicken, this will take between 5 to 15 mins. Once the mixture becomes almost paste-like, remove from the heat and add the drained corn kernels and stir in.
Now, it's time to mould the kueh. Place the hot pot of kueh mix next to the waiting moulds, then, working swiftly, scoop spoonfuls of the mixture into the moulds. It's best if there are 2 ppl; one can pour the mixture and another can help to smoothen the top. Then, transfer the filled moulds into the fridge to set completely.
Unmould after 6 hours, or leave in the fridge overnight. Kueh is best eaten with coffee or tea, or that's how I prefer it anyway.
Notes
It's hard to tell how long the mixture will take to thicken. But you want to remove it when it comes to stage where it's like sticky gum.