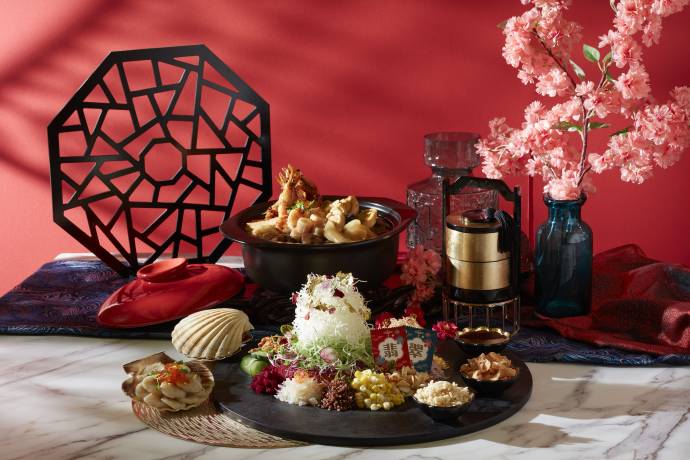 Crystal Jade has a Covid-friendly menu featuring new and classic dishes that can be enjoyed in-house or in your own house, via a takeaway menu. Here's what to expect. 
Crystal Jade never fails to impress! Every year, they come up with a Chinese New Year menu that supersedes their previous one. This year is no exception; in fact, I was delighted to learn that many of the dishes are available for takeaway or delivery so that you can enjoy an intimate reunion at home.
Season of Wealth Golden Scallop Yusheng 金牛四季五谷庆团圆捞起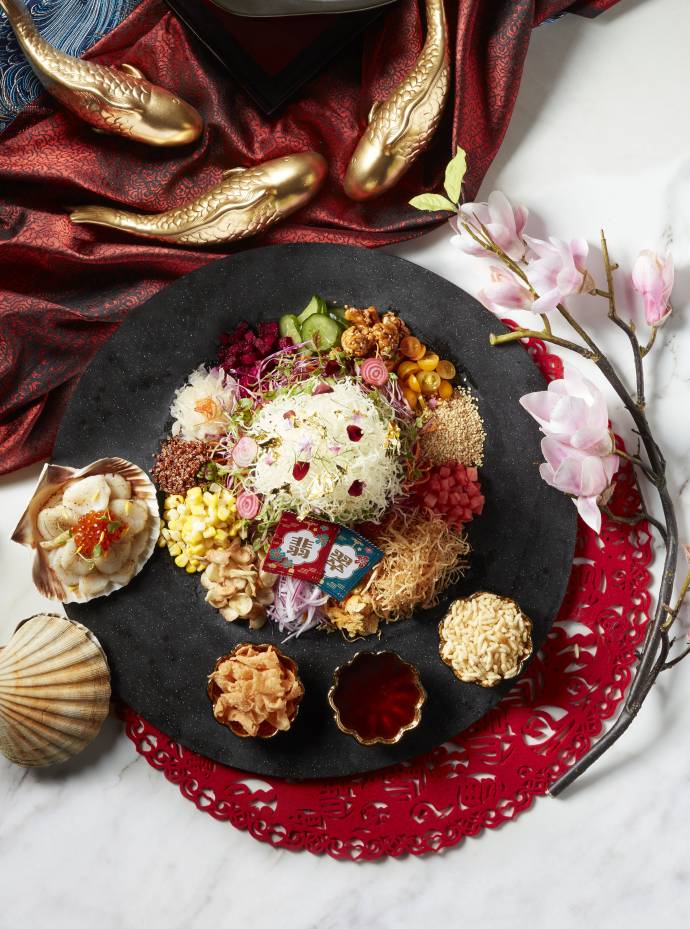 Goodness knows we need to toss food for a better year in 2021. This modern take on a traditional Yu-Sheng combines delectable ingredients in an unexpected way. For starters, the Yusheng is topped with slices of scallop which are torched lightly, producing very sexy charred edges. Other ingredients include red dragonfruit and watermelon cubes, pomelo, burdock, quinoa, cherry tomatoes, pickled cucumbers, crispy rice and walnuts. This rather healthy dish is finished off with a dressing, made with Blossom-flower water, plum sauce and olive oil. Available in all Fine Dining Outlets.
Braised pumpkin thick soup with steamed egg white, prawn and crab meat 黄金万两
(南瓜蟹肉虾球汤)
Give me a pumpkin soup any day! This is presented in a fancy, layered fashion, starting with the steamed egg white. This pale layer is topped with a thick, almost liquid-gold layer of braised and mashed pumpkin. Then it's topped with a large and juicy prawn. I love both prawn and pumpkin, so this was a dream to me. Given Singapore's recent spike in rainy days, this dish is most welcome! Available at Crystal Jade Dining IN (Vivocity).
Roasted Irish duck with crispy rice in Chef's special sauce 脆米酱皇烤爱尔兰鸭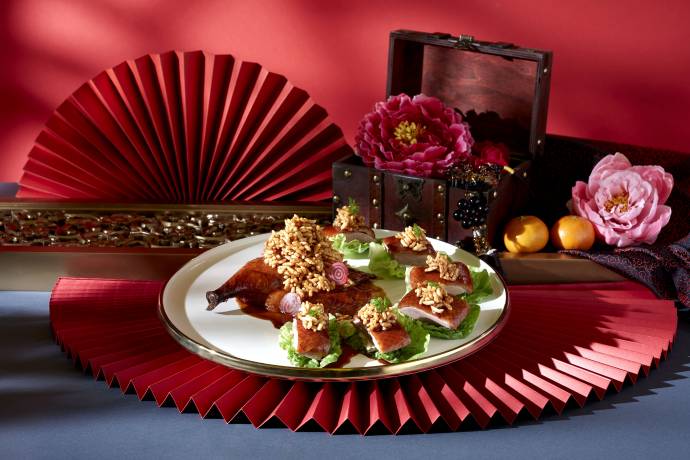 I'll start this by saying I'm not the biggest fan of duck meat; I don't cook with it and hardly ever order it outside. However, I will happily eat duck dishes that are from Crystal Jade. I'm not being snobbish here, but they do a damn good duck. This year, the duck comes nestled in a crispy and fresh lettuce leaf; you're meant to eat the whole thing in one go. Each parcel of duck is loaded with a special thick sauce and crispy puffed rice. You get the meat, the rice, and the vege in one go, a sure win. Available in Crystal Jade Golden Palace (Paragon), Dining IN and Pavillion.
Braised vermicelli with scallop and egg white topped with crispy conpoy 脆贝带子赛螃蟹焖米粉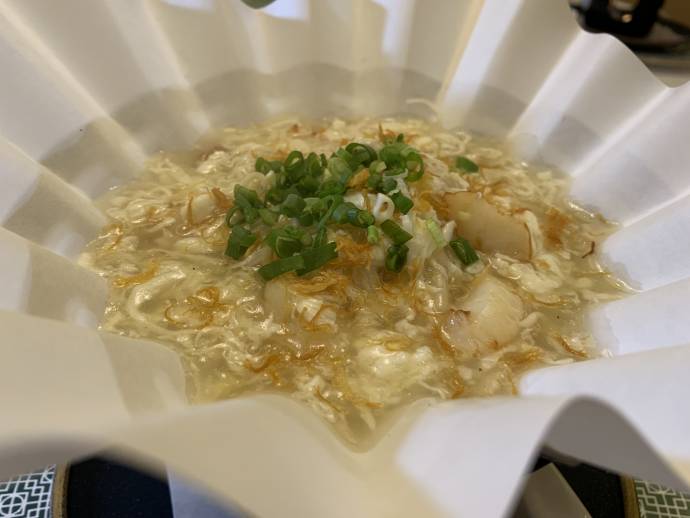 Although this sounds like a bowl of noodles, it's so much more than that! This warm dish is very vibrant, boasting a punchy seafood broth. This is paired with fresh scallops to bring out the natural flavours of the dish. The crispy conpoy offers a balance of texture in this soupy dish. I was full by the time we got to this dish, but I still mopped it up! It was very easy to eat and of course, packed with hearty flavours. Available at Crystal Jade Palace. 
Fried Conpoy & Taro Glutinous Rice Wrapped in Lotus Leaf 荷叶香芋瑶柱腊 味糯米饭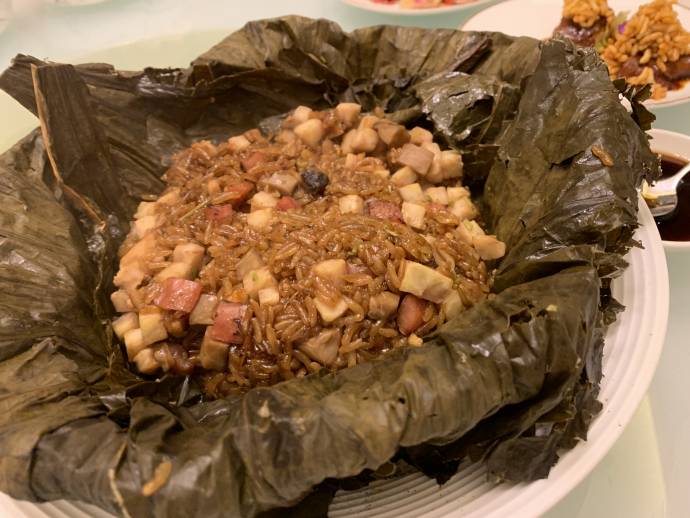 This dish is as beautifully presented as it tastes. The hot, cooked rice is bundled tightly in a very large lotus leaf. Eager diners can expect the fragrant dish to be studded with cubes of juicy chicken and sweet taro, both providing an essential contrast of flavours. Wrapping the rice is a good way to imbue the mellow flavours of the lotus leaf into the cooked rice. It also helps to keep the rice warm.
Usher in the new year with these festive delights from Crystal Jade.
NEW! FESTIVE TAKEAWAY HIGHLIGHTS
Online order from 7 Dec 2020 and collection from 25 Jan 2021 at select outlets. Home delivery option available.
From 7 Dec 2020 to 23 Feb 2021, takeaway orders can be made online at estore.crystaljade.com, and customers can also place their orders in person at Crystal Jade restaurants and bakery outlets from 7 Dec 2020 to 28 Feb 2021. Collection of orders can be made from 25 Jan 2021 at select Crystal Jade outlets.
Home delivery is available between 25 Jan – 7 Feb 2021 and 15 – 26 Feb 2021. A delivery fee of $20 applies. For delivery between 8 and 14 Feb 2021, a fee of $40 applies.