Crystal Jade Kitchen is now Crystal Jade Hong Kong Kitchen! With a new look and refreshed menu, the new concept will be rolled-out at all outlets by mid-April.
Crystal Jade is a brand to be reckoned with. Popular with most locals as the place to get your dimsum fix, Crystal Jade has a number of brands under its belt. Each brand is known for excellent food and service quality and irresistible dishes. Crystal Jade Kitchen has undergone a brand-revamp, and their new image will include the name 'Crystal Jade Hong Kong Kitchen'. 
I had the pleasure of tasting some of the new items on their menu, at the first Crystal Jade Hong Kong Kitchen located in Great World City. The revamped Great World City has some fabulous restaurants, including The Blue Ginger and Ho Fook Hei. This Crystal Jade Hong Kong Kitchen is the first of many outlets across the island with this refreshed menu. Here are some highlights!
Pan-fried pumpkin and yam cake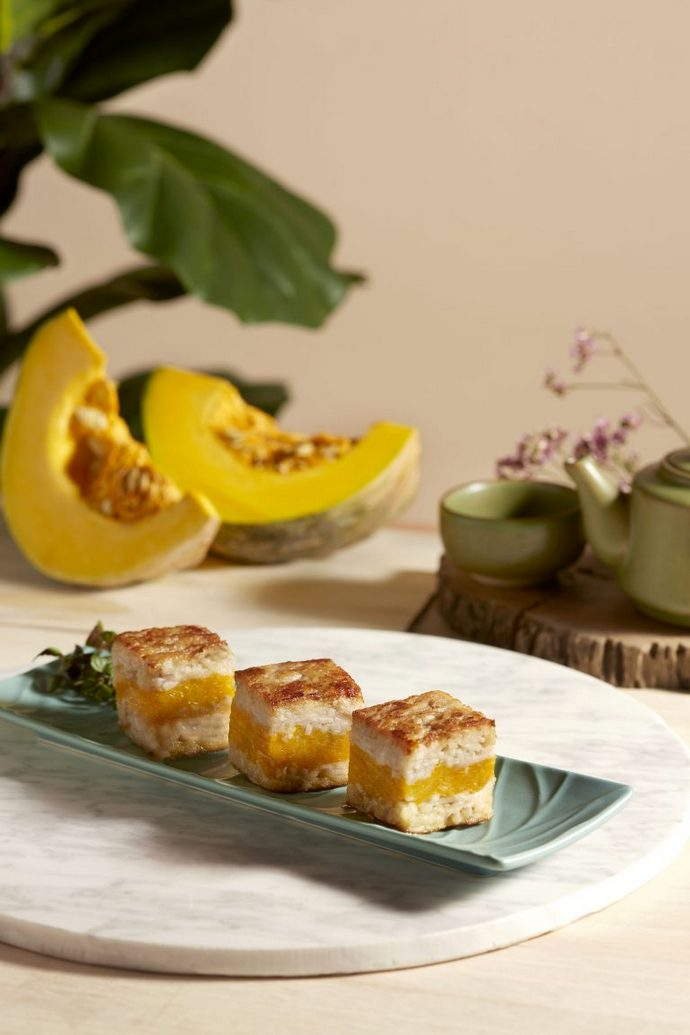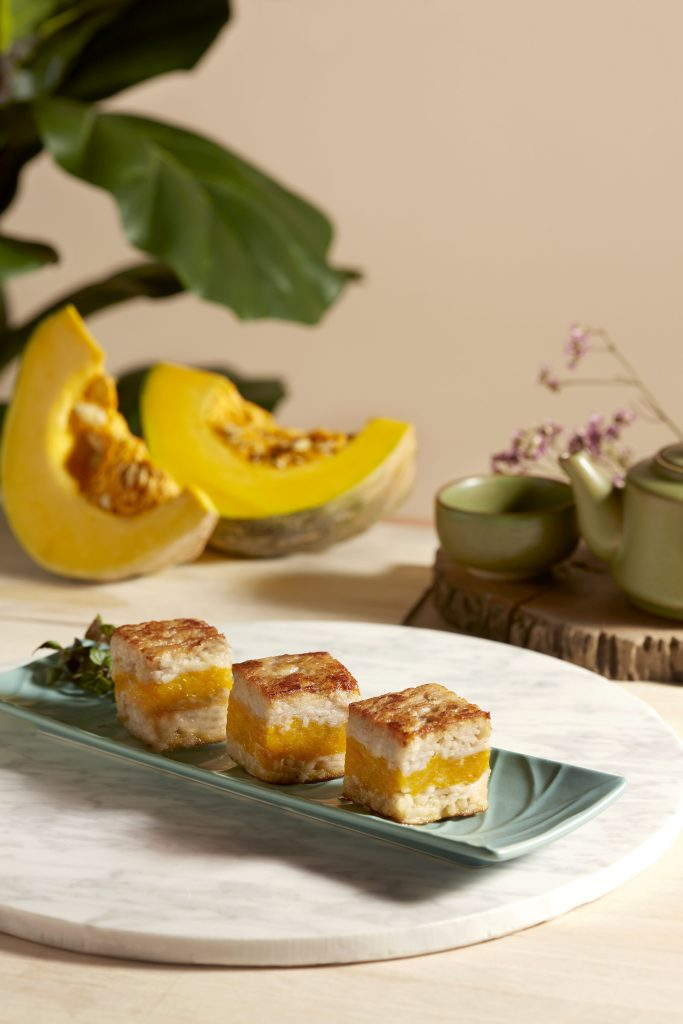 If you like Yam, or Pumpkin, or both, then this is for you. Layers of yam and pumpkin mash are presented in neatly cut cubes. Each cube also has a crispy, chewy top and soft, mushy interior. Both yam and pumpkin can be quite sweet on their own, so this dish is really a sweet start to the meal! 
Steamed prawn dumpling with stem chives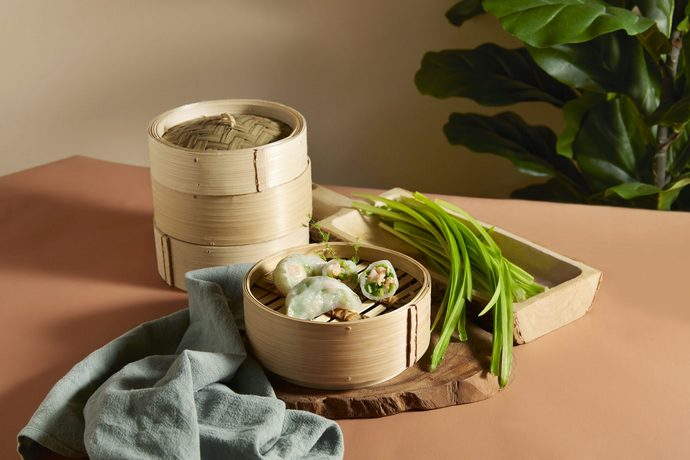 The folks at Crystal Jade sure do know their way around dumplings. These prawn dumplings were so delectable; the skin was perfectly thin and translucent. This allowed for the bright green of the stem chives to show through. The prawns were fresh, and everything was steamed to perfection. Another starter worth ordering from the menu. This comes in a set of three, and I strongly recommend ordering more as this will be insufficient for the dumpling-monster in you (as in me). 
Sautéed Chinese spinach with prawn paste and fish roe
Leave it to Crystal Jade Hong Kong Kitchen to do a damn good job even for a token vegetable dish. Having this green is nothing like having 'that token green' on your table, however. Chinese Spinach is sauteed and wilted in prawn paste, and then topped with fish roe. This makes a great addition to the two types of rice on the menu, especially if you're not looking to have a meat-heavy meal. 
Pork lardon rice and Scallion ginger rice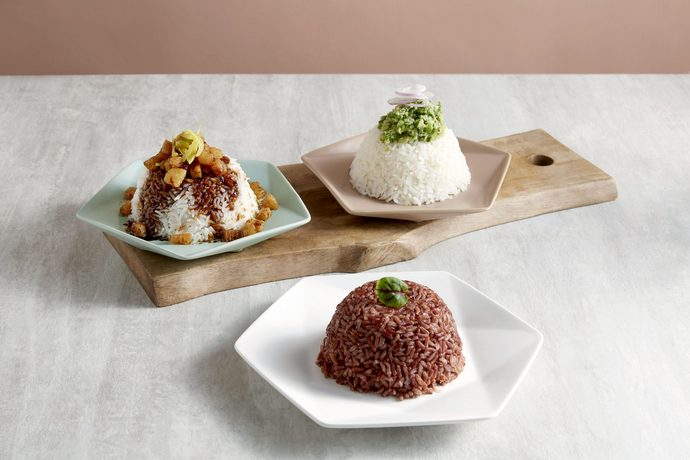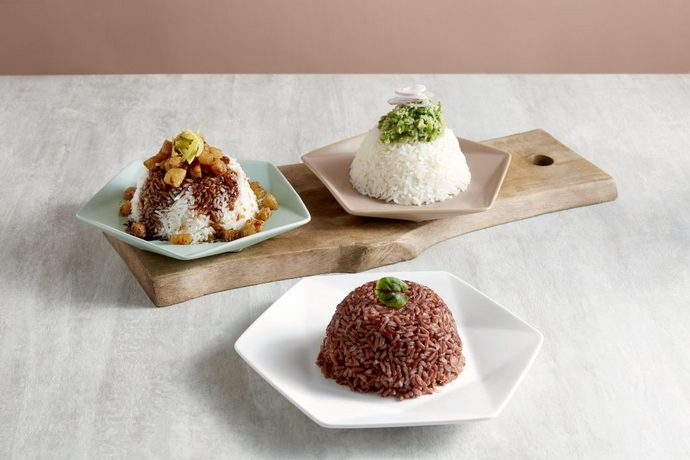 These two rice dishes are fairly simple, yet incredibly fragrant and rich in flavour. The Pork Lardon Rice is literally just that; pork lardon on rice with a touch of soya sauce. Once you're taken the mandatory food shot, fork this through to disperse the crispy, crunchy, bits of pork lardon (which I daresay is now up there with bacon bits) throughout the rice. Then, serve yourself everything. I know sharing is caring but wait till you get a spoonful of this rice. 
The Scallion Ginger Rice is a dome of freshly cooked white rice topped with a mixture of fried ginger and spring onion. Again, extremely simple yet packs a world of punchy flavours. Both these rice dishes are for people like me, I say with no qualms. I love a good rice dish, and these are just perfect to accompany my meal, especially when it comes to having tofu with rice. 
Crisp-fried homemade organic tofu with preserved vegetables and prawn
Tofu is one of my favourite ingredients to use. Okay, I exaggerate. There's one dish that I love making (and eating) with Tofu at home, and that is tofu sambal. But I digress, this organic tofu with preserved vegetables is a side that can easily become a main once you start eating it. I've had the homemade tofu from Crystal Jade before and I must say it never disappoints. This particular tofu is made with soy milk and eggs, and is presented perfectly crispy on the outside yet soft and yielding on the inside. The edges of the round tofu are adorned with chunks of prawn, while the dish comes topped with a fragrant Chai Poh, prawn and dried-shrimp stir-fry. 
Abalone and shredded kampung chicken with conpoy congee served in claypot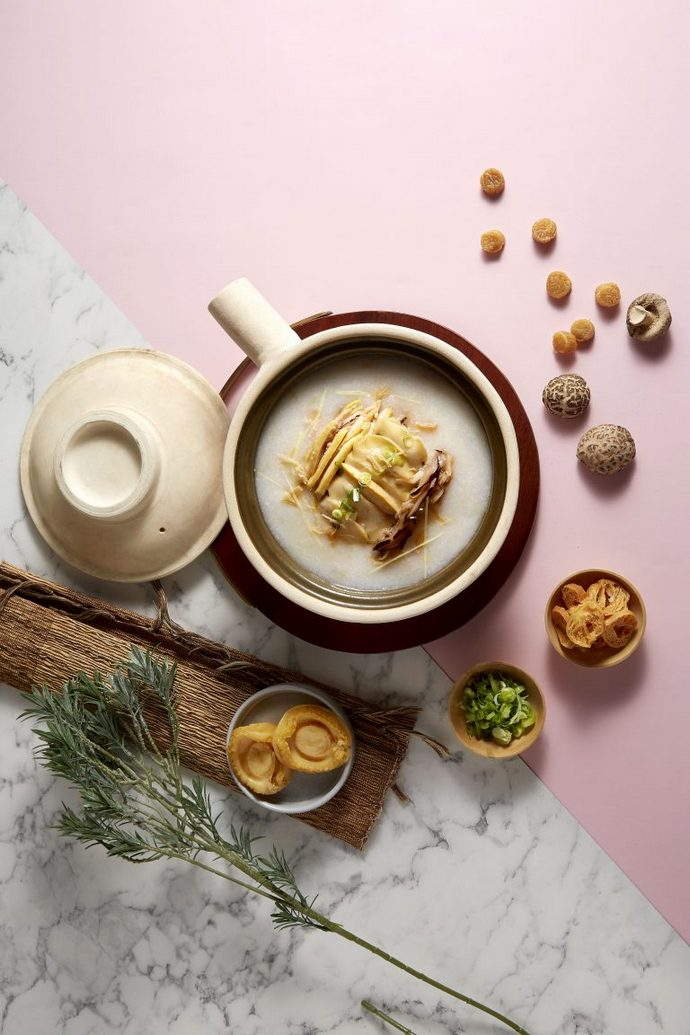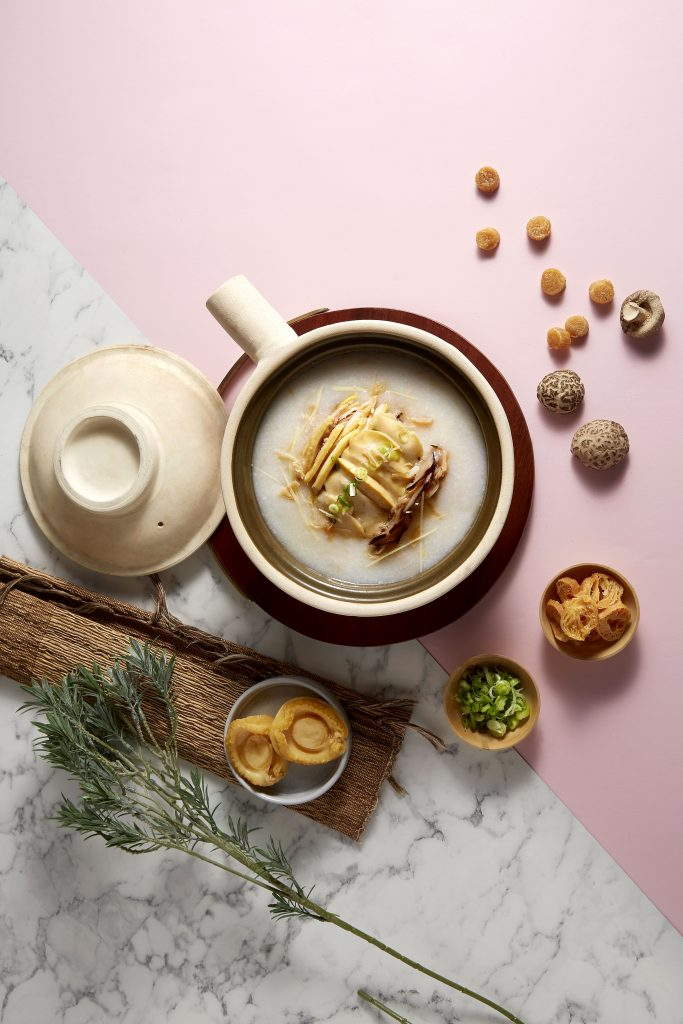 I don't subscribe to the notion that congee or porridge is 'sick people food'; I will actually have this for lunch on a regular basis, when the craving hits! The congee here is exxceeelllent. Firstly, the structure of the dish is near perfect, thanks to a blend of specific measurements, quality ingredients and time-honoured experience. The abalone is thinly sliced, while the chicken slowly melts into the congee to make this very gooey and very heart-warming. I do mean heart-warming; this congee is food for the soul! Served in an authentic claypot, this is a must order when dining with your friends and family. 
Crystal Jade Hong Kong Kitchen also has an exciting new blossom-pink interior! As part of this revamp, they have kept some popular dishes on the menu, and added some others. I have always known Crystal Jade for its reliable quality; you know you're going to have a good meal here, even before arriving! And this new establishment does not disappoint one bit. 
Takeaway Details: 
1. 15% off takeaway a la carte food bill for Citibank cardmembers, from Mondays to Fridays, valid from March – June 2020.
2. For Crystal Jade La Mian Xiao Long Bao and Jiang Nan only: Free XLB (1 basket of six Original Xiao Long Bao) with min. $18 spend & min $28 spend at La Mian Xiao Long Bao and Jiangnan respectively, available daily for both dine-in & takeaway.
3. CJ GO (United Square & Punggol outlets only) – High tea Special – 50% off all Dim Sum & Congee, available from 1 April to 31 May, from Monday – Friday, excluding eve of & PHs.
4. CJ GO (United Square & Punggol outlets only) – 1 Main + Choice of 1 Side + Choice of 1 Drink (Optional) Add on $3.80 for Choice of 1 Soup – from 1 April to 31 May, from Monday – Friday, excluding eve of & PHs.
5. CJ GO (Funan only) $7.80 Nett Set Meal – 1 Main + Choice of 1 Drink – from 1 April to 31May, daily. For dine-in & takeaway.