Crystal Jade Kitchen at Holland Village has a brand new menu and outlook!
When we want to have good Dim Sum, there are only a select few places we'd turn to. Crystal Jade has been a brand to reckon with when it comes to these delightful little dumplings that I (we) love and eat so much. The Crystal Jade Kitchen at Holland Village has undergone a facelift and made a comeback with a fresh new menu. Here's what you can look forward to, if ever you're in the area and would like to know how well truffle and siew mai go together. Hint: It's so good you'll be dreaming about it for a week, like I did.
Steamed Siew Mai with Truffle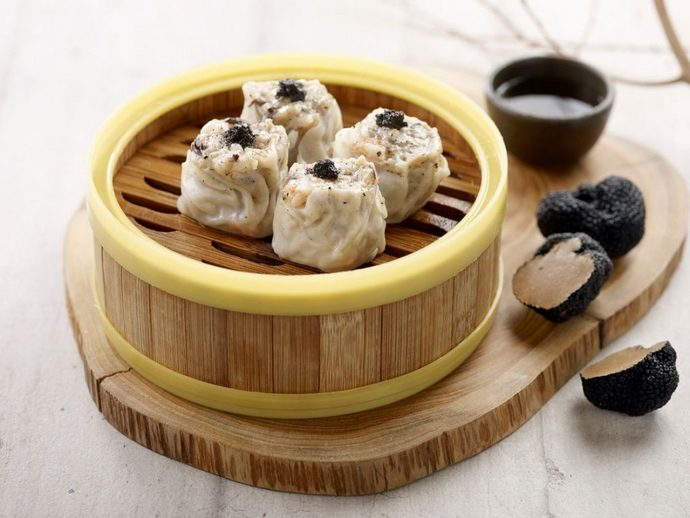 Yes, you read that correctly. We live in exciting times where 'truffle' is a major feature in most food items. Some argue that this makes truffles lose their exclusivity. Let me tell you something – ignore them, you don't need that kind of negativity in your life.
This dish is really just siew mai, with very juicy, succulent minced pork. And then there's the inviting, mysterious black blob of truffle pate smeared atop each dumpling. It sits there, tempting the very depths of your soul to bite into it. I have discovered this as the new way to have siew mai and will not be able to have it any other way – there, that's the best description I can give this dish.
Deep-fried Chicken and Dried Shrimp Carrot Dumpling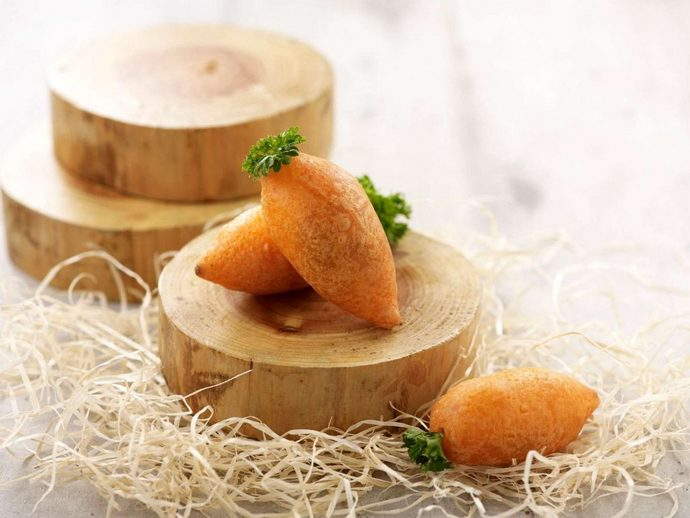 What, you mean 'Deep-Fried' didn't get your attention? The orange of this dumpling skin is actually carrot juice, and not artificial orange colouring. Shaped like a carrot, the homemade dumpling skin is chewy – an acquired taste. However, the filling needs no acquisition; it's every bit as salty, meaty and umami-inducing as you can possibly imagine. However, not eating the skin here would be a waste, if you ask me. Share it 😉
Soya Sauce Chicken with Osmanthus 桂花头抽酱油鸡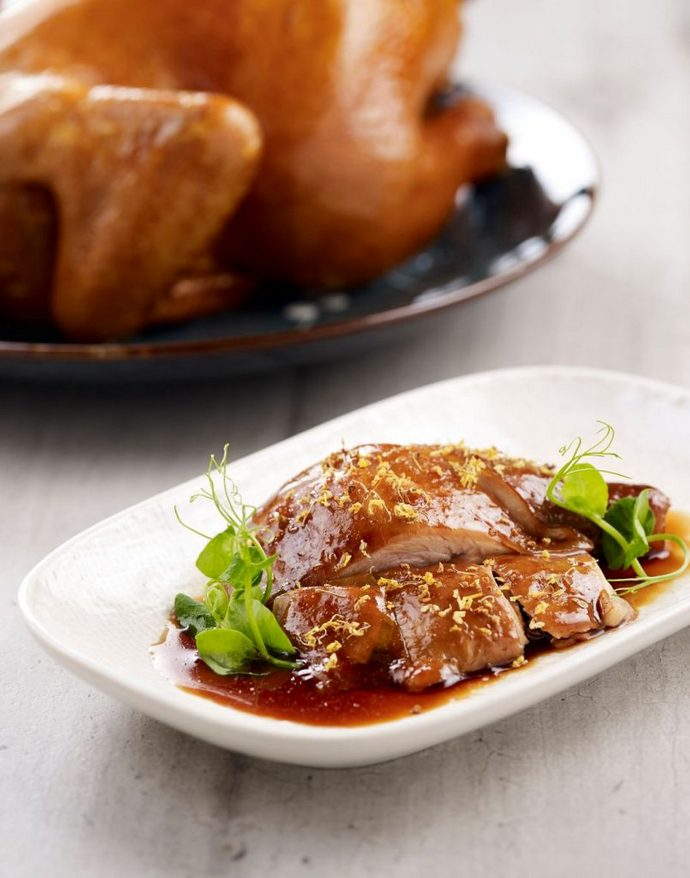 If you're foreign to the idea of using the osmanthus flower in cooking, get used to it, quick. In this dish, the bird is roasted with a marinade, then doused with osmanthus-infused syrup. This layering of flavours keeps the chicken moist and juicy, a texture that's preferred with poultry. Osmanthus is naturally sweet, and usually used for desserts, according to My Edible Memories. However, cooking is experimental; this is an instance where the experiment went very right. I am usually not a fan of Soya Sauce chicken, especially in Chicken Rice stalls where they can be a disaster to chew on. Here, though, the chicken somehow absorbs the flavour quite willingly. I found myself going for seconds, and drenching every fleshy part of my chicken piece in the deep-ecru sauce on the platter before applying to face, very happily.
Steamed homemade tofu topped with assorted seafood 蒸布
包木盒豆腐
Did you know that tofu can be homemade? Okay I realise that isn't one of my smartest comments – but really. The tofu very willing yielded to the touch of my greedy spoon, just slicing away at the silken, almost pudding-like, custard. Whether homemade or otherwise, tofu is famous, like chicken breast, for being quite bland. The folks at Crystal Jade Kitchen have come up with an ingenious solution to counter this; seafood! Why not, right? Being a fan of seafood, I have no complains. The homemade element here adds a unique experience to the diner's time at the refurbished restaurant, right down to the wooden crate-like container in which the tofu is made and steamed.
Premium Seafood Congee
Okay, before we give this the classic 'sick-people food' dismissal, give me a minute to convince you otherwise. Yes, congee can be sick-people food, but it can also be excellent. Like the Lobster version I had earlier this year. But I digress, this is one heck of a congee, topped with a bevy of seafood items that'll fill any pescatarian with glee. The meat that stood out the most to me was the succulent chunks of white fish atop the pale white porridge. You think white on on white won't work? Eat this.
Purple sweet potato & taro with coconut milk, gum tragacanth & sago
Now, for dessert. Sweet potato is like osmanthus; it swings both ways! I mean with savoury and sweet, what were you thinking? This dish sees purple sweet potato and taro pureed into a luxuriously smooth, tender purple paste, with plenty of sago added in for good measure. Goes down like honey and bookends' the meal perfectly.
I normally don't wax lyrical about every dish when I go for a tasting – there's always that one fishy salmon, or over cooked prawn, or dry chicken breast. But at Crystal Jade Kitchen, everything was just right. Every dish had a harmonious balance of salty and sweet, and a voice unique to it's ingredients. I'm a born-again Crystal Jade lover, what about you?
Details:
Address: 2 Lor Mambong, Holland Village, Singapore 277671
Telephone: 6469 0300
Operating Hours: 8:30am – 11pm, daily (restaurant), 9am – 930pm, daily (bakery)
Payment: Cash / NETS / Mastercard / Visa / AMEX
Website: www.crystaljade.com/kitchen