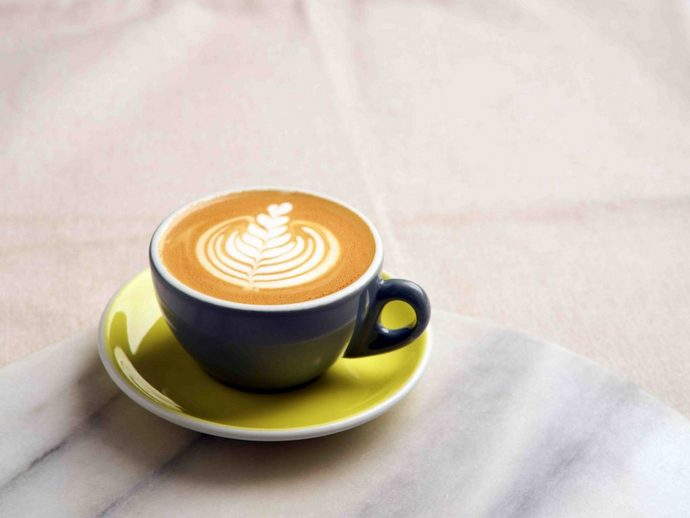 Curious Palette on Prinsep Street captures the essence of good coffee from Stranger's Reunion with curious kitchen concoctions, including a very scrumptious Sugarloaf Cabbage.
Curious Palette is by Stranger's Reunion, a brand known for their exquisite coffees and orgasmic buttermilk waffles. Needless to say, Curious Palette had a fantastic coffee menu with the hypnotic aroma of caffeine in the air. Because I am a wuss who can't sleep if I drink coffee past 6, I had some juice and ended the meal with their moreish chocolate shake (with a scoop of ice-cream. I could scream, too! But more on that later.).
What to try
As with most restaurants, there's always a long list of 'must-haves' and 'die-die-must-try' items. Here are the dishes that I think you should make a trip down to Prinsep Street for. Also, they are open for dinner unlike Stranger's Reunion. So if you're more gutsy than I am, you can go to Curious Palette for your cup o' jo past 6pm.
Cray Roll
I've had lobster rolls and I've had crayfish. Now I've had a Cray Roll, so I can rest in peace knowing that I can have a Cray Roll in place of a lobster roll for less than half the price. Each Cray Roll is priced at a friendly $19.90. Served in buttered buns, the meaty crustacean is cooked to orangey-white perfection and generously stuffed into the fold of bread. It's like a dream come true. I shamelessly helped myself to more servings. Because the crayfish was staring at me. You'll know the feeling when you sink your teeth into the plump, fleshy meat too.
Prawn, Mentaiko Belacan Pasta
I must confess; I thought this dish will probably have a lot going on when I read what it was. I was woefully mistaken and I couldn't be happier. I love prawns, mentaiko and belacan and never thought it would work so well together! The belacan was actually mellow and added a subtle smokey depth to the mentaiko. An unusual role for a shrimp paste that usually takes centre-stage in most dishes. The prawns were fresh and succulent, a great match for the pink, slippery mentaiko.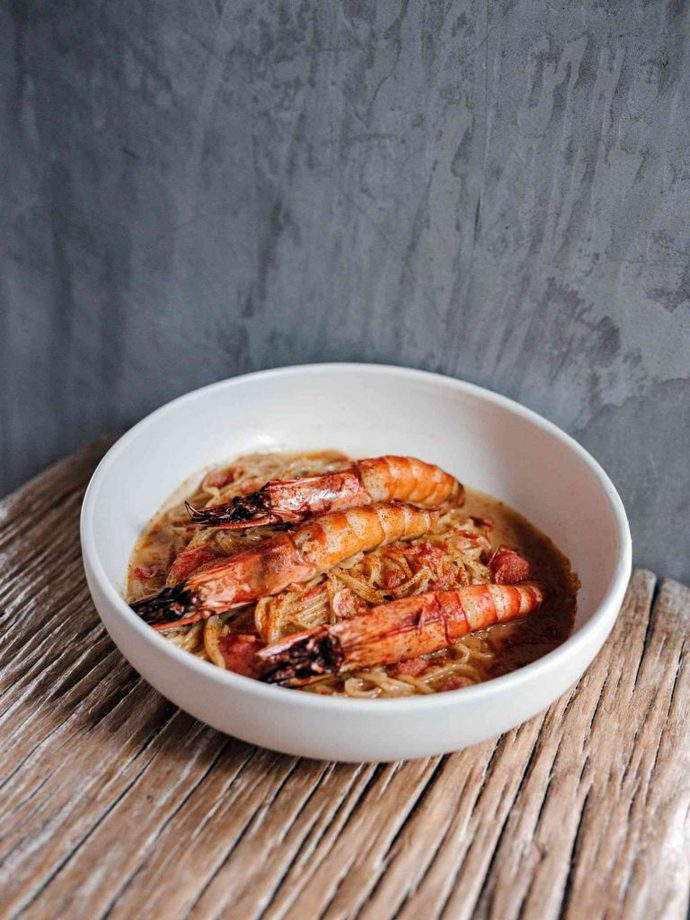 Fried Cauliflower with Fish Sauce Caramel
Stay with me – I wouldn't recommend you eat fish sauce and caramel together unless it was really good. The fried cauliflower florets were spicy and slightly crusty on the outside, with a soft and tender interior. The spices are reminiscent of Gobi Manchurian, a north-Indian fried cauliflower dish. The sauce is smooth and velvet-like, a perfect pair with the cauliflower. The fish sauce here functions like the belacan from the prawn mentaiko pasta – it's a subtle whisper at the back of your palette as you savour the sauce.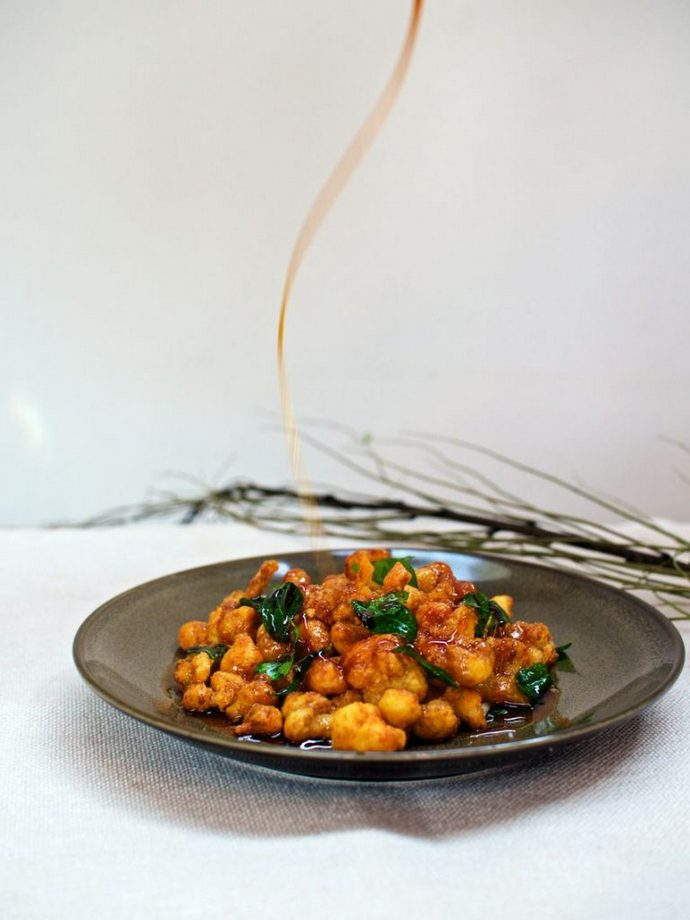 Sugarloaf Cabbage with seaweed butter
Who knew cabbage could taste like this? The whole roasted cabbage is cooked to a golden crisp then topped with crunchy buckwheat, nuts, seeds and fried curry leaves. Served on a bed of placid green seaweed butter, this dish comes with a creamy poached egg. All these various elements make this an irresistible dish – and yes I say this about cabbage. The seaweed butter works really well with the egg to form a creamy, buttery emulsion. The cabbage, already crunchy and juicy, is lifted to new heights with the touch of this sauce.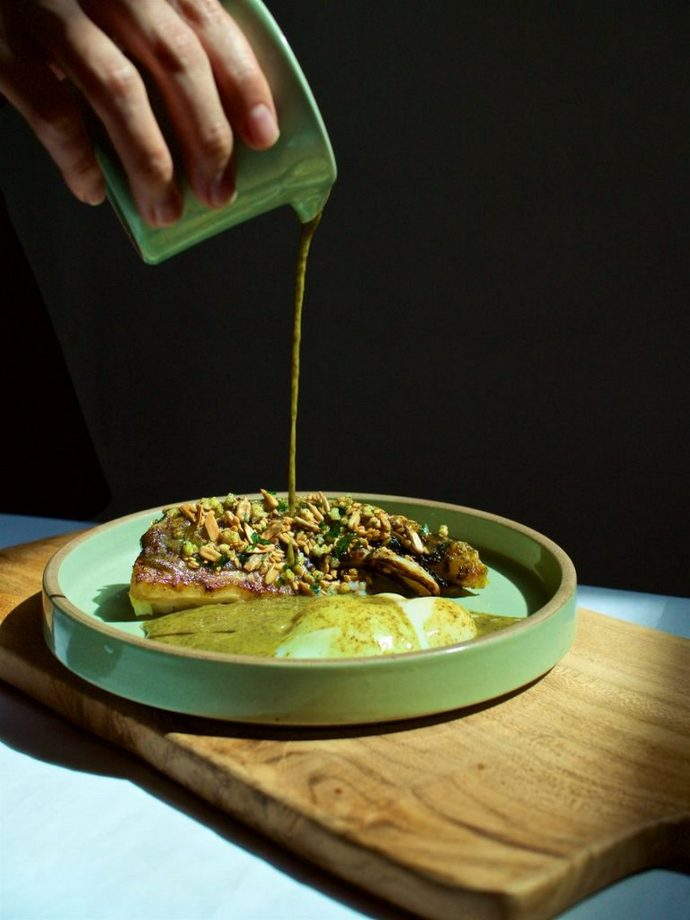 Sweet Endings
A valuable lesson I learned at Curious Palette is to be truly curious about the food being served and not shut down the possibility of great taste based on flavour assumptions. If you aren't feeling particularly adventurous with food, you must at least have their coffee. Their chocolate drink is very sinful, and makes a very sweet ending to the meal. Ask for a fat scoop of ice cream on top. You can thank me later.

Address 64 Prinsep Street, Singapore 188667
Operating Hours Mon – Sun 9am – 10pm; Closed on Tue
Telephone 6238 1068
Payment Cash, Mastercard, NETS, Visa
Website https://www.strangersreunion.com/curious-palette