Chocolate! Who can get enough of this magic ingredient/food/lifeline that the Aztecs have s kind discovered for us? I certainly can't! It was in this vein of absolute greed for this lusciously dark drug of a food that I plundered in my kitchen on a Saturday no less to make these lovely double trouble chocolate biscuits.
The unique aspect about these cookies is the key chocolate ingredient – pure, unprocessed cocoa powder. When it comes to cocoa, there are two kinds: the dutch processed (Van Houten) and the non-dutch processed (or the regular Phoon Huat variety). The primary difference between both these cocoa powders is slightly scientific, so stick with me. The processed cocoa has been alkalinized, mellowing the flavour and making the cocoa less acidic, or sharp. The unprocessed, regular or natural cocoa usually has a more reddish hue and is acidic, so adding it to your cakes, cookies and brownies will give you a sharp, intensely chocolatey flavour. What I find to be true in the kitchen is that when using unprocessed cocoa (which I usually do, as I love that sharp chocolate taste in my baked goods), a little goes a very, very long way. So proceed cautiously. But if you're daredevil like me when it comes to chocolate, ignore this last piece of advice and go for it.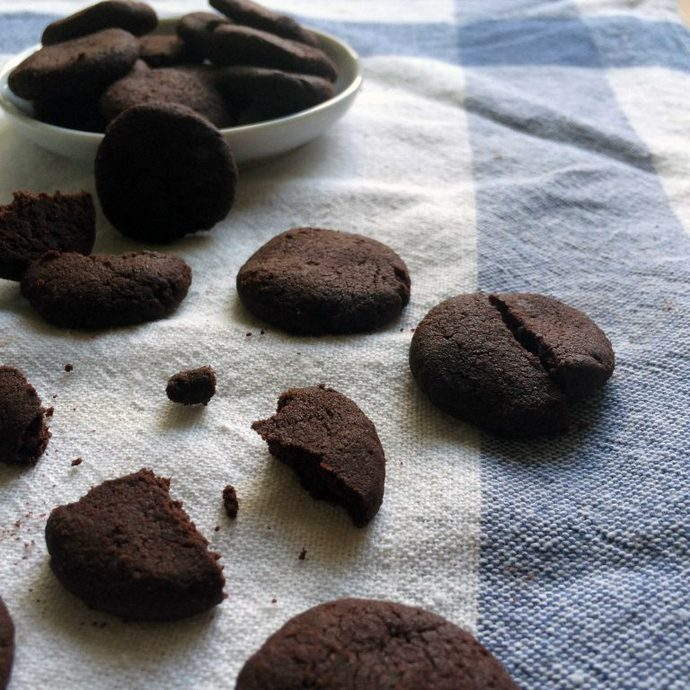 These biscuits will continue to cook as they cool, so don't be alarmed if they are still soft when you remove them – give them about 2 mins before moving the cookies to a wire rack to cool completely.
Double-Trouble Chocolate Biscuits
I like making these bite sized, so I use a teaspoon or even a half-teaspoon measure to scoop out the batter to roll into a teeny ball. If you don't have that kind of patience (I don't most of the time, it was a very special Saturday), then use a larger spoon. Of course, you'll get lesser biscuits with a larger scoop.
Ingredients
125g Butter
75g Fine Sugar (or caster sugar)
1/2 tsp Vanilla Paste
40g Cocoa Powder
150g Plain Flour
1/2 tsp Baking Powder
1/4 tsp Bicarbonate of Soda
Method
Beat the butter and sugar in with an electric beater until soft and fluffy. Then, add the vanilla bean paste. While the butter and sugar are creaming, sift the cocoa, flour, baking powder and bicarbonate of soda together.
Stop the electric mixer, add the sieved dry ingredients then switch the mixer back on. The mixture will become doughy in about 1 to 2 mins. Once all the ingredients collect together, remove the mixer and scoop out one tablespoon (or teaspoon) of batter at a time and roll it into a small ball in the palm of your hand.
Then, place each ball that you roll about 2cm away from one another in a lined baking sheet. Press down the centre of each dough ball so that you get a nice flat disc. Bake in the oven for about 12 mins. Remove and let cool on a wire rack.
Enjoy without inhibitions.
https://thecraversguide.com/double-trouble-chocolate-biscuits-recipe/
Copyright belongs to thecraversguide.com.