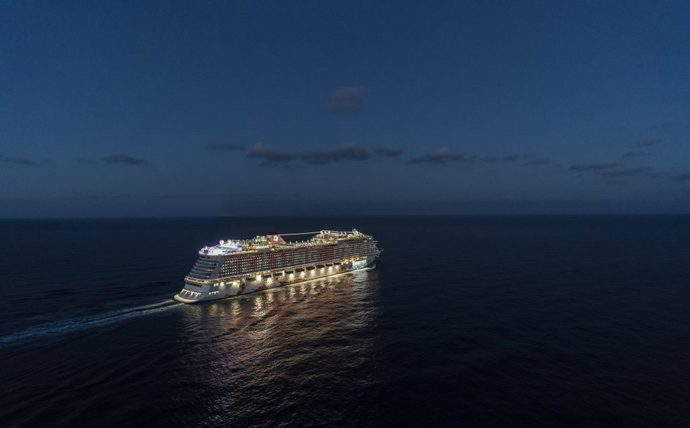 Dream Cruises has organised brand new 3N and 2N voyages to nowhere, which are perfect to sit back underneath a cabana by the pool and sip on margaritas while the sun sets over the sea! Here's what you can expect during the 3N trip when staying in the Palace Suite.
Dream Cruises has a class of rooms that carry an enchantment; guests who stay at The Palace Suites will return and only want to stay in The Palace Suites. I was warned of this before boarding and thought I was in for something quite unlike anything I've experienced. Given Covid-19, I had the same reservations as everyone else, to be honest. But my faith in the ship's safety protocols (this is not my first voyage with Dream Cruises) and my unimaginable need for a getaway were greater than my fear of Covid-19. I took the journey and now I am very glad I did.
Covid-19 Measures
Dream Cruises takes Covid-19 measures very, very seriously. An Antigen Rapid swab test is conducted before departure and upon arrival. There are also Cruise Ambassadors located all over the ship, particularly in places where gatherings occur (the buffet, or pool, for instance). These officers are instrumental in controlling the crowds and ensuring that masks are worn at all times while onboard unless you're inside the pool.
All restaurants have safe-distancing rules that are adhered to. In order to use the pool, you have to book a slot at the reception. If you're a palace guest, you get access to the private pool on Deck 18. This pool requires booking as well, you have to inform your butler (yes, you read that right) on which hours you'd like to use the pool and when.
Live entertainment is restricted to the Zodiac Theatre, which is the main performing arena. All other performances have been temporarily suspended due to Covid, so guests can enjoy their vacation in peace. Moreover, all safety restrictions in the ship have been introduced in collaboration with the Singapore Tourism Board.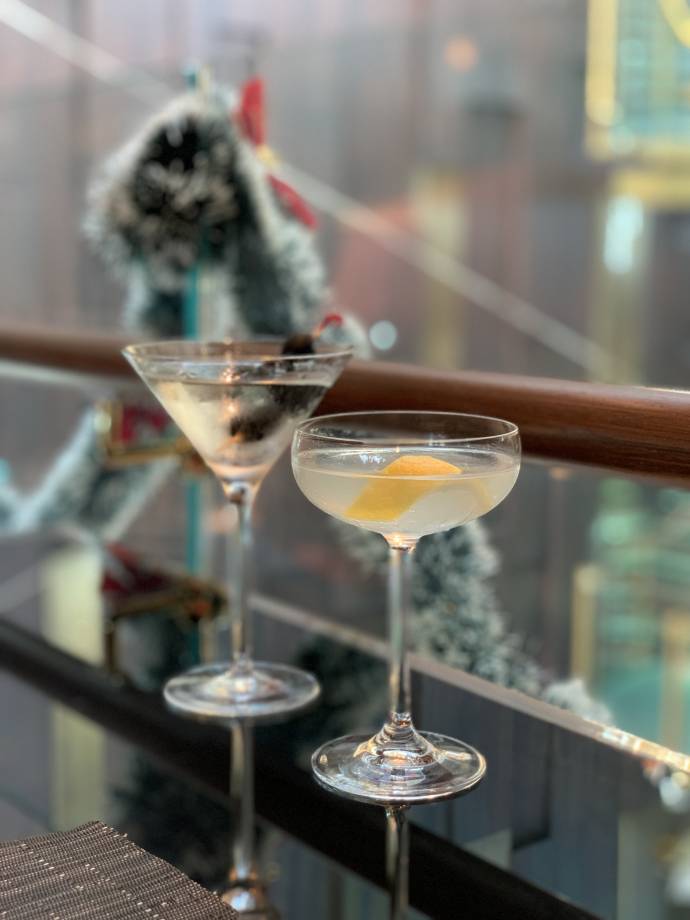 Swab Tests
Your ticket will have a stipulated time frame for your Covid-19 Swab Test, you just have to arrive at the Marina Bay Cruise Centre at that time. If you're a palace guest, you can choose to arrive an hour before boarding time, which is typically around 2 pm. Once you've completed your swab test, you will be escorted to the waiting area for your results. Upon negative results, you can then proceed to the palace reception area in the Marina Bay Cruise Centre. Here, you can enjoy a variety of snacks and drinks while waiting to board the ship.
Another swab test is conducted upon your arrival back from the voyage. You are allowed to head home after this swab test; the officials will give you a ring if you need to come back, or if your result is positive. If no one calls, well… no news is good news.
The Palace Suite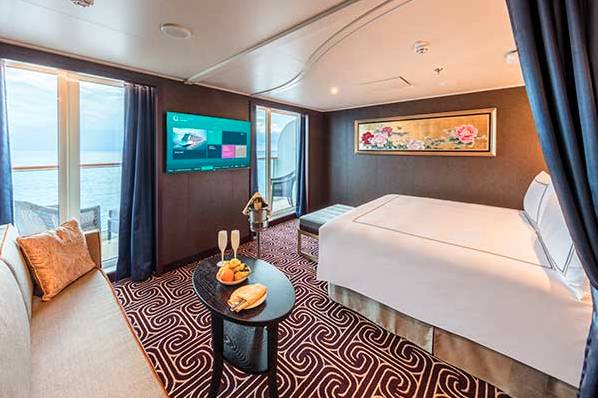 I was lucky enough to enjoy the Palace Suite while onboard Dream Cruises this time around. The Palace Suite is a premium range of rooms introduced by Dream Cruises for guests who would like to take their cruising experience to the next level. In short, these are some of the many things you can expect as a palace guest: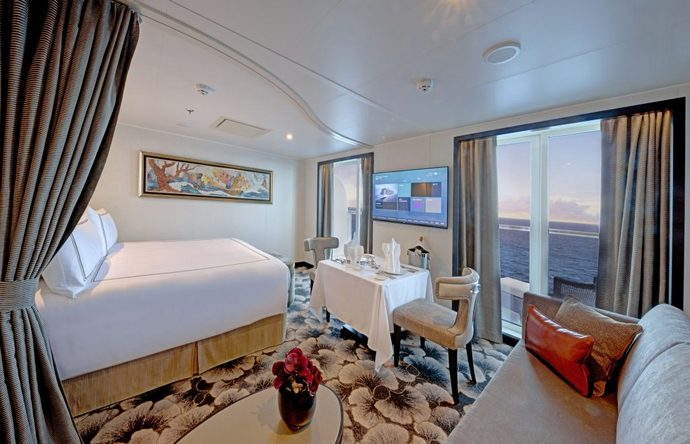 Priority boarding, disembarkation and swab tests
Priority Check-in
Private Elevator
A Private Pool
Private Gym/Sauna
A Private Restaurant for breakfast, lunch, tea, dinner and supper
Your own butler, attached to your room
Private entrance to performances, priority seating
Priority reservations to restaurants
Free-flow alcoholic beverages till 10.30 pm
Free dining at almost all restaurants onboard
This list can go on and on, of course. And I know my readers well; you want to know about the food! Before I get to the food, let me cover the priority portion of staying at the Palace Suites.
The Rooms
The Palace Guests stay in the palace suite, which has 3 tiers of rooms. I stayed in the first tier, which is a palatial suite with a king-sized bed, a sofa which can also be a pull-out bed and a balcony that can comfortably accommodate 4 people. The room also comes with a walk-in closet, a small pantry for your hot-coffee-in-the-morning needs. Within the walk-in, you'll find a large bathroom, complete with separate shower and tub areas. There are also his and hers sinks, perfect for the travelling couple.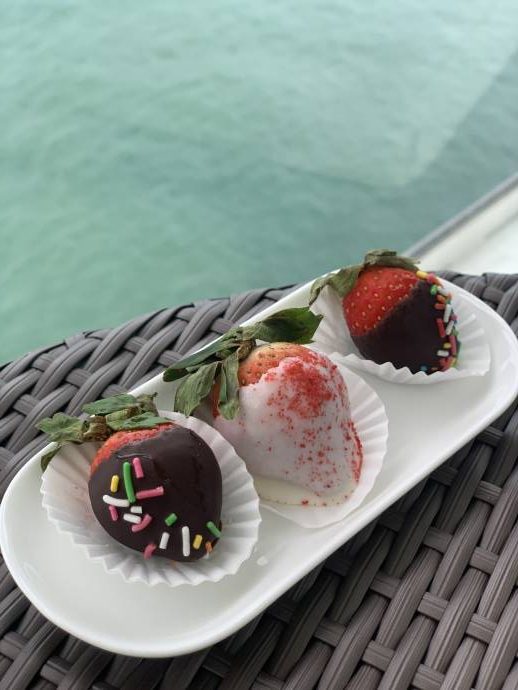 Just like in all top-notch hotels, towels are replaced every day and there's even an evening turn-down service. Suite guests enjoy a special sweet treat daily, delivered by the butler. This can be anything from chocolate-dipped strawberries to freshly-made mango jelly. They really do take the best care of guests at the Palace Suite.
The Butler
Every room in the palace suite has a butler attached to it; he will come knocking once you've checked-in. It's best to make reservations with all the restaurants you'd like to dine in while onboard with your butler at this time. He will also give you his personal extension, in case you'd like to change your pool or hot tub reservations.
During your stay in Dream Cruises, the Butler will be your right-hand man. He will make all the necessary arrangements to ensure your comfort and enjoyment during your stay.
Priority & Privacy
As people who have been starved for a holiday since March 2020, we know how important it is to have all our need taken care of while on holiday. As a palace guest, convenience is at your fingertips from the minute you arrive up until you leave the ship. Palace guests can choose to go for their swab tests an hour before you board the ship, and you get access to the Palace Lounge at Marina Bay Cruise Centre to chill with snacks and coffee before you board the ship.
Privacy is guaranteed as a palace guest; you'll enjoy access to everything on a private and secluded scale. There is even a private restaurant, where you can enjoy breakfast, lunch, tea, dinner and supper. They do have a standard menu for breakfast every day, and you have the option of choosing different items throughout your stay. However, lunch, tea, dinner and supper menus are different on a daily basis. If you so decide, you can just stay in the palace area and not go out to the rest of the ship; everything you need is here.
There is a private pool on Deck 18 and a private casino if you'd like to play some games. You also get a private elevator from Deck 13 (the rooms) to Deck 18. There's a reception for Palace Guests on Deck 17, also where the palace restaurant is located.
Safe-entry check-in to each location is replaced with your key card, which you have to tap before entry into the lounge or restaurant. Palace guests have a gold key card, which is your passport/NRIC for the whole trip on board.
The Food (and drinks)
Palace guests enjoy free-flow alcoholic drinks up till 10.30 pm (Singapore's Rules, as the ship operates on Singapore Time). This means a cocktail plus a glass of wine per meal is very possible. As a huge wine person, I found this part of the package to be particularly worthy. You also get access to almost all the restaurants on board! Here are the ones I thoroughly enjoyed:
The Palace Restaurant
This is the inclusive and exclusive restaurant for palace guests. Inclusive because it's included in the premium you've paid, and exclusive because only palace guests can dine here. I had my lunch here on Day 1, after checking in. I also had breakfast and tea here every day. Breakfast is available until 9.30 am, and tea starts at 3.30 pm (perfect time for coffee for me). If you're up for it, you can have all your meals here for every day of the voyage. They have a standard Asian and Western Menu to choose from, and the items in each menu change every day. The food here is consistently good, as is the service.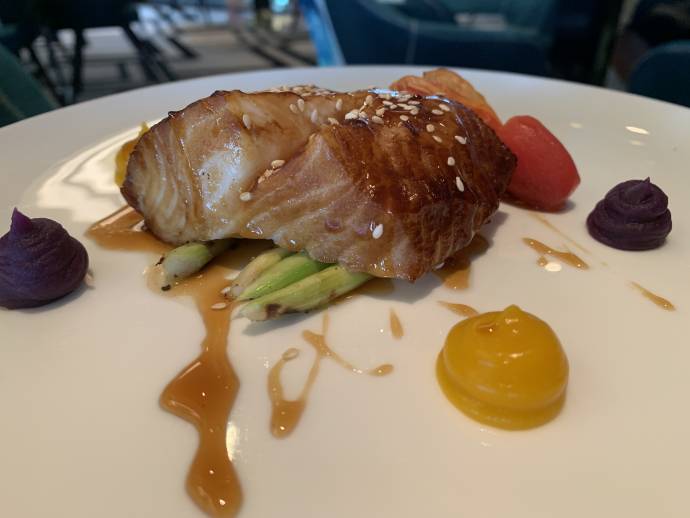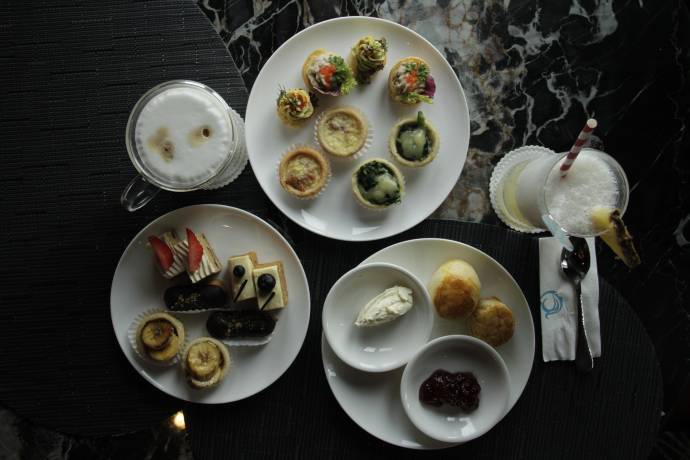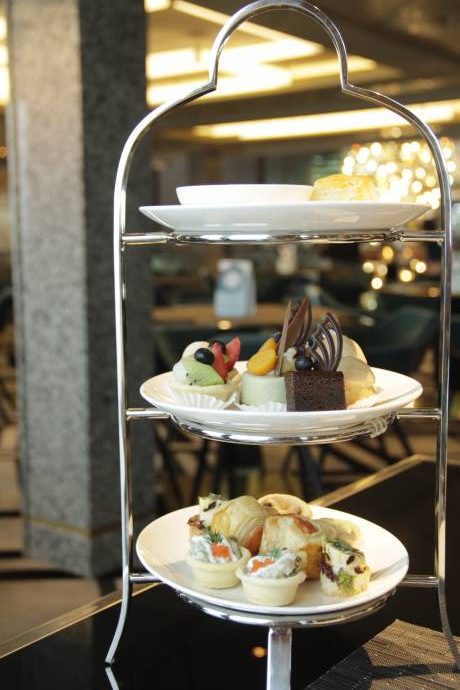 Umi Uma
Umi Uma is their very popular Teppanyaki & Bento Restaurant, complete with trained chefs putting up a show for diners as they eat. Again, diners can choose from a selection of proteins, including beef, chicken and salmon. I chose the salmon during my time here, and it was honestly the best decision. Each choice of protein comes with requisite sides and fried rice. The chef prepares everything while you're watching, on the griddle. There's also plenty of music, singing and entertainment while the food is being prepared, by the chefs themselves!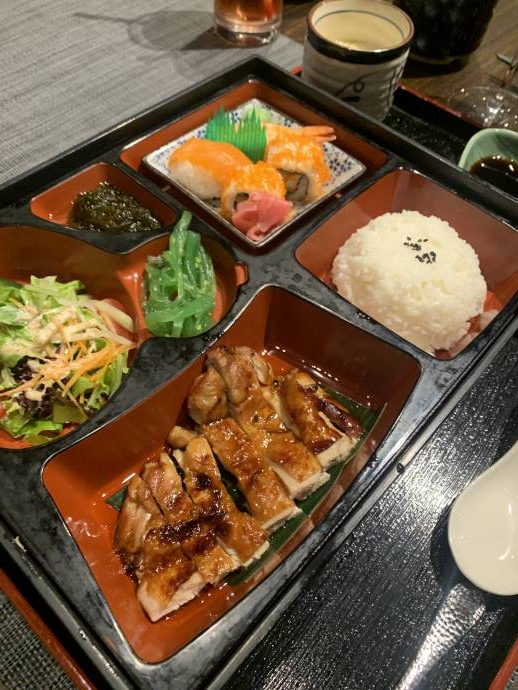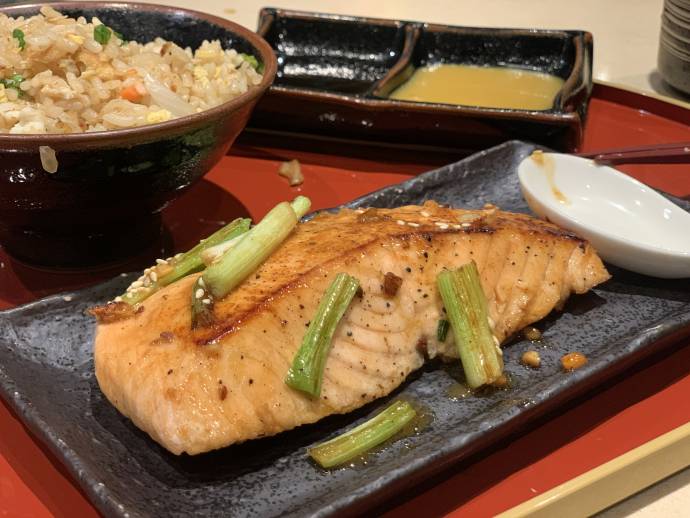 Seafood Grill by Mark Best
Glory to the lobster! And Scallops! And all things luxurious from the sea! Seafood Grill by Mark Best is a popular diner's choice when it comes to western fare. Here, palace guests get to choose between various mains and sides, and desserts as well, from a specialised menu. The Seafood Grill by Mark Best serves up fresh-as-can-be seafood, such as lobster, prawn and scallops, all seared on a hot grill to bring out their natural flavours. This is presented with a side of melted butter. Dipping the scallops into the butter before eating is an absolute must, I feel. The taste… is heavenly. The mushroom soup here is also very good, and made with plenty of fresh mushrooms!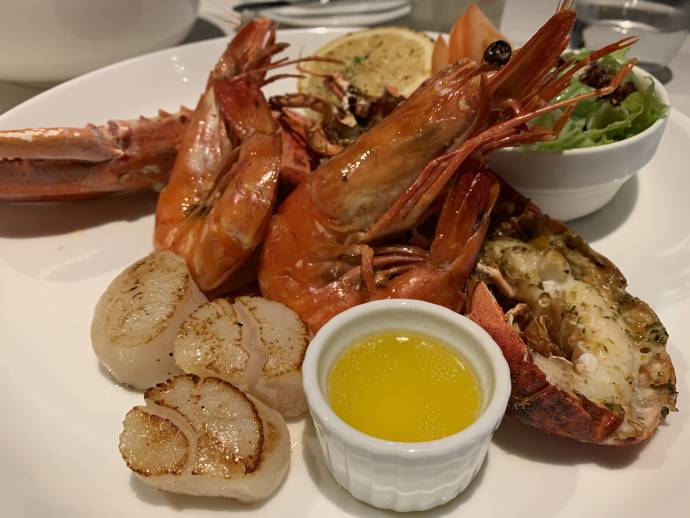 Blue Lagoon
Blue Lagoon is for those who need their local fare (so, uhm, me) alongside the Seafood and Teppanyaki! Guests can find a collection of star-dishes from around Asia on the menu here. I, of course, had the coconut-milk Laksa, and the Char Kway Teow. They also have other delectable sides such as Ngoh Hiam, fried chicken and wonton soup.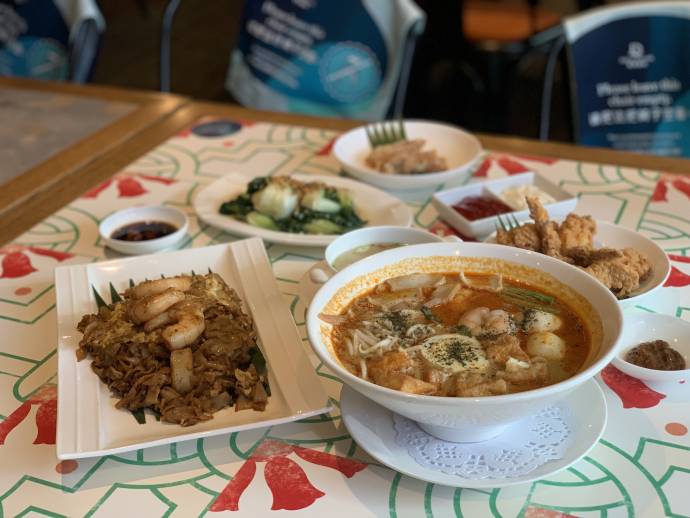 Halal Food at Lido Buffet
Muslims can enjoy a luscious spread of Halal Food on the ship, inside Lido Buffet on Deck 16. The dishes are carefully curated and prepared by a dedicated chef and his team in a halal-certified kitchen. Items on the spread include classics such as Ayam Masak Merah and Sambal Goreng, among others. The halal kitchen also prepares desserts and light-bites for after your scrumptious meal! To read more about the halal spread on board dream cruises, check out my previous write-up here.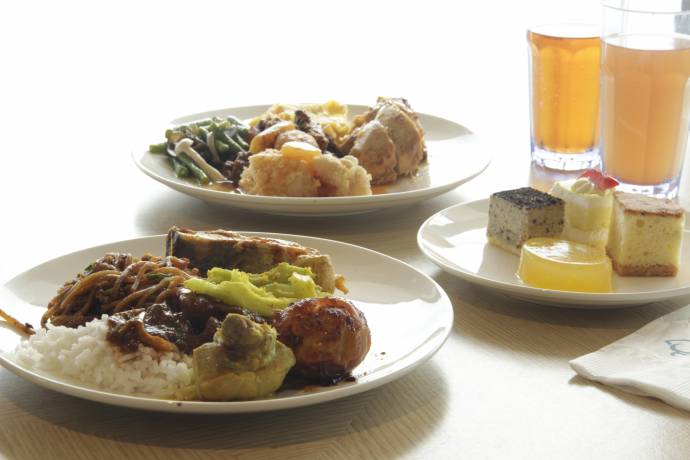 Entertainment
The production crew on board the ship really sing, dance and entertain their hearts out throughout the duration of the voyage. In addition to their in-house productions, guests can also revel in the stylings of Vision, a dramatic magic show that both the kids and adults will love. Audience participation is a must during this show, but everything is handled in such a covid-conscious manner. Microphones are sanitised and handed to participants with a long pole, along with a bottle of sanitiser.
The World Dream Cruise Ship, which was the one I was in, also provides adult entertainment in the form of Dream Boys, an artistic yet quite tantalising performance by 5 very well-built men. This is not included in the package and will set you back $50. But believe you me, every cent is worthwhile.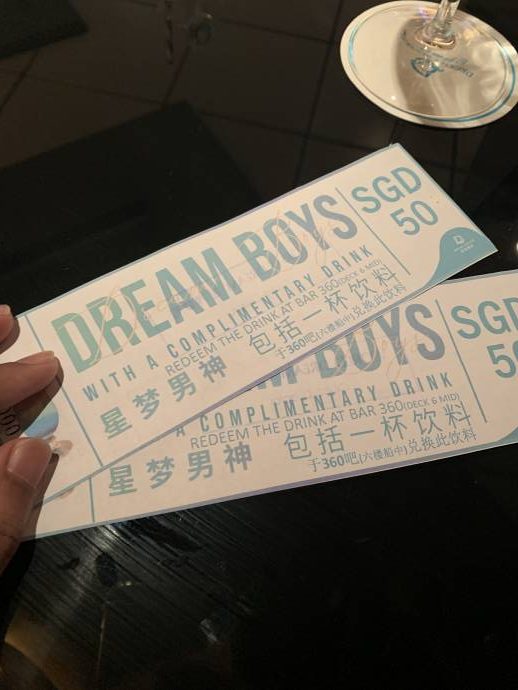 Families can also take part in group Bingo tournaments, or paint a merlion together! There is also an arcade onboard the ship, for the adventurous gamers in the family. If you're a pool and water person, and lounging by the private pool does not cut it for you, try their water slides. Dream Cruises have some of the best water slides ever; whizz through loops and funnels of water slides and come to a crashing land in the pool, or whizz through the air in their zip-line! To get a good overview of all the entertainment options available, check out this link!
So… when next?
I have been on board dream cruises up to 3 times now, and each time it's a new experience altogether. This time, I was a Palace Guest and loved every minute of it. I truly was able to spend time doing absolutely nothing, while sipping a cocktail. I read books, I lounged under the poolside cabanas, I ate, drank, laughed and cherished every minute of my journey with them. And honestly, I can't wait to do it again.