These Cranberry Muffins are the height of Christmas and a wonderful alternative for those who don't quite like the fruit laden bakes that can be found everywhere this time of year. 
Muffins are some of the easiest bakes to make when pressed for time. Here, however, I was not in any hurry. I was feeling particularly festive and had the need to use up the punnet of dried cranberries before they expired. Moreover, call me strange but I really dislike fruit cakes. I do. I don't like the idea of mixing raisins, sultanas, fruit peel (shudders) and etc in a batter then baking it and soaking it in liquor… I guess this is something many people really subscribe to at Christmas; I am not one of them. 
As always when looking for inspiration I knocked on the pages of one of my favourite books: How to be a Domestic Goddess by Nigella Lawson. While I have a looooong shimmering way to go before actually becoming a goddess of the domestic myself, this recipe is inspired by one that I found in that book by Nigella Lawson. Originally a Christmas recipe, I found this recipe really apt for my kitchen for a number of reasons. One, a need to finish up the cranberries sitting on the counter (see above), two, a general disdain for fruity cakes but feeling the need for some festive baking and three, just plain lust for a baked item on a balmy Sunday afternoon. 
I've added some Christmas spice to this recipe, with a little ground spice. I also swapped out the orange for lemon as I love the sour hit! This makes for a very fruity creation, be warned that there will be a strong sourish tang from the dried cranberries. The sugar in this recipe is minimal but that's because the cranberries can be quite sweet.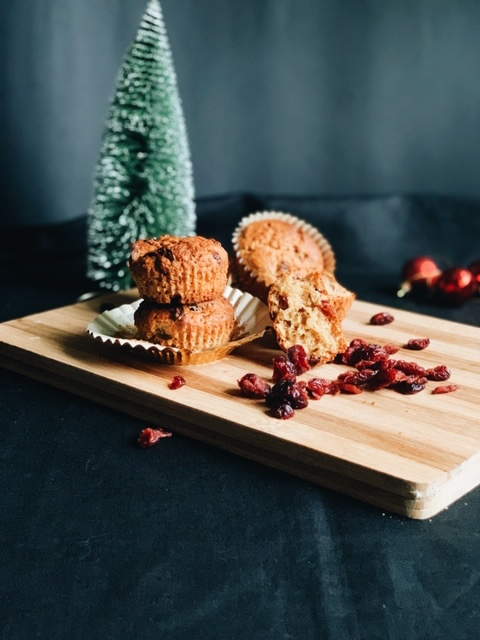 You will need: 
200g Cake Flour
3 Tsp Baking Powder
½ Tsp Bicarbonate of Soda
75g Dark Brown Sugar
½ Tsp Ground Mixed Spices (look for cinnamon and clove mix)
1 Lemon, juiced and zested
100ml Milk
60g Unsalted Butter, melted
1 Large Egg
150g Dried Cranberries
You need to:
Preheat the oven to 170 Degrees. Line 12 cupcake holes with paper casings of your choice and set aside. In a large bowl, combine flour, both raising agents and sugar. Use a whisk to combine ingredients and break up any lumps. 
In a measuring jug, add zest and juice of the lemon, then the milk, egg and melted butter. Whisk to combine and pour into the dry ingredients. Here, you'll want to use a wooden spoon to mix the ingredients gently till just combined. It's fine if the batter is fairly lumpy – that just means the muffins will turn out light and fluffy. 
When the batter starts coming together, add dried cranberries and gently fold in. Scoop out batter into cupcake liners (I use an ice-cream scoop thing, it's very convenient). Place muffin tray into the oven and bake for 20 minutes. However, start checking at the 15 minute mark, as some ovens can be hotter than others. The tiny bits of exposed dried cranberries tend to burn if you leave them in the oven too long. 
Enjoy warm with some clotted cream or butter. Merry Christmas!