Its back, folks! The durian feast from Goodwood park is set to once again wow lovers of this fleshy, delicious (and some would say stinky, but I don't know these people) fruit. From 10 March to 31 July, you can get all your favourite durian confectionaries – and more – at Goodwood Park Hotel, Singapore.
This year, there is a collection of new desserts that have been added to the usual list of pastries and cakes, each richer and more sinful than the other. D24 and Mao Shan Wang durians are the stars of the display. For true fans like yours truly, the introduction of new creations such as at Starry Starry Night Ice Cream Cake (wrapped in a black Charcoal sponge), Sunflower Seed Crumble Tartlet, Matcha Cake and Salted Caramel Cuppa had my feet tingling with durian joy. Here's the breakdown on the ones that I tried. I'll admit, I couldn't try all of everything. I know some of you may shoot me for saying so, but so much durian in a short period of time kinda makes you sick. But I did my best, promise.
I recommend trying the Cashew Nut Crumble Tartlet and the Salted Caramel Cuppa, from the new collection. The subtle, sort of milky texture of the cashew nuts is perfect with the durian – and I am an absolute sucker for a good tartlet. Also, there is no pretty way to eat this, you either look like a praying mantis (with two forks, as I did), or like a hungry hippo trying to stuff the whole thing in your mouth. But regardless, it was fantastic. Totally worth looking like anything in the world. The salted caramel cuppa was a treat – layers of different flavours will explode on your tongue, all with a common sweet, sexy note to finish off any meal (or to start it – don't judge me).
While the fiesta is available from the 10th of March to 31 July, different treats are available during different time periods within this fiesta. From 27 May to 31 July, the Mao Shan Wang durian's smooth, velvety pulp is the star of the show.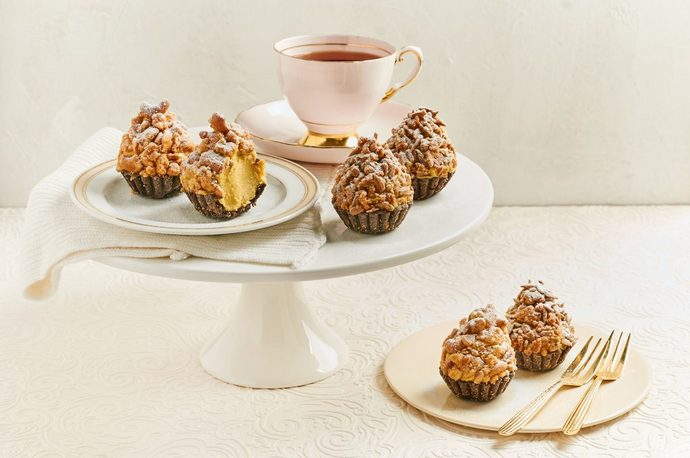 The delectable durian creations will be available at The Deli in Goodwood Park Hotel, from 9am to 9pm daily. You can call them at 6730 1786, or email the order form (from the website) to festive@goodwoodparkhotel.com. Takeaway orders can be place online as well, at festivepromotions.goodwoodparkhotel.com. Last order is on 26 July 2017, at 12 noon.