Chai Muffins are great for breakfast or tea, even if you don't like the actual drink! 
Jump to Recipe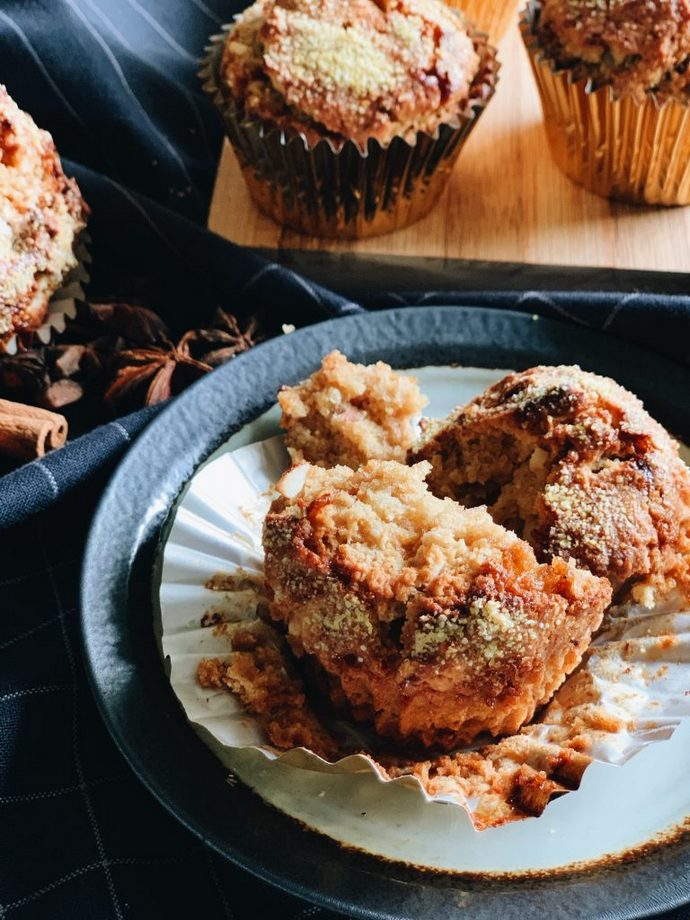 Chai Muffins may not be the preferred bake for many people. It's not surprising, considering I myself don't take to Chai very well. But this recipe combines Chai with polenta, for added fluff and crunch. Also, there's something very special about the slow brewing of milk and whole spices with a tea bag that spells the promise of a fantastic snack. 
I made these muffins for tea, even though they were meant for breakfast. Nigella Lawson created the original version of this recipe in her book, Simply Nigella, meant as a 'Beginning' or something to start the day with. While she is the Domestic Goddess, I can only aspire to be one and unfortunately cannot make muffins in the morning on account that my body just won't do it. So, I made these for, you guessed it, tea! I know it's strange having tea muffins with tea, but to be fair, I have coffee. 
Looking for a fruity alternative? Here's one with Dried-Cranberries!
Jaggery
Because this was Indian in inspiration, I used Jaggery in place of sugar in the recipe. Jaggery is a form of brown sugar produced in India, and used primarily in Indian sweets. Although brown in colour, Jaggery is not the same as brown sugar. Brown Sugar typically contains molasses, which provides the deep brown colour. Jaggery is an unrefined sugar that is prepared by evaporating the sap of palm trees. In a way, it can be considered coconut sugar. However, jaggery is not fine; in fact it has a high moisture content and can be quite lumpy. 
Jaggery is robust in taste, almost coming across as concentrated, slightly burnt toffee. You can get jaggery in it's solid or powder form from many stores in Little India. 
When using this sugar, don't be tempted to to sieve out the lumps. Once you add the liquids to the batter, the sugar naturally starts melting, You can whisk it through with a wire whisk, if this will help ease your heart. If you can't get Jaggery, feel free to use dark brown sugar. You can also use palm sugar, which is now available in NTUC. 
The Chai
You don't have to strictly add chai spices to the milk before heating it through; to be honest. You can make an earl grey muffin by infusing the milk with 2 earl grey tea bags. You can use milo if you want, or chocolate. Feel free to experiment with this as you please. Just ensure that you don't compromise too much on the total quantity of liquid.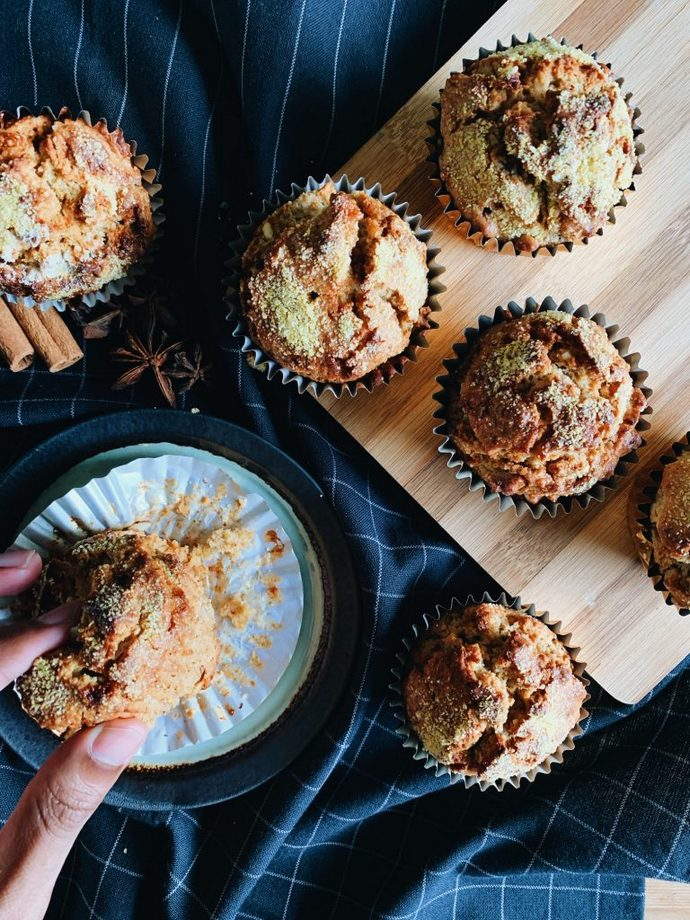 Polenta
I've added polenta to this recipe as I had some in my pantry. This rough-textured cornmeal is not easy to come by, and can usually be bought in speciality stores or RedMan Baking Store. If you can't get polenta, you can try using some semolina, although I have not tried this myself. You can, too, just use 400g of plain flour. 
Easy Chai Muffins for Breakfast
Course: Dessert
Cuisine: Western
Difficulty: Easy
Chai Muffins are great for breakfast or tea, even if you don't like the actual drink!
You'll need;
For the Chai Tea Liquid


225ml Full Fat Milk


1 Lipton Tea Bag


1 Cinnamon Stick


2 Cardamom Pods


1 Star Anise


1 Clove

For the muffins


360g Plain Flour


40g Coarse Polenta


2 ½ Tsp Baking Powder


150g Sugar


75g Chopped Almonds


2 Eggs


150ml Sunflower Oil
You'll need to;

In a small saucepan, combine the milk, tea bag and spices. Bring to a boil and then let simmer for 2 minutes. Then, remove from the heat and let the mixture cool.

Preheat the oven to 200 Degrees Celsius. Prepare muffin trays with 12 muffin liners, set aside.

In a large bowl. combine the flour, polenta, baking powder and sugar. Use a metal spoon or wire whisk to combine the ingredients. Then, add the chopped almonds and mix again. Make a well in the center.

In a large jug, combine the oil and eggs. To this, strain in the spiced Chai milk, removing the whole spices and tea bag. Beat the mixture with a fork, then pour it into the dry ingredients.

Using a metal spoon, bring the ingredients together. Don't overdo this step; you're after a lumpy batter that can produce light muffins. Scoop out the batter evenly into the 12 waiting muffin cases, then finish off with a fine dusting of polenta.

Place in the hot oven for 12 minutes; these muffins cook pretty fast. Remove the muffins when a skewer inserted into one of the cakes comes out clean. Wait about 10 minutes before attacking the muffins with hearts full of happiness.