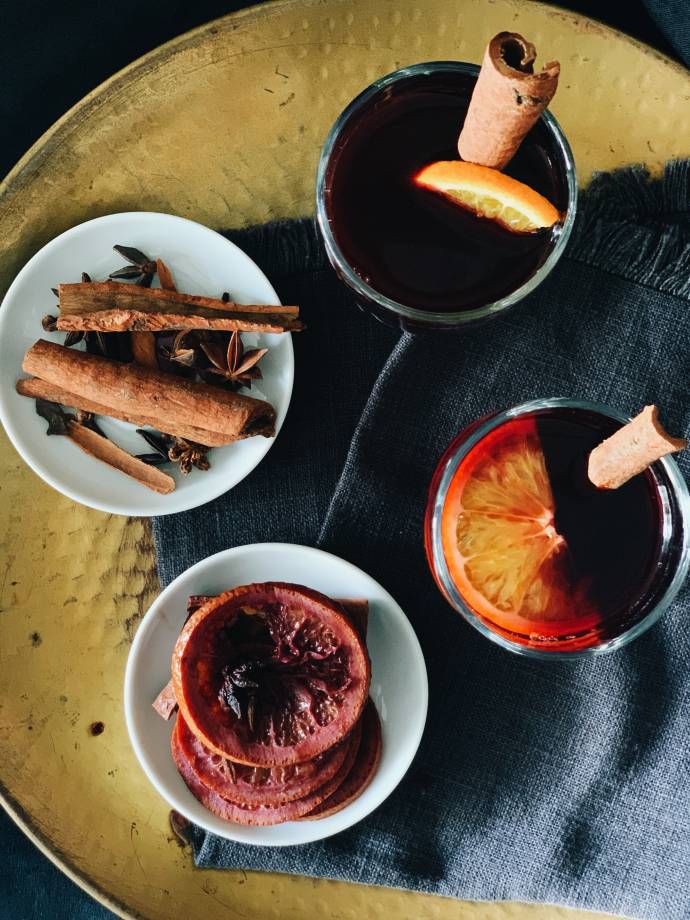 Mulled Wine is flavoured with cloves, star anise and other Christmas spices. It's really easy to make, for something that's extremely tasty!
Jump to Recipe
Mulled wine is surprisingly easy to make; it's literally wine brewed with a bunch of whole spices and citrus. Traditionally mulled wine is served in European countries where the weather is extremely cold. Coming home to a pot fulled of warm, spiced wine is understandably a delight when you've been in extremely cold weather all day.
Mulled wine warms up your body, more than regular red wine. This is because of the heat introduced to the brew, along with all the spices. The heat here works in a very traditional fashion; it brings out the flavours of all the various spices and of course, the wine!
Types of Wine
I am sure purists would swear by a particular bottle of red for this drink. And this is fine, but it really does not apply to the way I cook in the kitchen. For this particular recipe, I used 2 bottles of Savingnion, each at 187ml. There were quite small bottles and were on offer, so of course, I grabbed them. The taste of the finished drink will depend on the type of alcohol used. But in this respect, red wine is red wine. What we are really after is the soothing quality of warm wine. In any case, you'll be boiling it with many spices and citrus that the wine will be flavoured by other components anyway. It's the same as when you make a sangria!
Variations
If you're not a fan of red wine, you can always try a mulled cider. I am a huge fan of cider myself, and I'm usually fascinated by the various flavour combinations now available in the market. Primarily, mulled cider uses traditional dry apple cider. Here's a recipe from Nigella!
The Spices
Star Anise and Cloves are must-haves in this, of course. You can use a spice powder, but I would not recommend it. Cinnamon sticks are both great to flavour the wine and as a decorative ornament in the glass when serving the wine. The wine does settle, so you'll need to stir it every now and then to get the best of every sip. Although the spices and citrus are strained out before serving, you can get a little pulp in every cup. This is not the worse thing though.
Sugar Sugar Sugar!
I sweetened this with a spoonful of sugar, black sugar to be exact. I am a fan of this richly dark, treacly sugar – it brings out the flavours of the dark wine so well! However, you can use honey or regular brown sugar. I've also only used one spoonful, you can add more if you like your drink sweeter. I would not recommend avoiding the sugar altogether; the spices can be bitter on their own.
Easy Mulled Wine Recipe
Course: Drinks
Difficulty: Easy
Mulled Wine is flavoured with cloves, star anise and other Christmas spices. It's really easy to make, for something that's extremely tasty! 
You'll need;
2 X 187ml Red Wine

5 Cloves

1 Star Anise

1 Large Cinnamon Stick

Juice of ½ an Orange

½ an orange, sliced into large rounds

1 Tbsp Brown Sugar

2 Tbsp Cointreau
You'll need to;
Pour out the wine into a saucepan and add all the other ingredients. Bring the wine to a simmer, and let it simmer for minimally 15 minutes or up to 1.5 hours. The longer you brew this, the brighter the flavour.
Serve warm. Happy Christmas!